After introducing vegan Sheese to its menu in 2019, Papa John's has been incorporating more vegan and dairy-free options. While a few years ago, its vegan pizzas extended to having a cheeseless version of its veggie pizzas (though this is still the case in some countries), the chain's since grown to cater to those on plant-based and dairy-free diets. It even added a vegan cheese stuffed crust option in its UK locations for all pizza bases in 2021.
Papa John's is an American pizza restaurant chain that's branched out across 50 US states and 45 other countries including China and the UK. You can find chains in different countries throughout Asia, Europe, the Middle East, Latin America, the Caribbean and North Africa. But the vegan options it offers vary based on location.
Earlier this year, Papa John's released two vegan pizza options in its South Korea branches to cater to the country's growing vegan population. Though some of Papa John's plant-based options that it rolled out in the UK earlier this year for Veganuary, like its Ve-Du-Ya pizza, are no longer available.
But what can you eat at Papa John's that's vegan? Here are some of the options you might find on the menu.
Please note: this menu is subject to change, and the items available may be different depending on location. You should always check with your local restaurant if you are unsure that a product is vegan
Papa John's UK vegan menu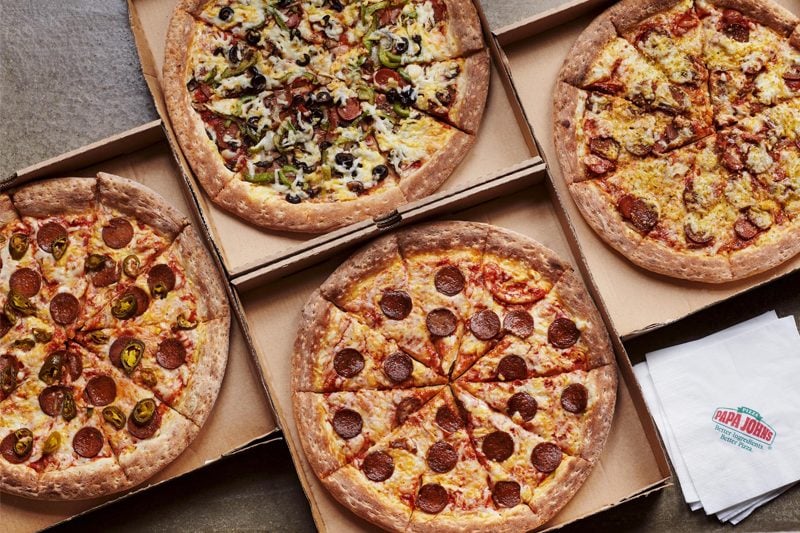 Vegans in the UK currently have a choice of four pizzas at Papa John's, with a jackfruit 'pepperoni' and plant-based sausages available as toppings. But the list of sides available is steadily growing over the years. There's also the option to have a vegan cheese stuffed crust in some locations, plus a couple of desserts.
Dairy-free Pizzas
Vegan Cheese & Tomato
A vegan version of a classic, simple pizza. This one is simply Papa John's own tomato sauce and Sheese, but you can add your own extra toppings like mushrooms and sweetcorn for a more tailor-made pizza.
Vegan Jackfruit 'Pepperoni'
Another one of its simple pizzas turned vegan. This contains tomato sauce, vegan cheese, and uniquely spiced, sliced jackfruit 'pepperoni' to mimic its classic double pepperoni pizza.
Vegan Garden Party
A take on its Garden Party pizza, this one has a signature tomato sauce, vegan cheese, sliced onions, green peppers, chopped tomatoes, sweetcorn, and chestnut mushrooms.
The Vegan Works
This one is an award-winner. Papa John's signature tomato sauce and vegan cheese is topped with plant-based sausage, jackfruit 'pepperoni', chestnut mushrooms, green peppers, onions, and black olives.
Papadias
Vegan Philly Mushroom
Made with Italian flatbread, Papa Johns' papadias are part sandwich, part pizza. Its vegan Philly mushroom option is packed with melted vegan cheese, mushrooms, onion, green peppers, and ranch sauce.
Sides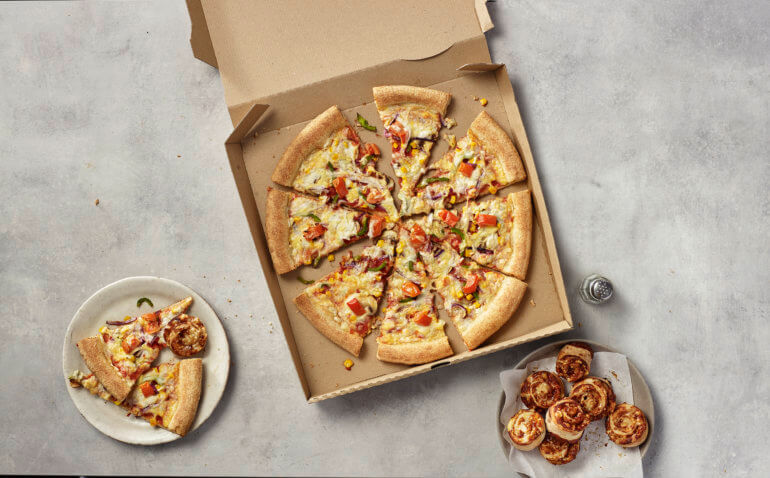 Garlic Dough Bites
One of its newest additions to the menu. Fresh dough is coated with garlic sauce and served with a garlic and herb dip.
Cheesy Chilli Bites
Another new one, mozzarella-style vegan cheese is blended with chipotle chili, encased in crispy batter.
'Not-Chicken' Vegan Bites
These bites are made with a veg protein before fried in southern style breadcrumbs. Served with a choice of dip.
Vegan Cheese Potato Tots
Oven-baked potato tots, which can be ordered simply as they are, or topped with vegan cheese and/or jalapenos.
Cauliflower Wings
Cauliflower chunks are coated in a crispy topping, served with hot buffalo sauce.
Dips
All of the dips are vegan. These are: Tomato & Herb Dip, BBQ Dip, Special Garlic Sauce, Garlic & Herb Dip, and Hot Buffalo Dip.
Desserts
Cinnapie Sticks
Cinnamon oat crumble is topped over freshly baked dough and drizzled with icing.
Cookies on Cookie Dough – Non-Dairy – Ben & Jerry's
Caramel ice cream with swirls of cookie, cookie dough and chocolate chunks. Available in a 100ml tub or its standard 465ml.
Drinks
There's a range of vegan drinks available for the UK at Papa John's. Which include: Rockstar Original Sugar-Free, Pepsi, Pepsi Max, Pepsi Max Cherry, Pepsi Max Raspberry, Orange Tango, Lipton Ice Tea – Peach, Robinsons Real Fruit – Raspberry & Apple, and Ballygowan Water.
Papa John's US vegan menu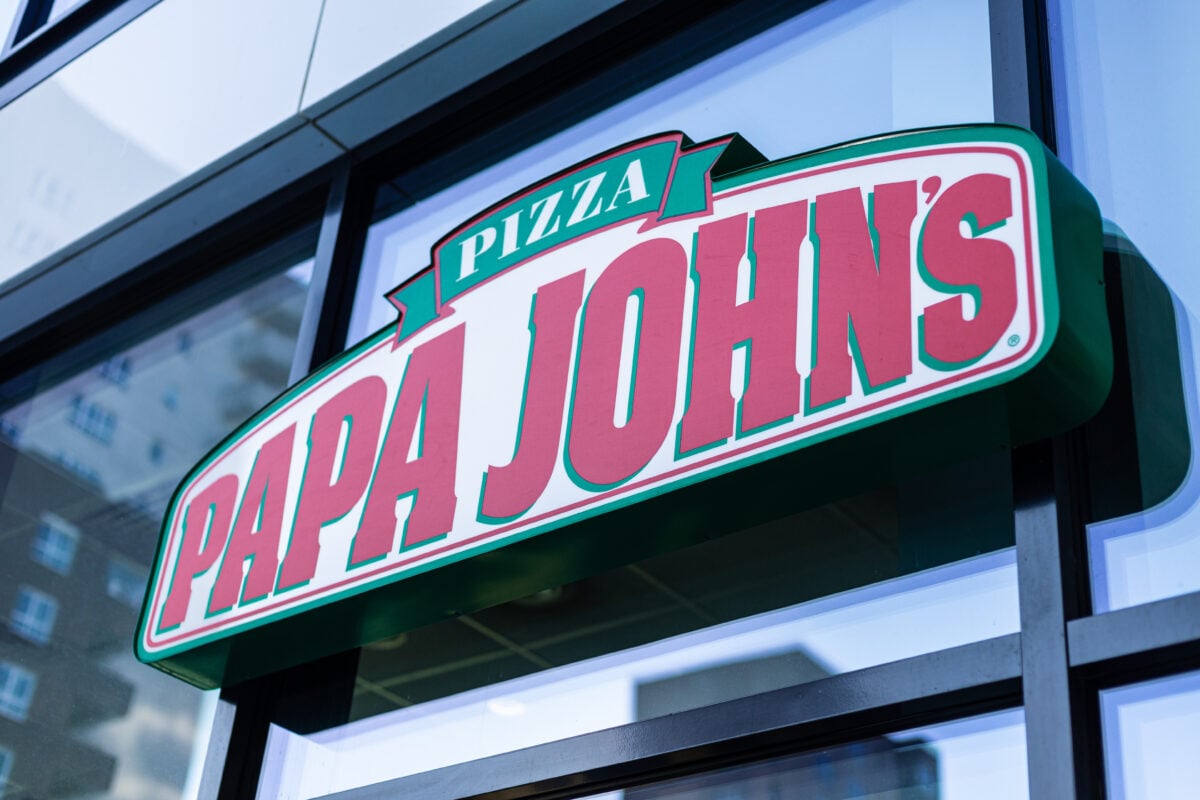 The vegan options in the US are more limited than for the UK and some other locations around the world. It currently doesn't have any vegan cheese or meat alternative toppings to add to pizzas. It is still possible to eat vegan at Papa John's in the US, however, with a few options for sides, personalized pizzas, dips, and drinks. You can double check its allergen info to make sure you're adding vegan ingredients, in case any recipes change.
Pizzas
It's possible to create a vegan pizza by customizing a delivery order. You can write this in the online order form, or order in person for collection. But whatever pizza you choose, you'll have to opt to remove the cheese to keep it plant-based.
Pizza dough
The original and deep pan dough bases are vegan. But the thin crust contains milk. The gluten-free base contains egg and milk.
Pizza sauces
The base sauces are vegan: BBQ, garlic, and original tomato sauce. There's also garlic, pizza, BBQ, and buffalo dipping sauces that are vegan.
Create Your Own
Choose between BBQ, garlic or original tomato sauce as a base. Veg toppings include mushrooms, pineapple, onions, green bell peppers, black olives, green olives, sliced jalapenos, banana peppers, tomatoes, and fresh spinach.
Garden Party
You can choose a Garden Party pizza and customize it again to not include cheese. The toppings for this are sliced onions, green peppers, chopped tomatoes, sweetcorn, and chestnut mushrooms.
Seasonings and spices
The crushed red pepper and special seasoning packet are both suitable for vegans.
Sides
Breadsticks
The plain breadsticks are vegan, available with one of the dipping sauces (garlic, pizza, BBQ, and buffalo). The garlic parmesan breadsticks, garlic knots, and cheese sticks all contain milk.
Desserts
Currently, Papa John's in the US does not have any vegan dessert options.
Drinks
Most drinks from the Pepsi brand fountain sodas are vegan. But note that Diet Pepsi is not vegan. There's also bottled water. 
More like this: