In January 2022, Burger King UK announced plans to make 50 percent of its menu meat-free. It was an unprecedented move from a mainstream fast food restaurant, and coincides with the chain's rapidly growing vegan menu.
Burger King has been increasingly standing out among its competitors when it comes to plant-based options, which are often well-received by critics and consumers.
In 2022, it turned its flagship restaurant in London's Leicester Square vegan for the month of January. Another branch in Bristol followed suit a few months later.
To mark Veganuary 2023, it announced a permanent partnership with vegan bacon brand La Vie, a first for any fast food chain.
Here are all the menu items that vegans can enjoy at Burger King UK in 2023.
What's vegan at Burger King UK?
The standout offering is the "Vegan Royale Bakon King," a plant-based take on the Chicken Royale with Bacon and Cheese.
The vegan version comes with all the same ingredients, only there are no animal products involved. As well as La Vie bacon, it features a crispy patty, dairy-free cheeze, and mayo. 
If bacon isn't your thing, you can also choose from the Vegan Royale, or Vegan Royale with cheeze. If a burger isn't enough, you can even get some vegan nuggets as a side.
Is the Plant-Based Whopper vegan?
Burger King also offers a "Plant-Based Whopper," but this isn't certified as vegan. While the Whopper doesn't contain any animal products, it is cooked on the same grill as the meat Whopper. This may not be a problem for some plant-based eaters, while others may choose to stay away from this option. 
Are Burger King fries vegan?
In the UK, Burger King fries are vegan, and have even been certified by The Vegan Society. While they will be vegan in many other countries, it's worth checking with your local restaurant to be sure.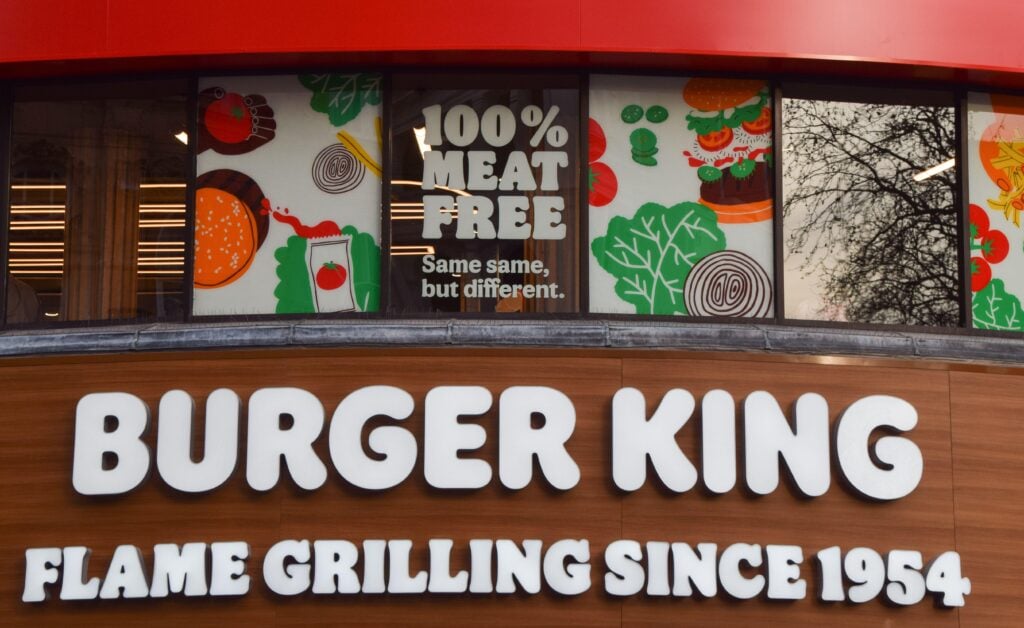 Burger King UK moves away from meat
While it's unlikely Burger King will completely ditch meat completely any time soon, its decision to make the menu 50 percent vegetarian was made on the grounds that doing so would help it curb its emissions. 
"Adapting to customer preferences is a key focus at Burger King – we are committed to helping our guests make good decisions about what they eat and drink and providing them with informed choices – whether through clear nutrition and allergen labelling, or by offering vegan and vegetarian options," Burger King UK chief executive Alasdair Murdoch said in a statement after the announcement.
He went on to describe the launch of meat-free options as "another positive step in reducing our carbon footprint and driving innovation in our menus in response to growing demand for meatless alternatives and products with no animal protein in the UK."