Fast food giant Burger King has added vegan bacon and dairy-free cheese to the menu at all of its restaurants in the UK.
From today (January 4), pig-free rashers made by La Vie and slices of nondairy Violife cheese will be available at all 510 UK locations.
New vegan options at Burger King
Burger King, which has been rapidly expanding its vegan menu in recent months, has introduced three meatless burgers to coincide with the launch.
The Vegan Royale Bakon King, which is Vegan Society-certified, boasts a crispy meatless chicken patty, nondairy cheese, egg-free mayo, and ketchup. It's joined by the Plant-Based Bakon King, available as a single or double, which features vegan cheese, mayo, and ketchup as well as flame-grilled Plant-Based Whopper patties.
The Whopper patties are made with all-vegan ingredients, but are cooked on the same broiler as the chain's animal meat options. The Vegan Royale, on the other hand, is cooked separately.
French alt-meat manufacturer La Vie, an investee of vegan actor Natalie Portman, spoke of the significance of the Burger King partnership in a statement.
"We are very proud to be partnering with Burger King, bringing our multi-award-winning, plant-based bacon La Vie to their restaurants," said Romain Jolivet, La Vie's chief marketing officer. "This will allow us to accelerate the pace of switching from animal-based meat to plant-based, which is a climate emergency we are all facing."
Jolivet continued: "Thanks to the open-mindedness and leadership of Burger King, proactively moving towards more plant-based options, millions of consumers will be able to try our next generation of plant-based bacon."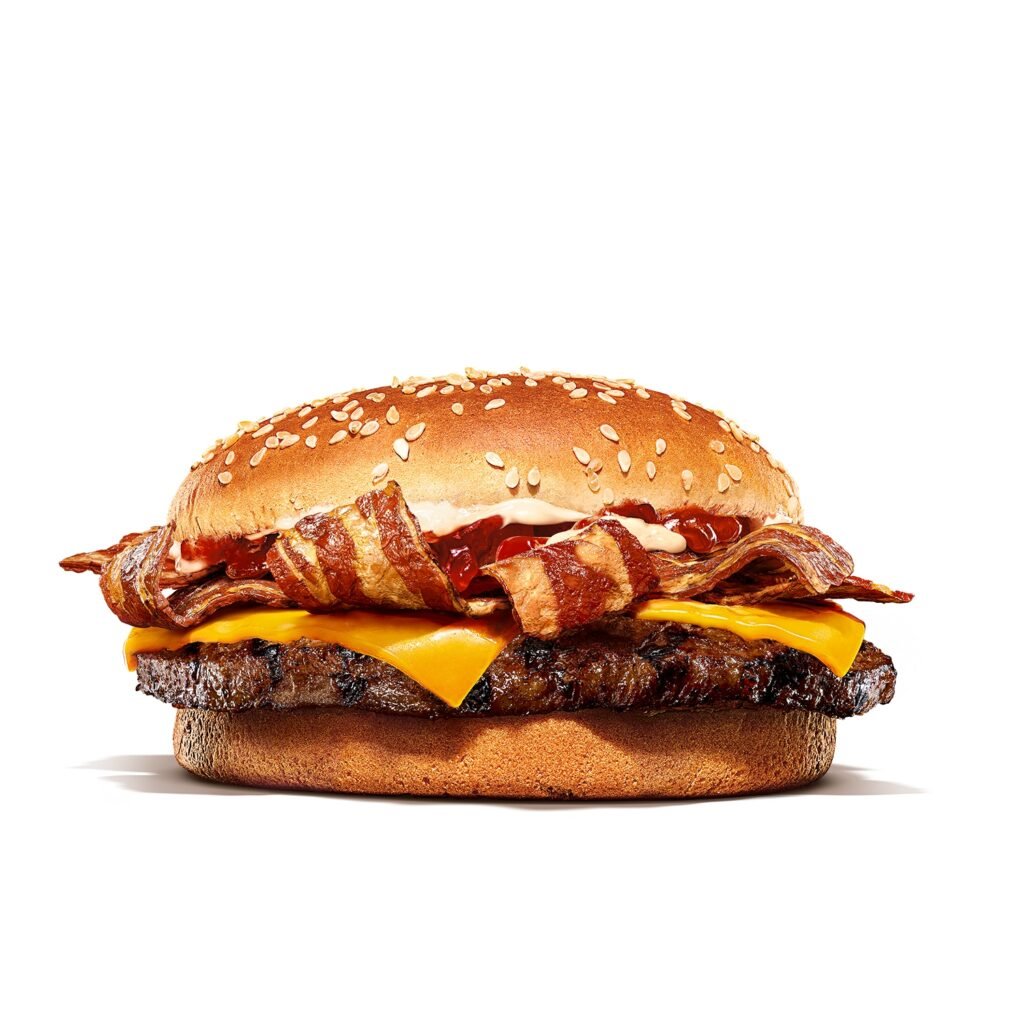 Burger King embraces plant-based food
The new menu items align with Burger King's promise to make half of its menu meat-free by the end of the decade.
"We are thrilled to be joining forces with La Vie," Soco Núñez de Cela, Burger King UK's director of communications, said in a statement.
"After the huge success of our Bristol and Leicester Square meat free restaurants, we look forward to building on our partnership with La Vie to ensure we meet our goal to become 50 percent plant-based by 2030 in the UK."
La Vie courted Burger King
Taking an unusual approach, La Vie publicly asked Burger King to use its products.
It published an advert in French newspaper Le Parisien, mocking-up how the chain's burgers would look with its bacon included. La Vie's campaign paid off when Burger King signed a supply agreement in 2022, and introduced the meat-free rashers at hundreds of Burger King locations in France.