Domino's is probably the most recognizable pizza delivery service on Earth, but many people may be unaware that its also increasingly vegan-friendly. The hugely popular franchise has added a number of dairy-free and veggie pizzas in recent years, and its plant-based menu is growing.
The Michigan-based chain was founded in 1960, and it now operates in more than 83 countries worldwide. It has around 15,000 stores, more than 5,000 of which are in the US. Domino's is known for its trademark logo depicting a red and blue domino with three dots. Its pizzas can be ordered online, over the phone, and it's even opened some dine-in restaurants in the past.
Whether you live in the UK or USA, here's everything you need to know about eating plant-based at Domino's.
Please note: while Domino's does offer a range of plant-based menu items, the chain cannot guarantee that cross-contamination will not occur. They therefore may be unsuitable for allergy sufferers.
Vegan pizzas at Domino's UK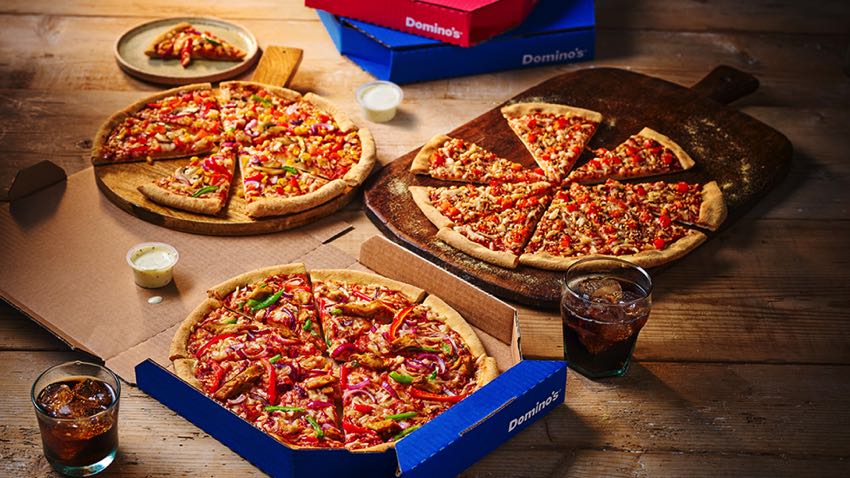 Domino's introduced its first vegan pizzas in the UK in 2020. These were a Margherita and Vegi Supreme, which both came complete with vegan cheese.
The chain was relatively slow to cater to plant-based consumers compared to its competitors, and it released a statement addressing this at the time.
"Our vegan offering has been a while coming because we're determined to make sure it's full of our iconic Domino's flavor," a spokesperson said. "We might not be first but we're always the best – no compromises." Since then, Domino's has added a wider variety of plant-based pizzas to its menus. There are as follows:
Plant-Based American Hot
Plant-Based Peppy-roni
Plant-Based Margheri-tastic
Plant-Based Vegi Supreme
Plant-Based Chick'n Winner
Is Domino's UK crust vegan?
One of the reasons why it took more time to offer a vegan version was because the original Domino's base is not vegan-friendly. This is because it contains milk. The plant-based pizzas are made with a vegan version of its classic crust, or you can also choose "Italian Style."
Speaking about the new plant-based dough in 2020, a Domino's spokesperson commented: "Our dedicated pizza chefs are incredibly excited for our fans to try this new and improved latest dough as we believe we've nailed it".
Vegan sides at Domino's UK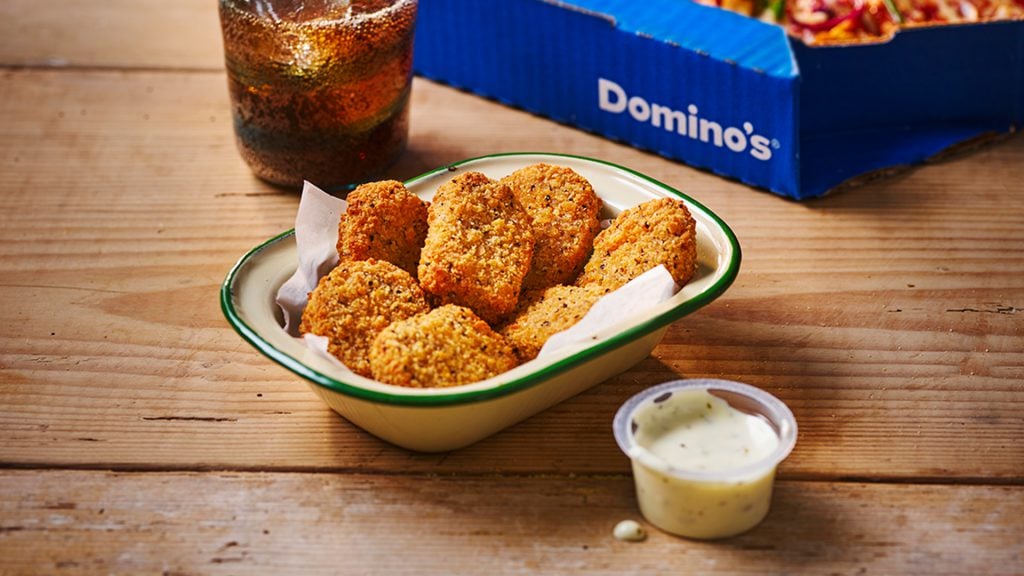 Currently, Domino's has a limited number of sides that are suitable for vegans. These are the Potato Wedges and Plant-Based Nuggets.
What dips are vegan? Is there a plant-based garlic and herb?
Luckily for fans of the Domino's classic – there is indeed a plant-based garlic and herb dip. Other sauce options include BBQ and Frank's RedHot.
What about vegan desserts?
At the time of writing, there are no vegan desserts available at Domino's UK.
Vegan drinks at Domino's
There are a wide range of plant-based drink options, including Coca Cola, Diet Coke, Coke Zero, Glaceau Smartwater, Fanta, Dr Pepper, Sprite Zero, and Oasis.
Domino's USA vegan menu
Currently, eating vegan at Domino's in the US is a bit of a challenge. At present, the chain doesn't offer a vegan cheese, and it's thought that its base isn't suitable for vegans.
According to Veganuary, you can order pasta with the tomato pizza sauce (known as the Robust Tomato Sauce). You can also add veggies to the pasta, such as mushrooms, peppers, and tomatoes.
Another option would be the Mediterranean Veggie Sandwich, but you'll need to order it without cheese. Robust Inspired Tomato Sauce. Dips suitable for vegans are as follows:
Garlic Dipping Sauce
Kicker Hot Sauce Dipping Cup
Marinara Dipping Sauce
Sweet Mango Habanero Sauce/Dipping Cup
More like this: