The 2023 Waitrose Christmas food range was announced in summer of this year, with more than 140 new products. Waitrose, like many UK supermarkets, will this year offer an extensive vegan range to cater to plant-based consumers, complete with party food, canapes, desserts, and even a meat-free turkey crown.
Waitrose customers can start stocking up on some of its food now. New festive frozen vegetables became available in store and online from August, while frozen party food, confectionery, and bakery goods were released in September. These were launched with the idea to help customers spread the cost of Christmas over multiple months. 
Find out all the vegan Christmas food you can buy at UK Supermarkets here
Waitrose vegan Christmas food 2023
Jump to section:
The British supermarket has been seeing a rapid increase in interest from its customers for plant-based Christmas options. By the end of 2022, there was an 188 percent increase for the search of "vegan christmas food" on its website compared to the previous year. This year, it's found that the search for "plant based" on waitrose.com is up by 115 percent compared to the same time last year.
As a result, the supermarket wanted to launch its biggest new range of vegan Christmas options. Simona Cohen-Vida-Welsh, Partner and Vegan Product Developer, said: "I love developing plant-based food as there are so many wonderful flavors and textures to incorporate. Our brand new Ultimate Triple Nut Roast is the perfect example of this. You discover something new in every mouthful – sweetness from the sweet potato, wholesome lentils and chickpeas, the chutney inside which delivers a fruity flavor bomb, and then there's an earthy crunch from the whole almond and Brazil nuts. It's truly a feast for the eyes and stomach that everybody will love."
Covering party food, canapes, mains, and desserts, plant-based options available this year make a whole vegan menu for the festive period. Here are all the new products you'll be able to find in Waitrose stores and online.
Waitrose Christmas party food and canapes
22-Piece Plantliving Festive Cocktail Sausage Selection
A seasonal party platter. There are plant-based turkey cocktail sausages; maple, date, and chestnut cocktails sausages; and spiced mushroom 'chorizo' sausages wrapped in puff pastry.
Available to order online, delivered between Friday, 22 December and Sunday, 24 December.
Cost £8.

Plant Pigs In Blankets
A plant-based version of a traditional side. Vegan sausages wrapped in vegan bacon.
Available to buy in store.
Cost: £3.50 for a pack of six.

Festive Cocktail Sausage Selection
This pack features different flavors of plant-based cocktail sausages. Expect flavors like cranberry, as well as Bramley apple sauce in the selection pack.
Available in store.
Cost: £3.50.

Plant Chorizo Pigs In Puffers
Vegan smoky chorizo sausage swirls are made with mushrooms. They're then flavored with roasted red peppers, garlic and chili and wrapped in puff pastry swirls.
Available in store.
Cost: £4.

Waitrose vegan mains
Ultimate Triple Nut Roast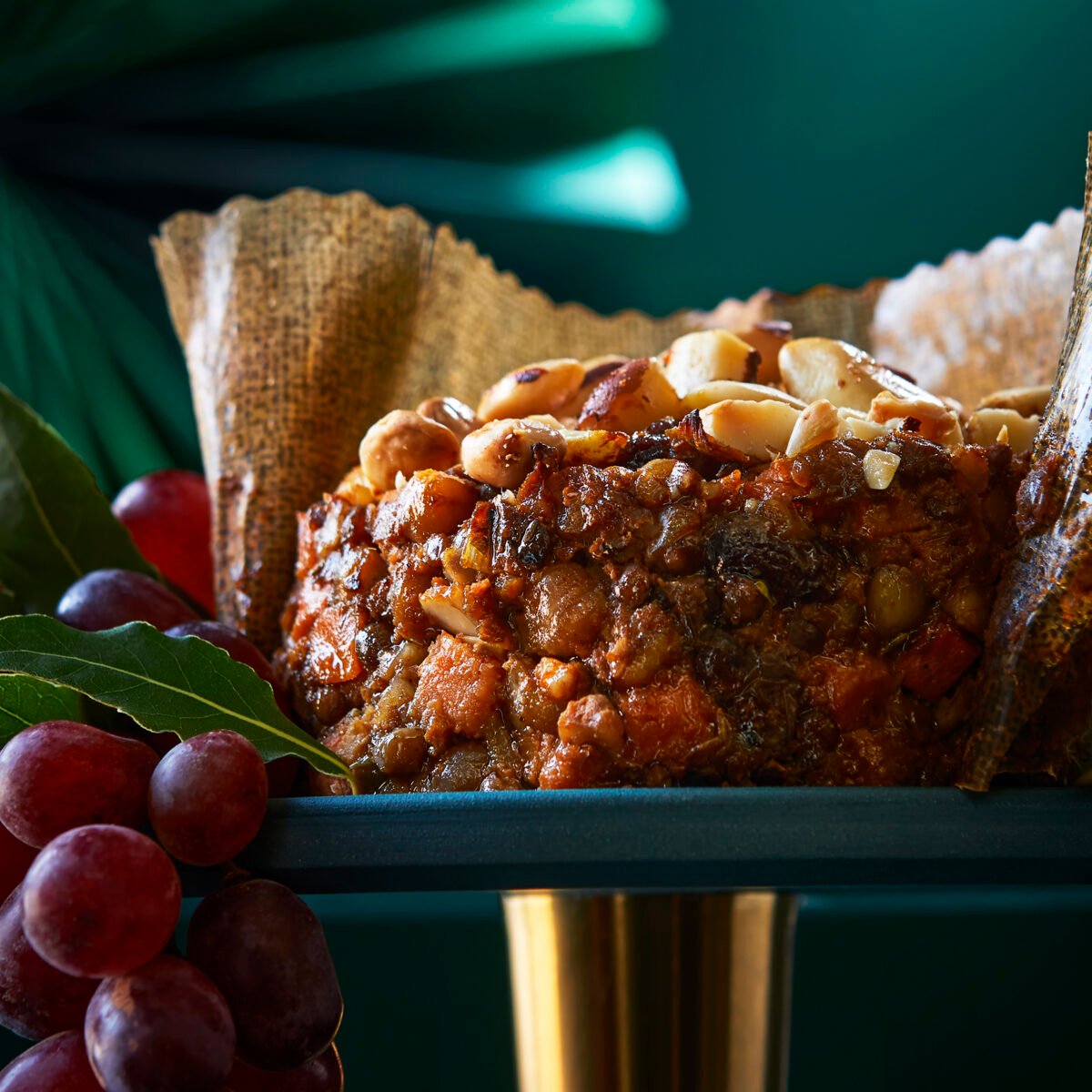 Crunchy roasted nuts combined with sweet potato, lentils, chickpeas, and miso. The nut roast is then hand finished with a spiced clementine and apricot chutney glaze. Whole brazil nuts and almonds are placed by hand on top.
Available in store.
Cost: £7.

Chestnut and Thyme Plant-Based Turkey Roast and Gravy
A soya-based 'turkey crown' with a caramelized onion and mushroom stuffing on the inside. Furthermore, it's been created to carve, with a sauvignon gravy to go alongside.
Available in store.
Cost: £10.

Plantliving Chestnut & Thyme Plant Based Turkey Roast, Gravy, And Festive Sides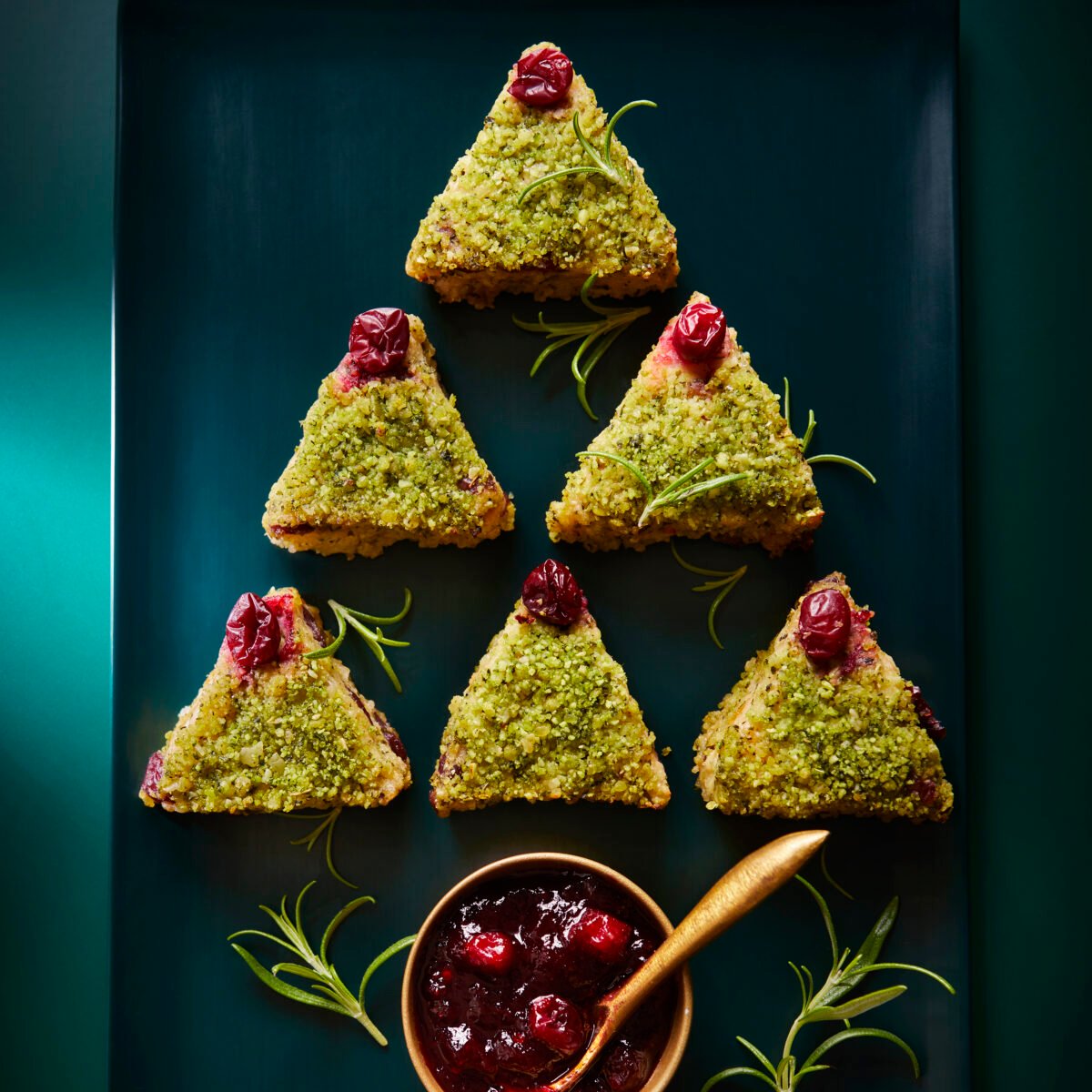 A seasoned centerpiece with side dishes. A savory plant-based soya 'turkey crown' filled with a thyme-scented chestnut and caramelized onion stuffing for the main. Also comes with peppered plant-based pigs in blankets and jeweled stuffing Christmas trees, with mushrooms, cranberries, and pumpkin seeds. Sauvignon gravy is also provided to pour on top. Suggested serving is for three people.
Available to order online, delivered between Friday, 22 December and Sunday, 24 December.
Cost: £16.

No 1 Ultimate Vegan Sharing Wellington
Created to share between four, the wellington is a combination of plant-based 'beef', braised in a shallot, garlic, and thyme vegetable stock. It's then encased in a layer of mushroom duxelle and pastry.
Available to order online, delivered between Friday, 22 December and Sunday, 24 December.
Cost: £12.

Waitrose vegan sides
Fruity Stuffing Christmas Trees
Cranberry and apricot stuffing shaped into little Christmas trees. They're then decorated with a herby cranberry breadcrumb.
Available in store.
Cost: £3.50 for six pieces.

Waitrose vegan Christmas sandwiches
Vegan Bubble & Squeak Sandwich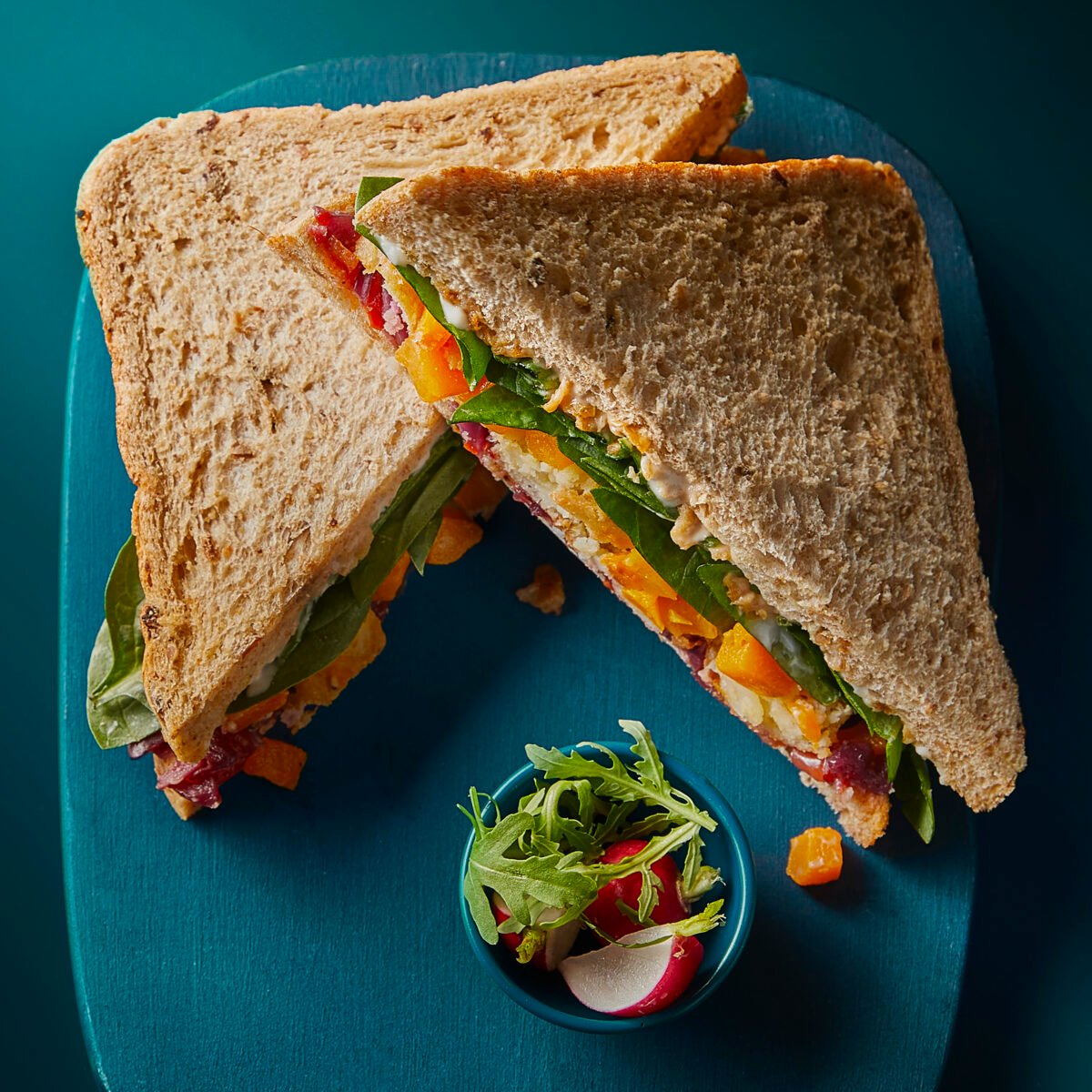 Crumbled bubble and squeak is layered with roasted butternut squash, Christmas-spiced pickled red cabbage, chili jam, vegan mayonnaise, spinach, and crispy fried onions. Served in malted bread, and available as a quick to-go option.
Available in store from Wednesday, October 25.
Cost: £3.50.

Waitrose vegan desserts
No 1 Millionaire's Torte
A dark chocolate ganache blended with caramel. There's a crunchy biscuit base, and cocoa nibs scattered on top. Available to order online.
Delivered between Friday, 22 December and Sunday, 24 December, and between Friday, 29 December and Sunday, 31 December.
Cost: £16 for 10-12 servings.
When can I order Waitrose Christmas food?
Waitrose has released the following dates for when its Christmas and vegan Christmas food options will be available. Note that they are subject to change.
Monday, August 27 – Frozen vegetable sides
Monday, September 18 – Frozen party food
Sunday, September 24 – Confectionery and gifts
Wednesday, September 27 – Bakery, including panettones, Christmas cake, and mince pies
Wednesday, October 25 – Christmas sandwiches
Wednesday, November 22 – Sides. Including stuffing, gravy, and sauces
Wednesday, November 29 – Party food
Wednesday, December 6 – Starters
Friday, December 15 – Chilled desserts
Wednesday, December 20 – Mains. Includes the Ultimate Triple Nut Roast and Ultimate Plant-Based Festive Wellington
More like this: