For vegan fans of Starbucks, there's a lot on offer. In 2021, then-CEO Kevin Johnson announced the company would be adding more plant-based and dairy-free options to its menu to reflect changing consumer preferences. It's come a long way since 2016 when it introduced its first plant-based milk option in the form of almond milk.
If it ever seems like Starbucks is everywhere, that's because it almost is. Founded in 1971 at a farmer's market in Seattle, Starbucks now has more than 35,000 cafes in 80 countries, making it the world's biggest coffee shop chain.
The move towards more plant-based options is in fact the first of the five "Areas of Focus" listed under Starbucks' commitment to "becoming resource positive." In 2020, the company announced its plan to reduce its carbon, water, and waste footprints by half by 2030. In its 2022 Social and Environmental Impact Report, it acknowledged that "dairy is a significant contributor to our carbon and water footprints." But it isn't clear if its vegan options are starting to replace dairy sales or if they are simply an additional revenue stream.
Here's everything you need to know about what vegans can order. (Please note: the vegan options are designated as "plant-based" on Starbucks products.)
You should always check with your server before ordering any meal. While many menu items are made from plant-based ingredients, cross-contamination may occur. The menu and ingredients are also subject to change.
Starbucks UK vegan menu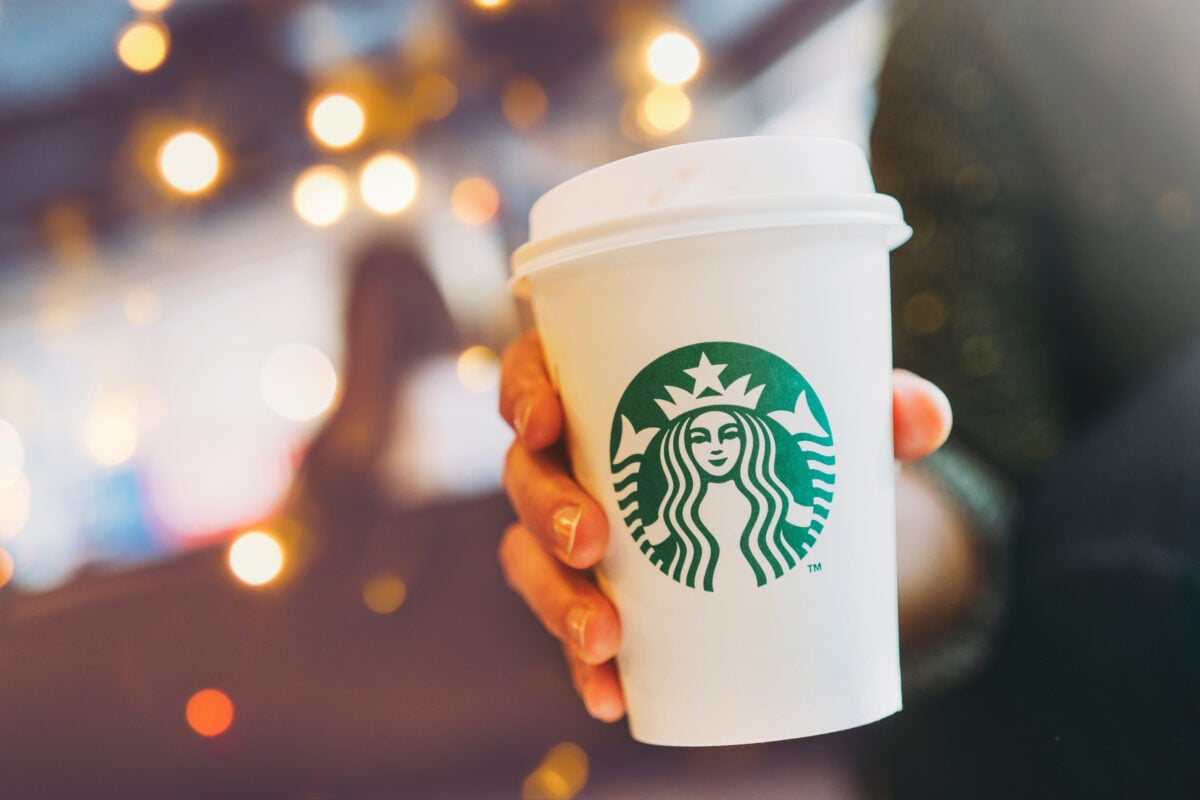 UK customers have a pretty extensive range of plant-based options. Five were added in January 2023 in time for Veganuary. Many drinks can be made vegan, while there are also plant-based sweet treats, breakfast items, and snacks on offer.
What vegan milk does Starbucks have?
Up until the beginning of 2022, UK customers had to pay extra at Starbucks if they wanted plant-based milk instead of dairy in their coffee. The company finally dropped this surcharge shortly after a fake press release went out claiming the coffee chain would no longer charge more for vegan milks. Non-profit Switch4Good, which champions dairy-free living, was behind the spoof campaign, intended to highlight the prevalence of lactose intolerance among Black, Indigenous, and People of Color (BIPOC) communities.
Starbucks has five plant-based milk options:
Oat
Almond
Soy
Coconut
Starbucks Original Nut Blend
Just remember that some drinks also come with cream or other additions, which you can ask the barista to leave out. These are:
Whipped cream
Java chips or Frappuccino chips (in the Java Chip Frappuccino and Double Chocolatey Chip Frappuccino) – these contain milk
Caramel drizzle (on the Caramel Macchiato and Caramel Frappuccino) – contains milk and butter
Cinnamon dolce topping – contains butter
Is the Pumpkin Spice Latte vegan?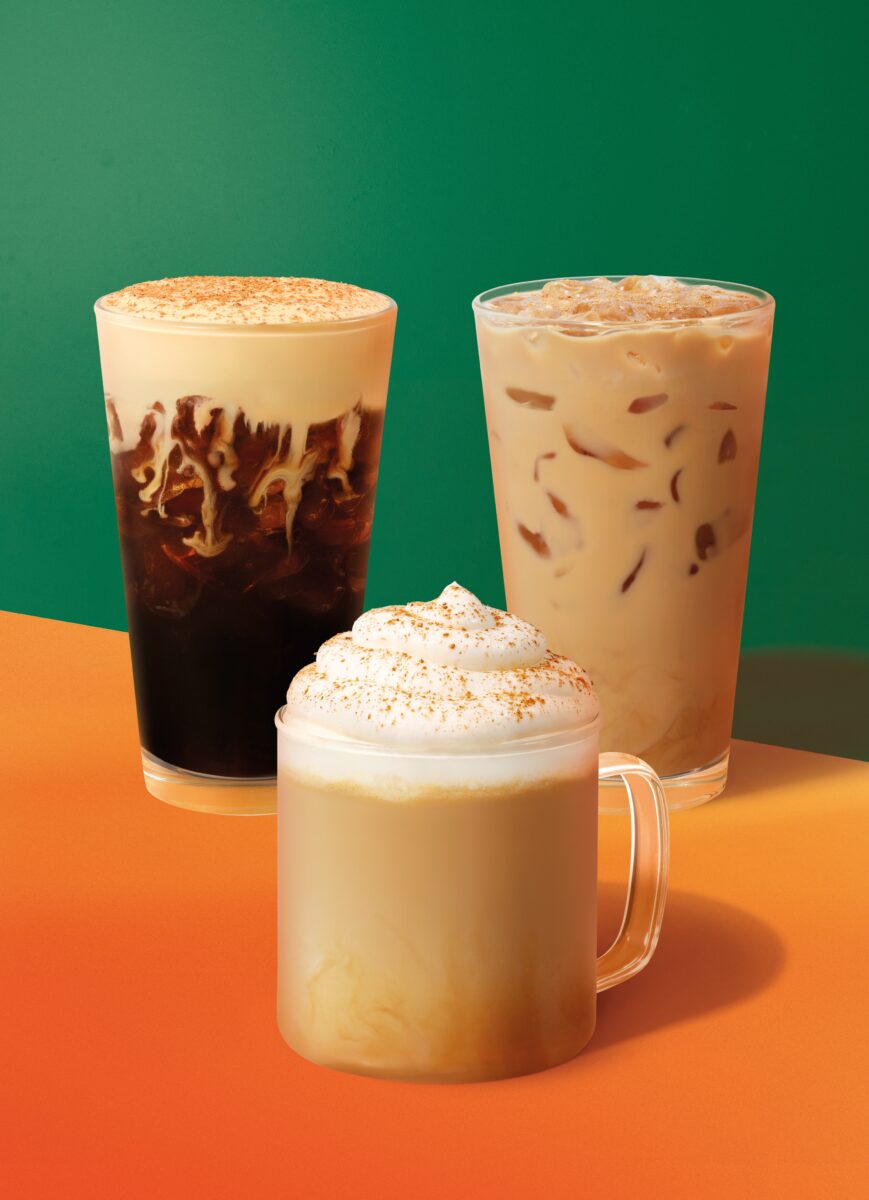 The original Pumpkin Spice Latte contains cow's milk and cream – but ordering it without these ingredients should veganize it.
According to the Starbucks Nutrition and Allergen Guide for September to November 2023, the pumpkin spice sauce does not contain any animal-derived ingredients. Based on this, the latte is vegan in the UK as long as you leave out the dairy whipped cream and have it with a plant-based milk. You can also opt for the vegan whipped cream, which is available in stores nationwide.
Are all the syrups vegan?
The flavored syrups used in Starbucks drinks in the UK are vegan. Note that the caramel syrup is vegan, while the caramel drizzle is not.
The chai tea syrup is also not vegan as it contains honey. But you can still order the Classic Chai Tea Latte as long as it is made with the Teavana brewed tea instead of the syrup.
Vegan cakes
There are only two vegan options among Starbucks' baked goods. These are the Banana Caramel Muffin and the Raspberry and Almond Mini Loaf.
Vegan chocolate and snacks
Both the Dark Chocolate Bar and the Dark Chocolate Peanut Butter Cups are plant-based. The other snack options are the Lightly Salted or Sea Salt and Balsamic Vinegar Kettle crisps, the Roasted & Salted Mixed Nuts, and the Mixed Fruits & Nuts.
Vegan breakfast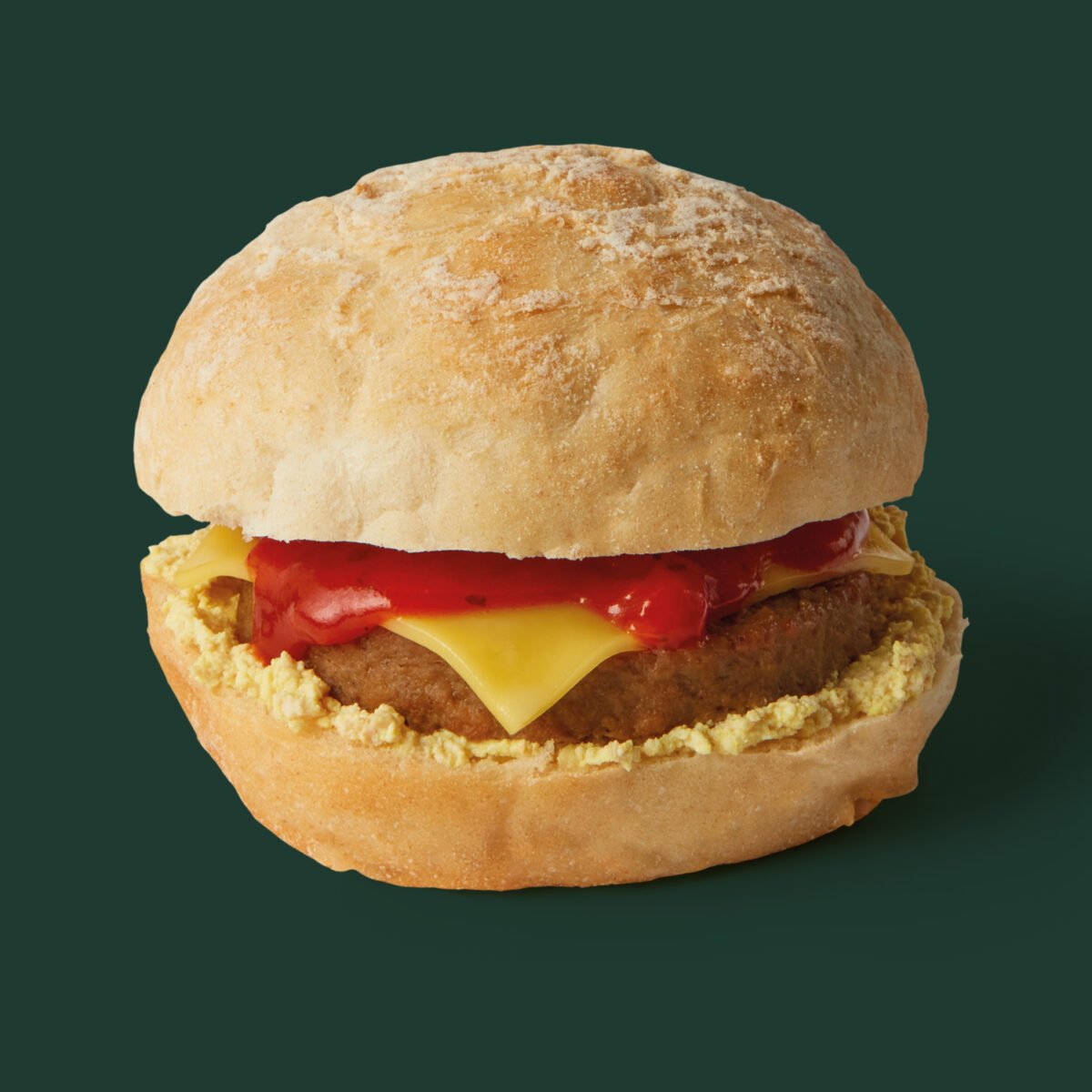 If you're after breakfast at Starbucks, there are a few options. The Beyond Meat Breakfast Sandwich comes with a Beyond Meat pea protein patty, tomato relish, a tofu turmeric egg alternative, and a slice of dairy-free cheese.
The Brunch Burrito contains smoky scrambled tofu, a meat-free Lincolnshire style sausage in barbecue pinto bean sauce, and spinach in a tortilla.
For something a bit lighter there are the Peach & Raspberry Overnight Oats made with Jumbo Rolled Oats with Apple, a vegan oat yogurt, and a raspberry and peach compote. It's topped with peach slices, cranberries, and blueberries. Bananas are also available.
Vegan sandwiches and toasties
Only two of the ten sandwich and toastie menu items are plant-based. One is a Sweet Potato & Pumpkin Seed Fritter Wrap which is a tomato wrap filled with a squash and pumpkin seed fritter, spicy chilli, sweet potato houmous, pickled slaw, and fresh spinach.
The other is the Fiery No'Chicken Wrap made with seasoned protein pieces, spicy firecracker sauce, vegan mayonnaise, vegan mozzarella, red pepper, spring onion, and spinach. However, Starbucks' website lists milk and egg among the allergens, so it's best to check with staff before buying this one.
Starbucks US vegan menu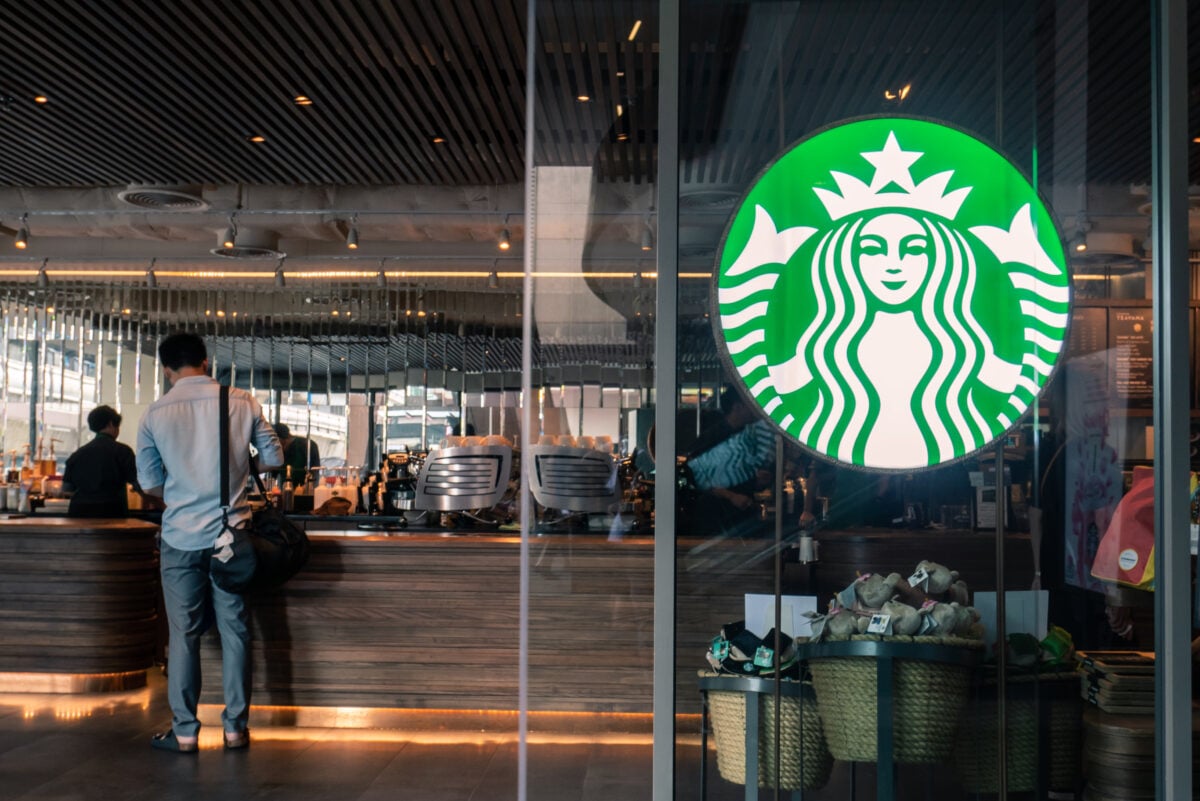 In the US, the options are more limited. While it is possible to order vegan milks, drinks, and food, the range isn't as extensive as in the UK.
What vegan milk does Starbucks have?
Unlike the UK, US branches of Starbucks still charge extra for plant-based milks. This is despite the same fake press release by Switch4Good having reached US media outlets. It is also despite a widely covered protest against the surcharge in which actor James Cromwell glued himself to the counter of a New York City Starbucks in 2022.
You can get "a splash" of a plant-based milk in your drink for free, but more than that will cost you an additional 70 cents. The choices are oat, soy, coconut, and almond, though it varies depending on the US city.
Is the pumpkin spice latte vegan?
In the US, the pumpkin spice sauce used in the latte contains skimmed milk, so it is not vegan.
Instead, vegans could try the hot chocolate by leaving off the whipped cream and asking for a plant-based milk, as the mocha sauce used to make it does not contain milk itself.
Vegan baked goods
The plain and everything bagels are vegan by themselves, or you could order them with the Avocado Spread.
Vegan breakfast
Oatmeal is the only vegan option for breakfast, and can be customized with a choice of toppings: dried fruit, mixed nuts, brown sugar, agave syrup, or blueberries.
There is an Impossible Breakfast Sandwich on the menu, but it contains cheese and a fried egg.
Vegan snacks and sweets
The pickings in this category are also slim. We could only confirm that the Salt and Vinegar Kettle potato chips and the Justin's Dark Chocolate Peanut Butter Cups are vegan. For kids there is the Peter Rabbit Organics Strawberry Banana puree.
More like this: