Ben & Jerry's has been serving up chilled desserts since 1978. The company was founded in Burlington, Vermont in the US, but now operates globally. A subsidiary of Unilever, Ben & Jerry's manufactures ice cream, frozen yogurt, and sorbet.
For a company that has built its foundations on dairy, its ever-growing range of vegan flavors may seem surprising. But the message from the public was loud and clear: there is a demand for non-dairy ice cream and that demand is growing all the time.
In 2015, Ben & Jerry's announced it was working on vegan options. The statement was in response to a petition led by FARM organization. The petition – which garnered nearly 30,000 signatures – urged Ben & Jerry's to introduce dairy-free flavors for ethical and environmental reasons.
"We have been loyal customers of Ben & Jerry's for many years, and love the socially progressive nature of the company: their Fair Trade policies, commitment to improved animal welfare, and their long-term support of Marriage Equality! Given all that, we are surprised that a company as ethical as Ben & Jerry's does not make a non-dairy ice cream," the petition read.
"It would be a huge sign of Ben & Jerry's support for action against climate change if they offered a non-dairy ice cream."
Less than a year later, the ice cream brand announced its first all-vegan line.
Which flavors are vegan?
Over the years, Ben & Jerry's has updated and expanded on the range. Now, the global company offers 21 vegan flavors. Here's your guide to all of them:
Americone Dream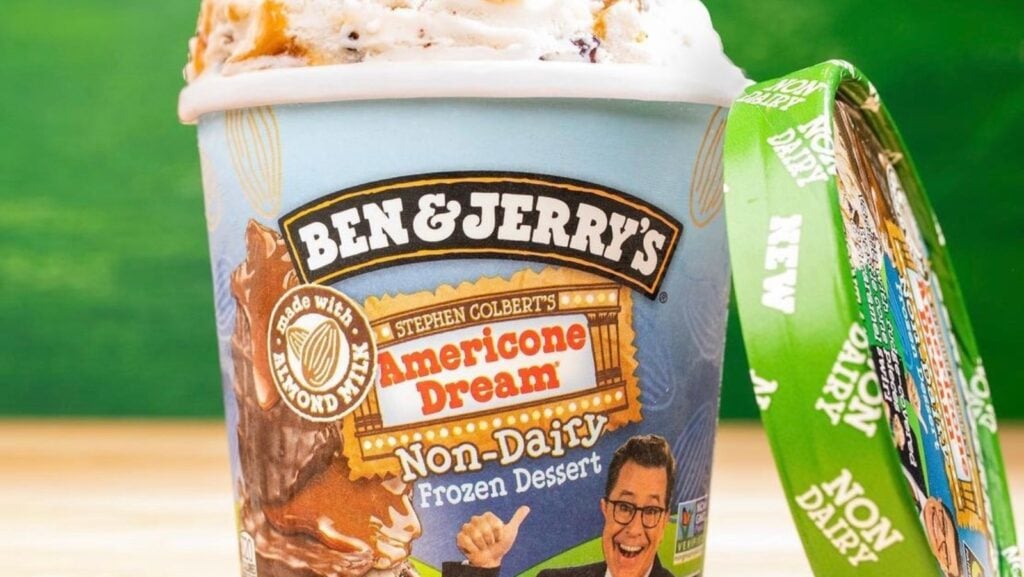 Fudge-covered waffle cones and caramel swirls are hiding inside this non-dairy ice cream. The flavor, made with almond milk, is backed by The Late Show host Stephen Colbert.
Proceeds from Americone Dream go to The Stephen Colbert Americone Dream Fund, which works to offer food and medical assistance to disadvantaged children. It also assists veterans and their families.
Caramel Almond Brittle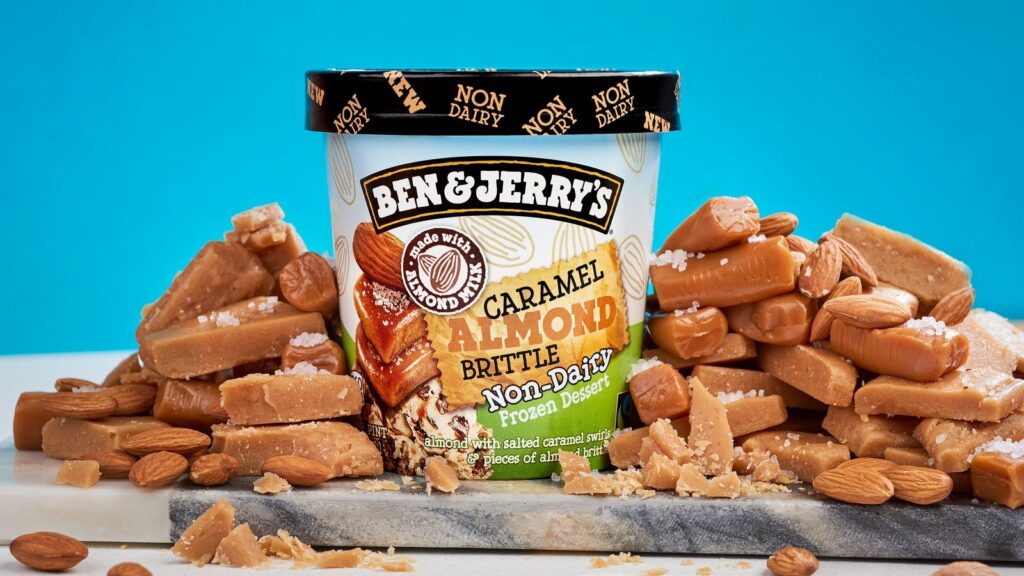 This flavor 'celebrates all things almondy', Ben & Jerry's writes on its website, to pay homage to almond milk which many of its vegan flavors are made with.
It includes crunchy pieces of almond brittle and salted caramel swirls.
Cherry Garcia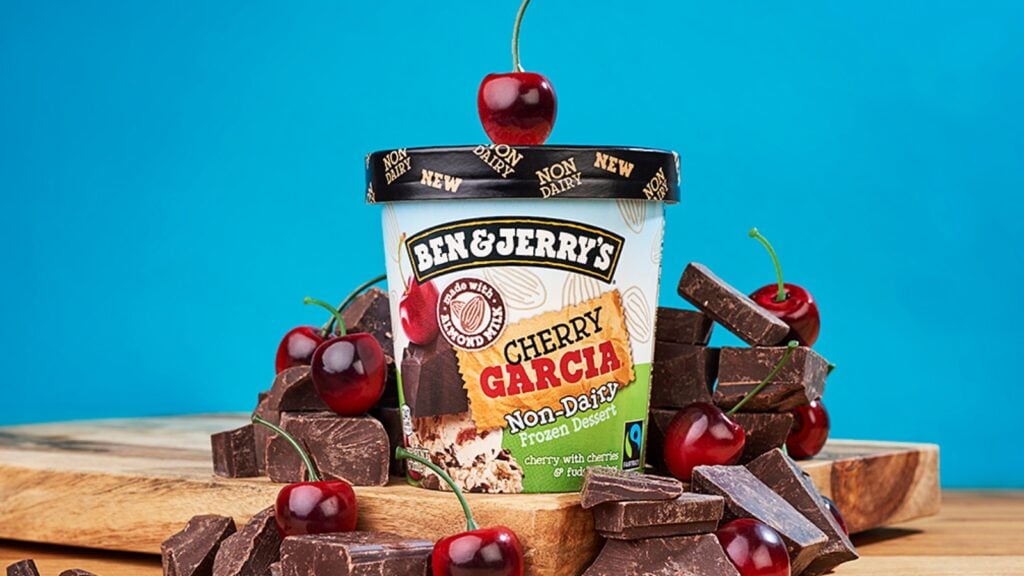 This flavor originated in 1987 as a tribute toJerry Garcia, best known as the lead guitarist of rock band the Grateful Dead. It came about after a fan sent a postcard to Ben & Jerry's requesting it.
It includes cherries and fudge flakes, and it's certified vegan and gluten-free.
Chocolate Caramel Cluster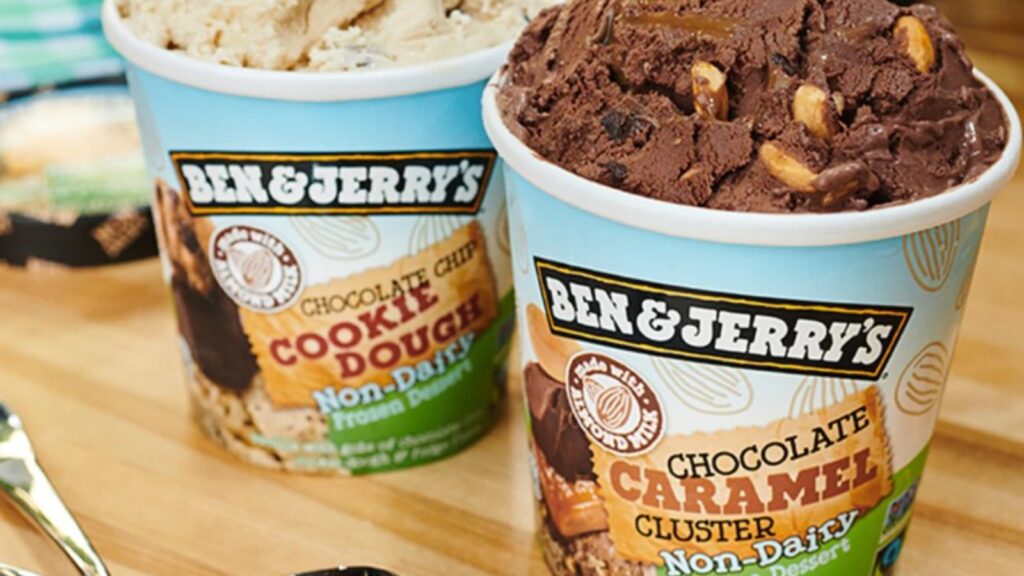 Think chocolate, salted caramel swirls, fudge, and peanuts. Need we say more?
Chocolate Chip Cookie Dough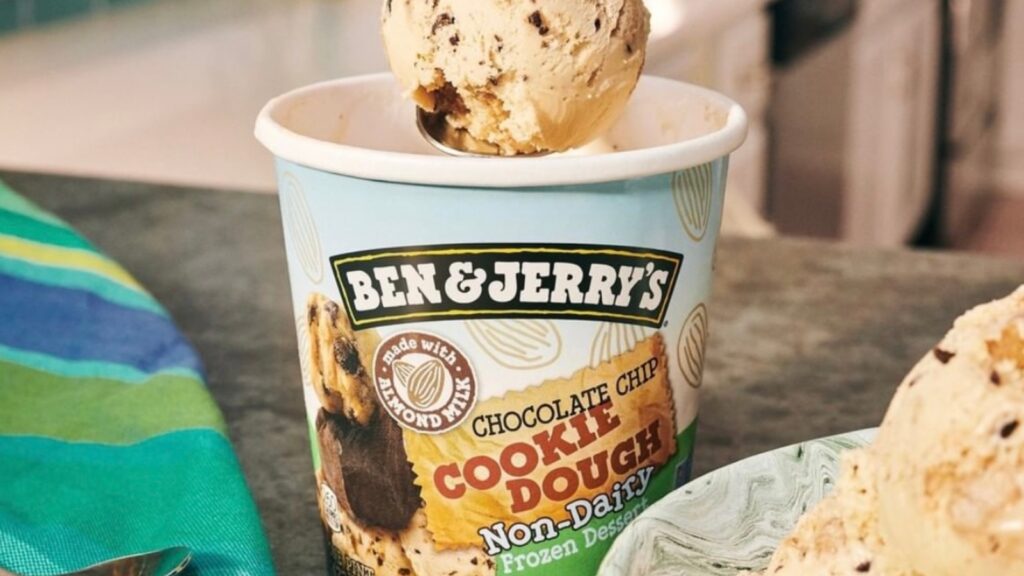 This remake of the classic Ben & Jerry's cookie dough flavor tastes just like the original. You'll find bites of chocolate chip cookie dough and fudge flakes throughout.
Chocolate Fudge Brownie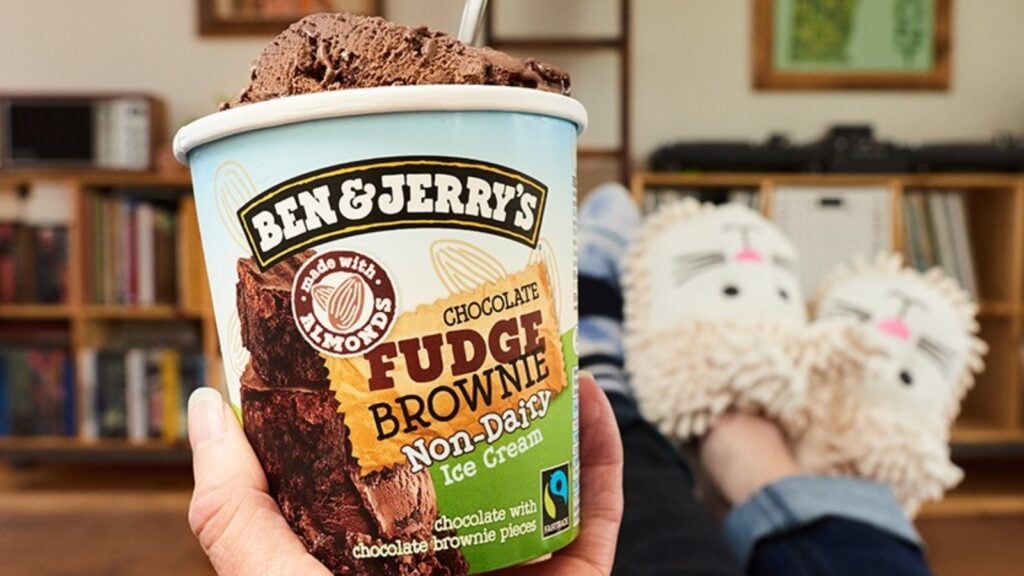 This comfort food-inspired flavor includes fudge brownies from New York's Greyston Bakery. The bakery works to provide jobs and training to low-income city residents.
Chocolate Salted 'n Swirled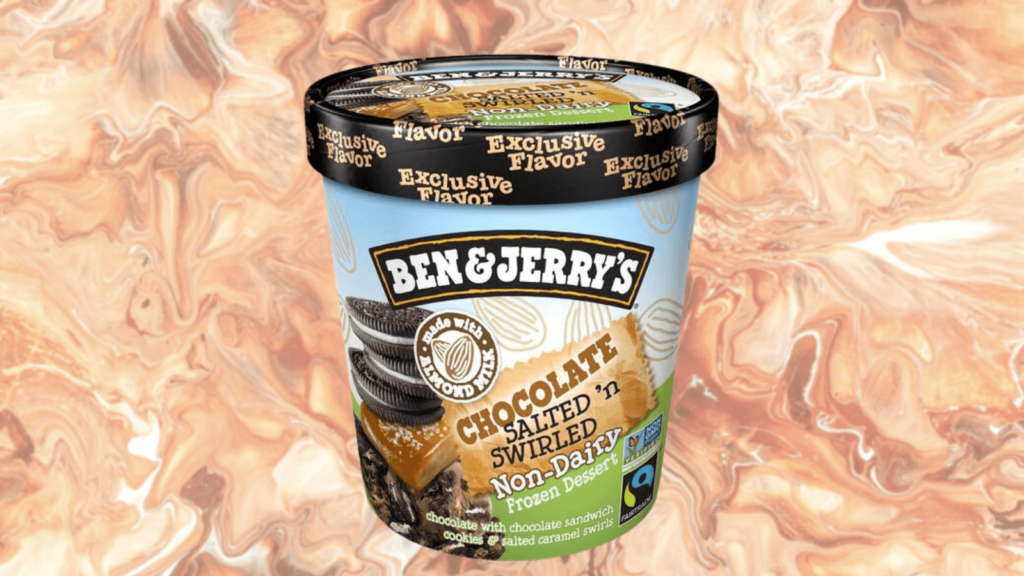 Ben & Jerry's refers to this non-dairy pint as a 'love story'.
"It's a non-dairy flavor you can bank all your forevers on, with dreamy chocolate, salted caramel, and chocolate cookies. It can't wait to meet your parents," it writes online.
Coconut Seven Layer Bar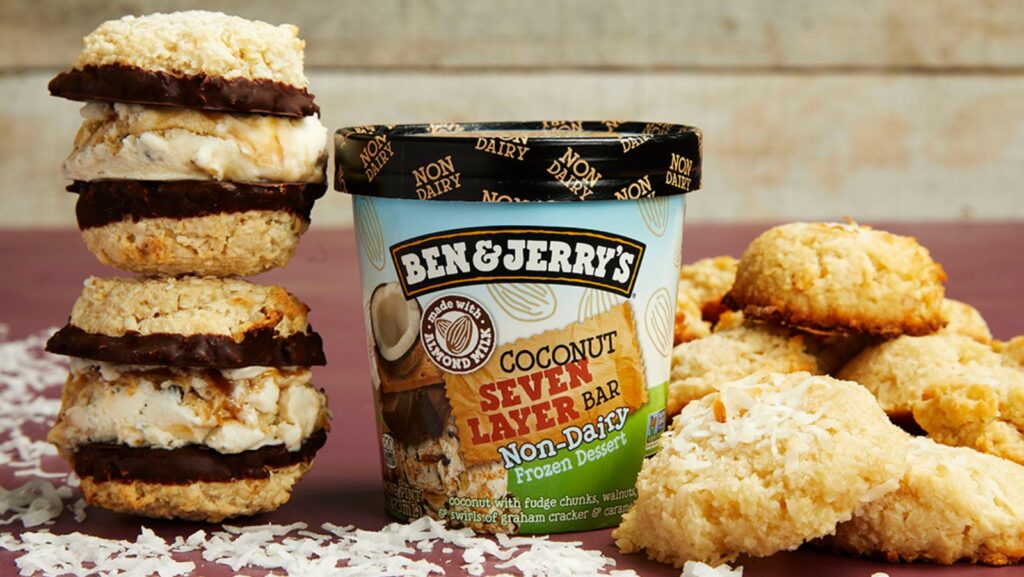 Fudge chunks, walnuts, and swirls of Graham crackers and caramel make up this vegan treat. Since it contains no animal products, it has 0mg of cholesterol (the dairy version has 50mg).
Coffee Caramel Fudge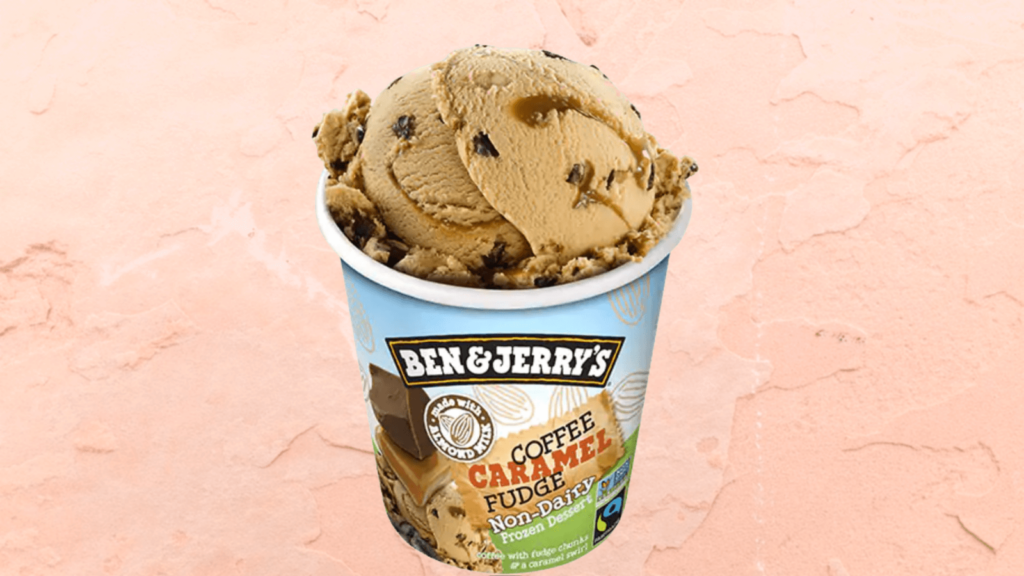 Ben & Jerry's Coffee Caramel Fudge is exclusive to its non-dairy range. It's loaded with fudge chunks and a 'rich' swirl of caramel throughout a base of Fairtrade coffee.
Colin Kaepernick's Change the Whirled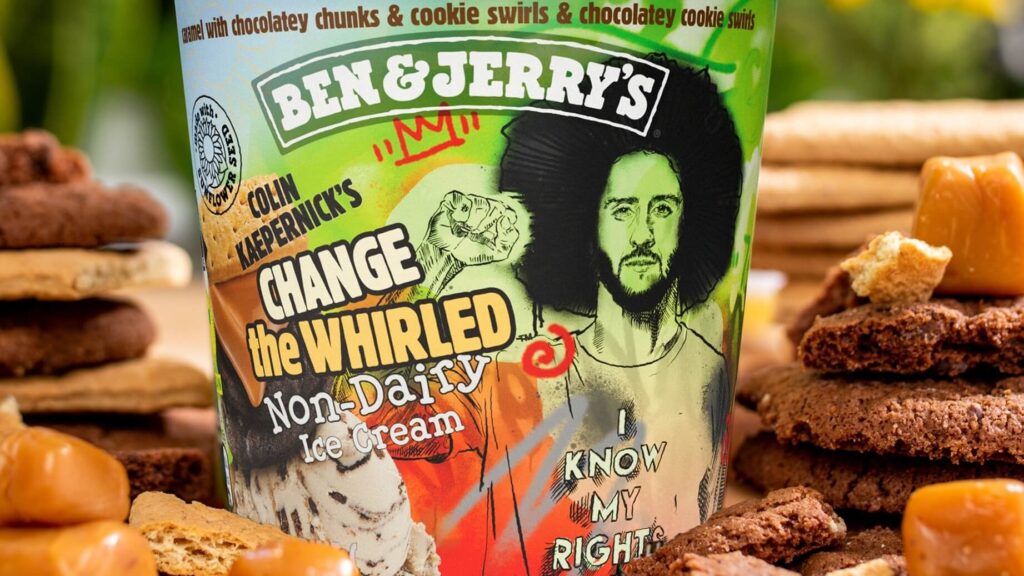 This dairy-free flavor features caramel ice cream with chocolate chunks and cookie swirls.
Ben & Jerry's created Change the Whirled to honor Colin Kaepernick's racial justice activism. Kaepernick donates his portion of the proceeds to Know Your Rights Camp. The campaign, founded by Kaepernick, works to 'advance the liberation and well-being of Black and Brown communities through education, self-empowerment, mass-mobilization and the creation of new systems that elevate the next generation of change leaders'.
Cookies on Cookie Dough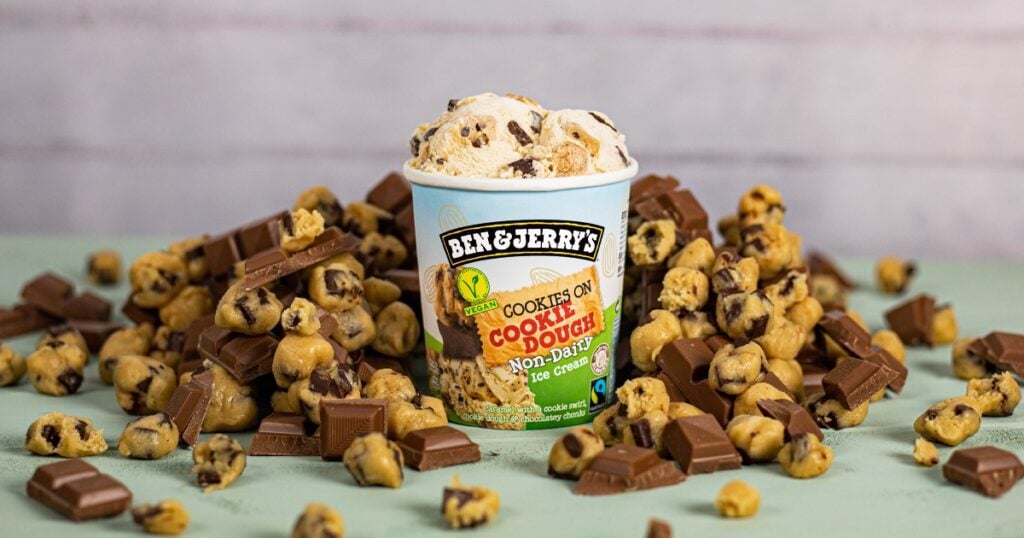 The fact that this flavor is dairy-free is a reason to love this dessert, Ben & Jerry's says.
This vegan version of one of the brand's classic flavors contains caramel ice cream, chunks of cookie dough, and chocolate chips.
Crème Brûlée Cookie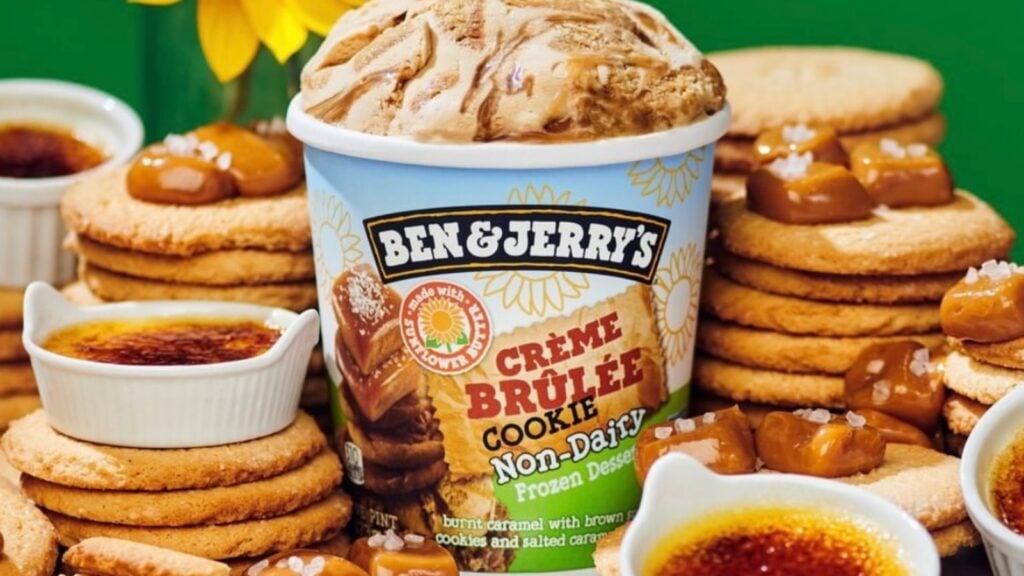 Ben & Jerry's steps away from its typical non-dairy almond base with this creation.
Made with sunflower seed butter, the non-dairy Crème Brûlée Cookie features burnt caramel, brown sugar cookies, and salted caramel swirls. And pea protein, who would have thought?
Karamel Sutra Core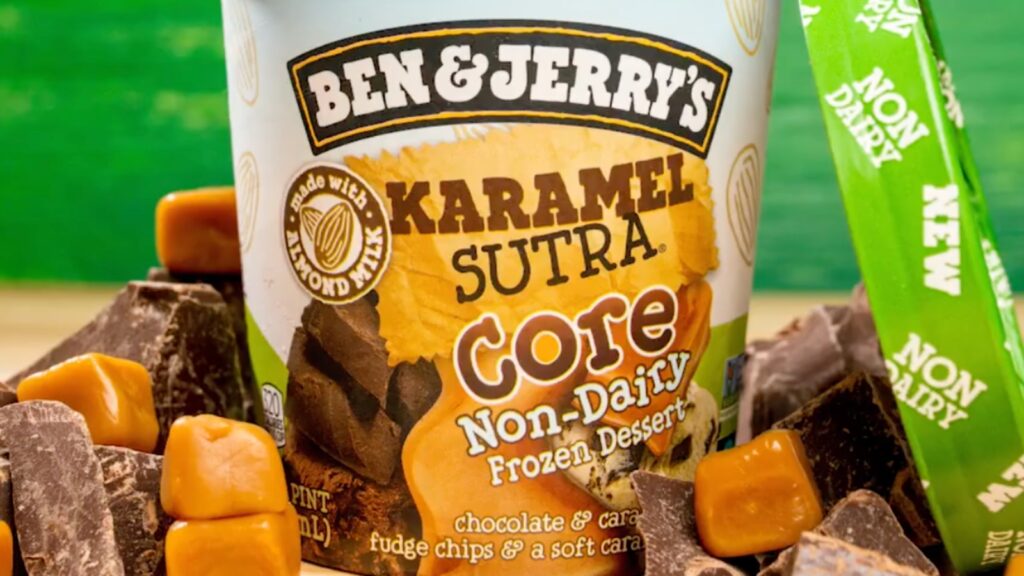 According to Ben & Jerry's, this flavor is the 'ultimate experience'.
"Whether your primal urges lead you to the center of soft caramel or directly to the fudge chips, you'll be in total control of your own non-dairy destiny," the brand says on its website.
'Milk' & Cookies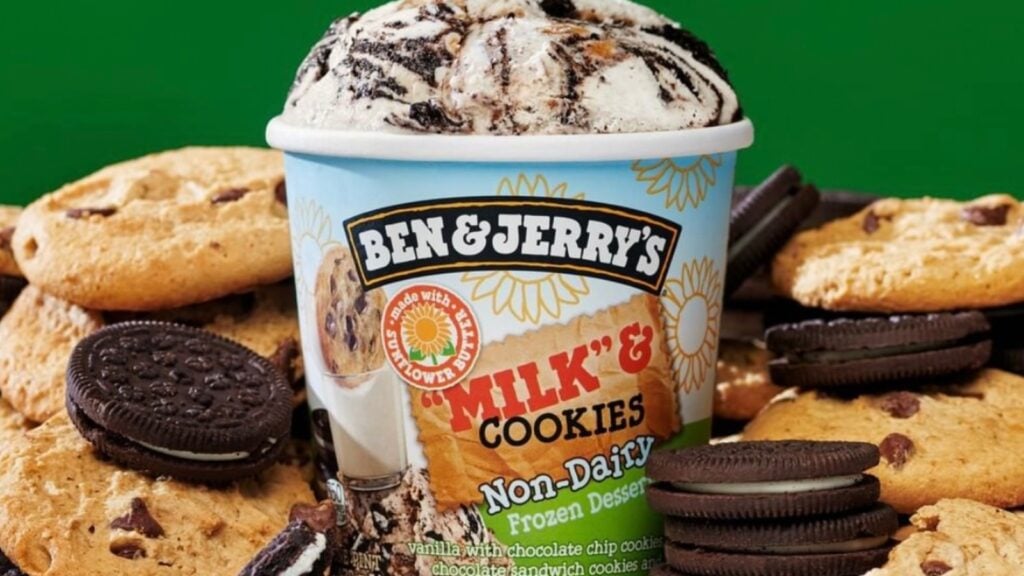 Made from sunflower seed butter, this vanilla ice cream concoction features chocolate chip cookies, chocolate sandwich cookies, and chocolate cookie swirls.
Mint Chocolate Cookie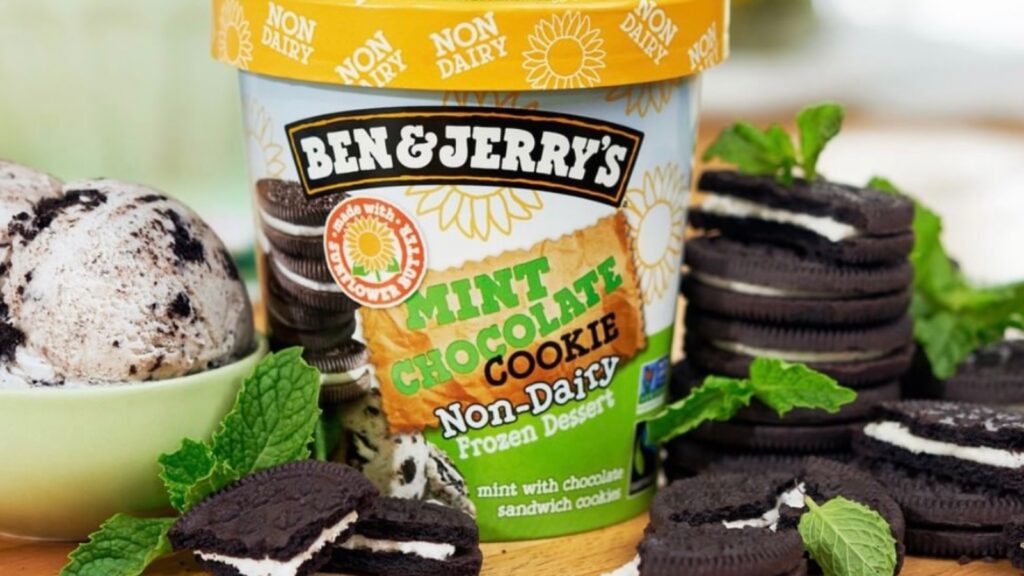 For the mint chocolate-lovers out there, Ben & Jerry's offers this non-dairy, sunflower butter-based pint. It features smashed chocolate sandwich cookies.
This vegan flavor contains less total fat, cholesterol, and sodium than its dairy-based counterpart.
Netflix & Chilll'd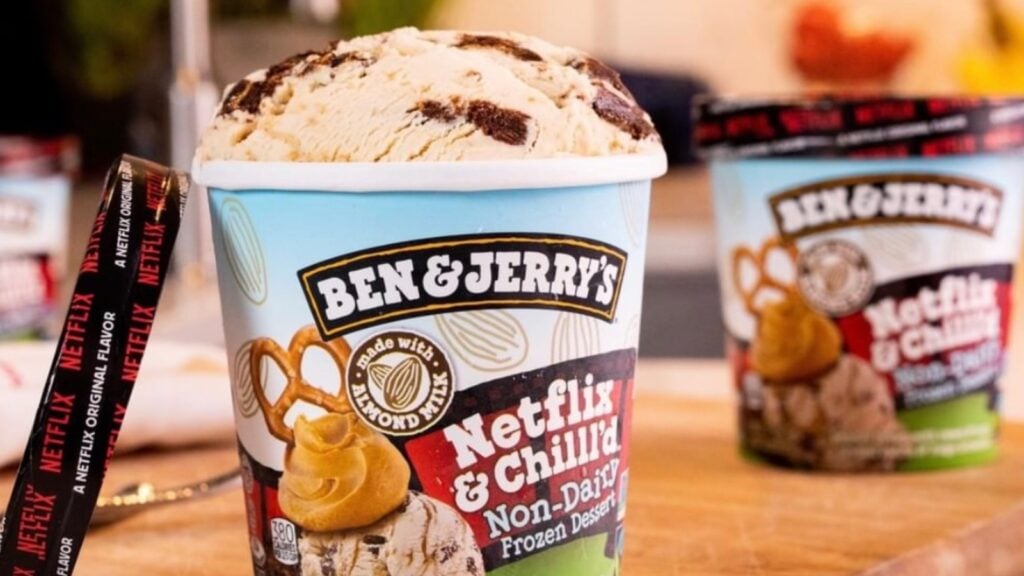 Ben & Jerry's teamed up with Netflix to create this non-dairy dessert.
The dessert brand fills these pints with sweet and salty pretzel swirls, as well as fudge brownies. "It's a flavorful world, and everyone is invited to grab a spoon," Ben & Jerry's writes.
Peanut Butter Half Baked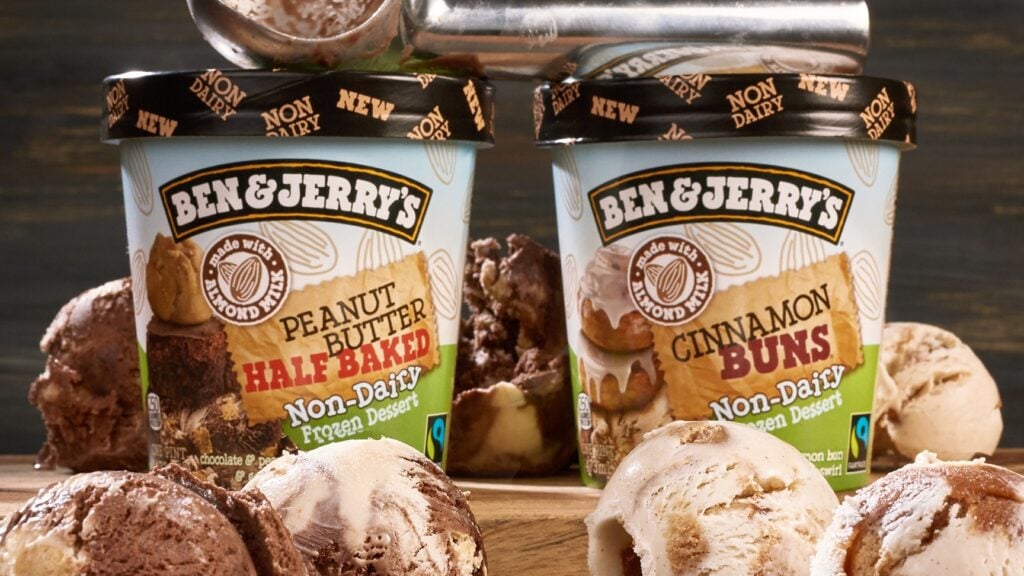 This chocolate and peanut butter dessert comes with fudge brownies and scoops of peanut butter cookie dough.
The tub contains 14g of protein.
Peanut Butter & Cookies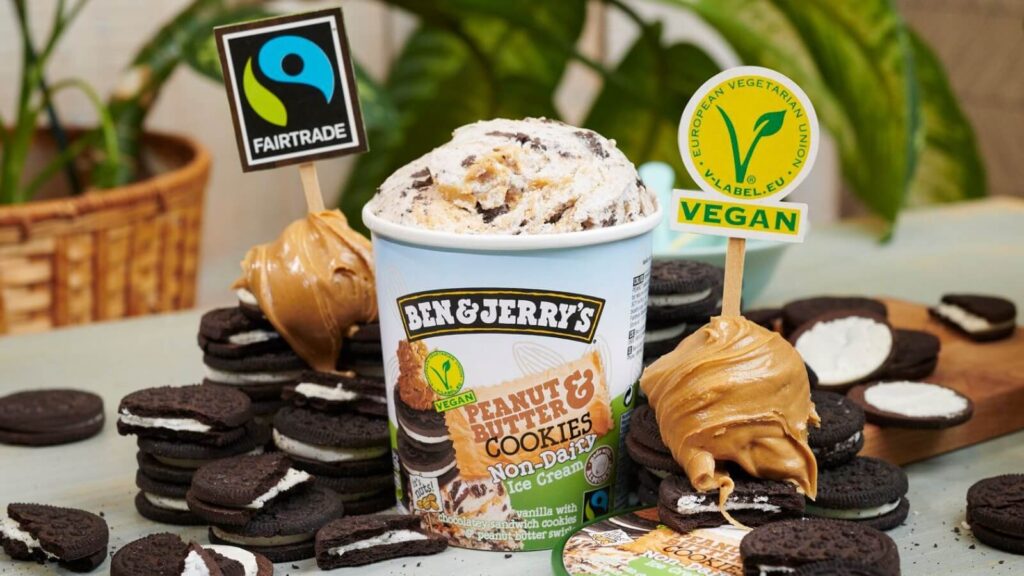 It's fair to say this creation was inevitable. On its website, Ben & Jerry's admits it has 'always had a love affair with P.B. and with cookies'.
The vegan pint comes with a crunchy peanut butter swirl and chocolate sandwich cookies,
Phish Food
Ben & Jerry's packed this fan favorite with chocolate ice cream, gooey marshmallow swirls, caramel swirls, and fish-shaped fudge.
Like the original, the vegan version supports the WaterWheel Foundation, which backs non-profits working on environmental and social causes. These include improving access to clean water, land conservation, supporting food banks, and assisting women and children in need.
Save Our Swirled NOW!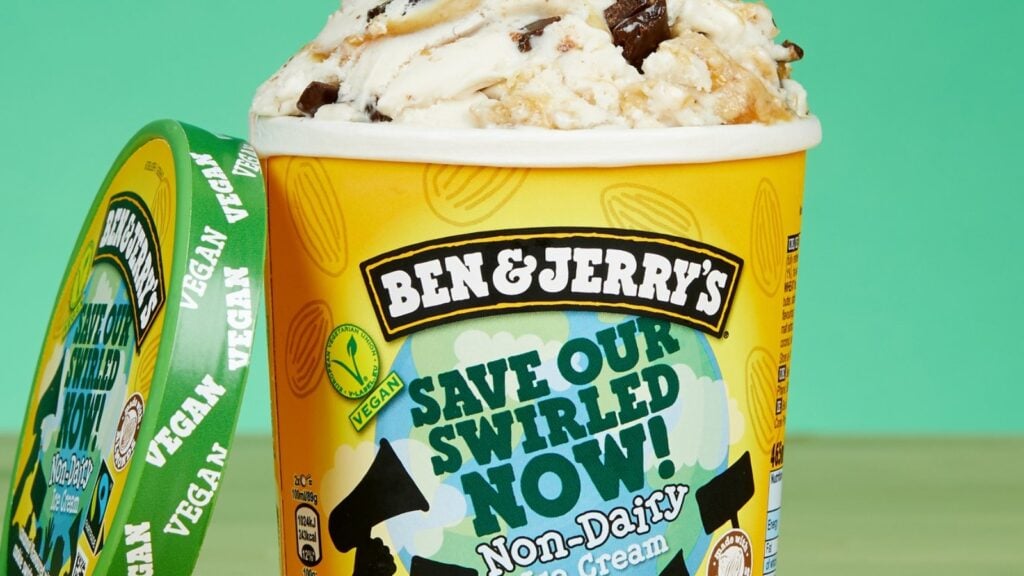 Ben & Jerry's aims to raise awareness of the climate crisis with this dairy-free creation. It includes coconut-flavored ice cream, caramel and cookie swirls, and pieces of chocolate.
The company encourages people to sign The Climate Coalition's declaration that urges the UK's Prime Minister to take climate action. Specifically, to protect, restore, and expand green and wild spaces, support those most vulnerable to the impacts of climate change (in the UK and abroad), and to 'unleash a clean energy revolution'.
The Tonight Dough
Ben & Jerry's collaborated with The Tonight Show Starring Jimmy Fallon to create this product. It contains caramel and chocolate ice cream, chocolate cookie swirls, clumps of chocolate chip cookie dough and peanut butter cookie dough.
Proceeds from the flavor go towards the SeriousFun Children's Network of global camps for kids with serious illnesses.