Ben & Jerry's has released a new vegan ice cream flavor with the climate in mind across the UK. To combine with the release, the company is urging customers to sign a declaration calling the government to step up its response to the climate crisis.
The dairy-free flavor is a combination of coconut ice cream with chunks of chocolate and a cookie swirl.
It is a reward for those who participated in Veganuary this month and was created in solidarity with reducing the impact of climate change.
Vegan ice cream to help the planet
In coalition with the new flavor, Ben & Jerry's teamed up with lobby group, The Climate Coalition.
The company urges customers to sign the declaration calling on British prime minister Boris Johnson to 'lead the UK towards a healthier, greener, fairer future'.
The call focuses on protecting green spaces and boosting clean energy. If successful, it is hoped the call will help the UK reach net-zero emission goals.
Via its website, the company stated: "We need a resilient recovery, we need a clean energy revolution. We need jobs, housing, and transport which are fit for the future. 
"We need to ensure those most vulnerable to the impact of climate change are supported, we need to ensure this recovery keeps global warming in check."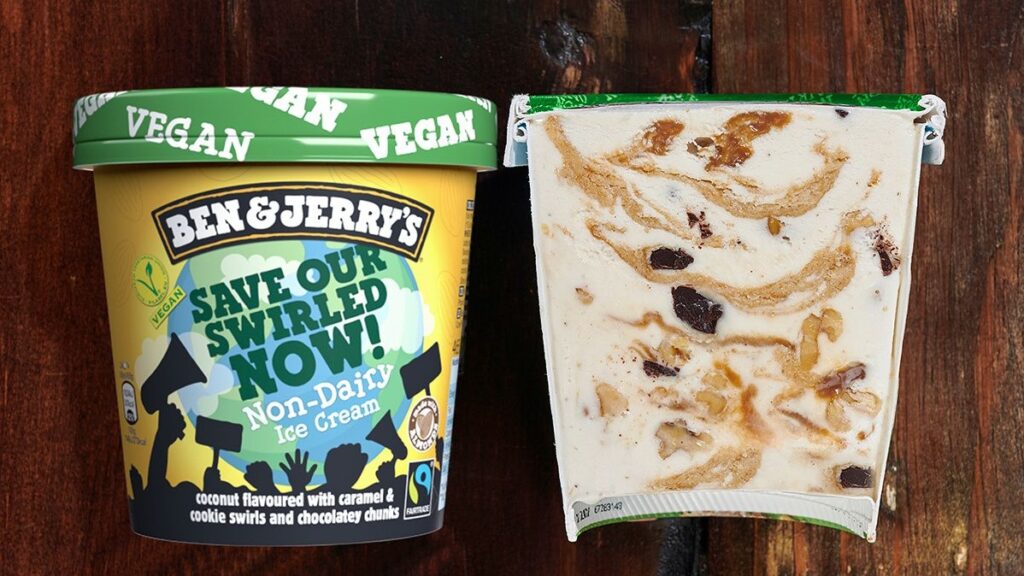 Save Our Swirled NOW
The flavor, Save Our Swirled NOW, is available from supermarkets across the UK.
It is retailed at £5.49 a tub.
The flavor adds to the current collection of vegan ice creams Ben & Jerry's has released recently, including its Cinnamon Bun cookie dough bites in the US.
Last September, the company unveiled new Cinnamon Bun cookie dough bites in the US.
You can sign the declaration online.