If you're having guests over this weekend and want to prepare something fancy, why not try this dairy-free – and completely vegan – cheese platter? A few years ago, the idea of a plant-based cheese platter would have seemed laughable, but there has been a recent boom in cheeses like brie, camembert, and stilton that are completely free from animal products.
This particular vegan cheese platter idea, which comes from plant-based recipe developer Happy Skin Kitchen, features instructions on how to make your own red onion and apple chutney. It also offers ideas of vegetables, crackers, and other foods to include, but you can adjust these according to your taste.
The platter uses cashew cheese, which the recipe also shows you how to make, but you can opt for any vegan cheese you like. If you don't have time to make your own, it is now possible to find a wide variety of options in stores.
Where to buy vegan cheese for your cheese platter
While it's often relatively easy to find plant-based versions of cheeses like cheddar and mozzarella in supermarkets, finding plant-based blue and soft cheese can be a challenge. The below recipe recommends cashew cheese, which you can often find in health food shops if you don't fancy making it at home. Alternatively, you could seek out brands like Honestly Tasty, La Fauxmagerie, or I Am Nut OK.
If you want to put together a vegan cheeseboard but need some inspiration, check out the below:
This is the perfect sharing platter for dinner parties or when dining al fresco. I love adding grilled veggies, juicy olives, crackers, and obviously some super creamy cashew cheese! The apple chutney is just the perfect accompaniment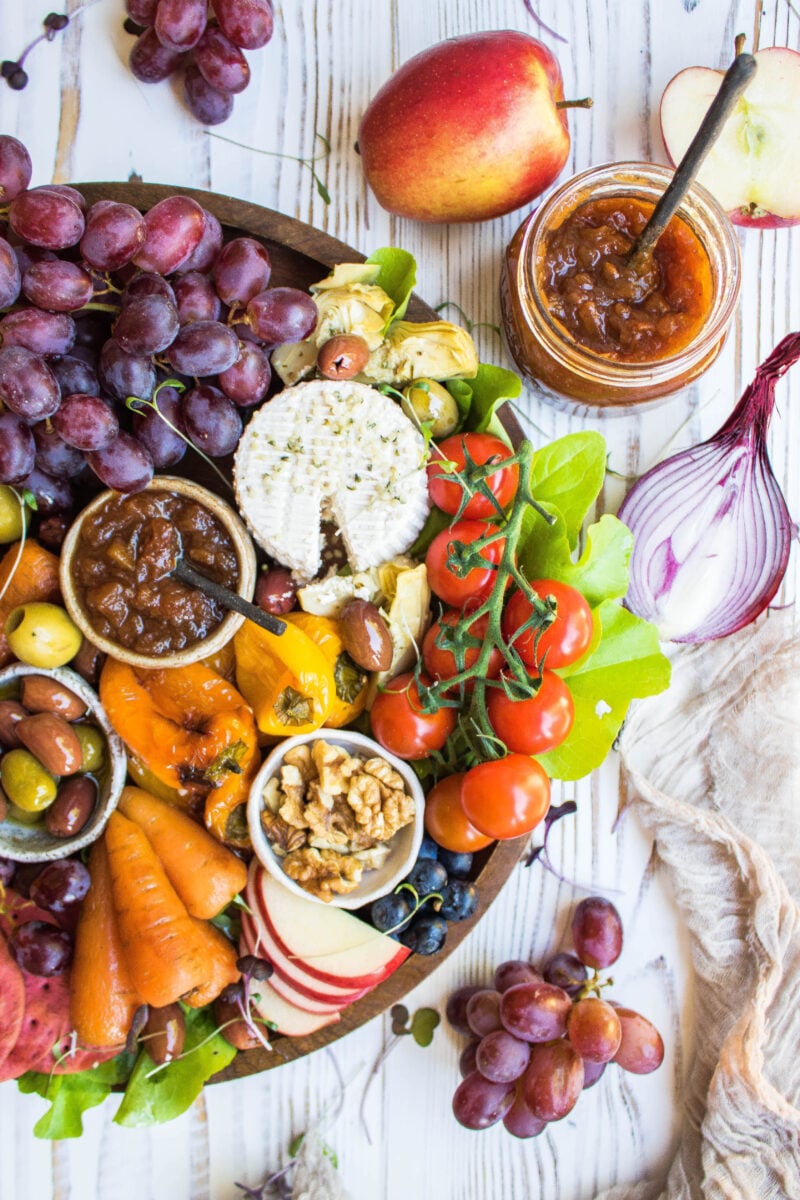 Ingredients
For the chutney:
3

large red onions, peeled and finely sliced

1

1/2

Jazz apples, finely chopped

1

1/5 cups

brown sugar

1

1/5 cups

apple cider vinegar

1

tsp

salt

1

tsp

pepper

1

bay leaf
For the platter: (these are just suggestions!)
Grapes

Roasted veggies like carrots and pepper

Olives

Crackers of your choice

Cashew cheese
For the cashew cheese:
2

1/2 cups

cashews which have been soaked overnight

1/4

cup

water

2

tbsp

nutritional yeast

1

tsp

miso paste

2

tbsp

lemon juice

Powder from 2 capsules of probiotics

1

tsp

onion powder

1

tsp

salt

1

tbsp

fresh chopped dill
Instructions
For the cashew cheese:
To make the cashew cheese drain the cashews and place them in a food processor, add the water, nutritional yeast, miso paste, lemon juice, probiotics, onion and salt. Start blitzing and stop the food processor from time to time to scrape the sides. Keep blitzing until you have a smooth and creamy consistency.

Pour the cheese mixture into a double cheese cloth. Tie the cloth at the top around a wooden spoon or something similar that will keep it suspended from a deep mixing bowl. Cover it with a tea towel and leave it in a warm and dark place (I put mine on top of the fridge) for 16hours.

Transfer the cashew cheese into the fridge and leave it for another 24 hours. The longer you leave it, the more it will have a "cheesy flavour".
For the chutney
Add the finely diced onion to a large pot with a dash of oil. Cook them on a medium/low heat until they are soft. Add all the other ingredients. Bring the mixture to the boil and then simmer. Put the lid on and cook until all the liquid has evaporated, approximately 2 hours.

Let it cool down completely before serving it with the cheese platter. Store it in an airtight jar in the fridge for up to 2 weeks.
Like this recipe? Check out more from Happy Skin Kitchen below: