Over the last few years, there has been skyrocketing demand for vegan energy bars. There are now a huge number of brands selling high protein and tasty plant-based bars, but these can often be pricey. If you're looking to save money, it is possible to make your own at home, and this easy vegan energy bar recipe will show you how to do just that.
Ingredients used in vegan energy bars vary, but many of them contain nuts and seeds for a protein kick. This particular recipe, which comes from Happy Skin Kitchen, uses almonds, pumpkin seeds, and sunflower seeds, as well as nut butter. To give them a sweet taste, these bars feature maple syrup, chocolate, dates, and Jazz apple.
What are dates? What are their health benefits?
Dates are one of the oldest cultivated fruits, and it's thought they were a staple in the Babylonian diet 8,000 years ago. These days, they are grown in Israel and North Africa, and are a hugely popular food eaten in many countries in the world. They are a common ingredient in energy bars, as they are a natural sweetener, and also have a sticky texture that works as a binding agent.
Dates are thought to provide both quick and sustained energy. The natural sugars they possess give a boost, and their fiber helps slow the release of the sugar into the bloodstream. Consuming dates, therefore, is unlikely to give you a rapid spike and subsequent crash of sugar levels. Dates are a source of magnesium, potassium, copper, and manganese. Studies have also found that they may benefit brain health. You can find dates in many mainstream supermarkets and grocery stores.
Vegan energy bar recipe
These energy bars contain a variety of nuts and seeds, while dates, apples, and maple syrup provide some added sweetness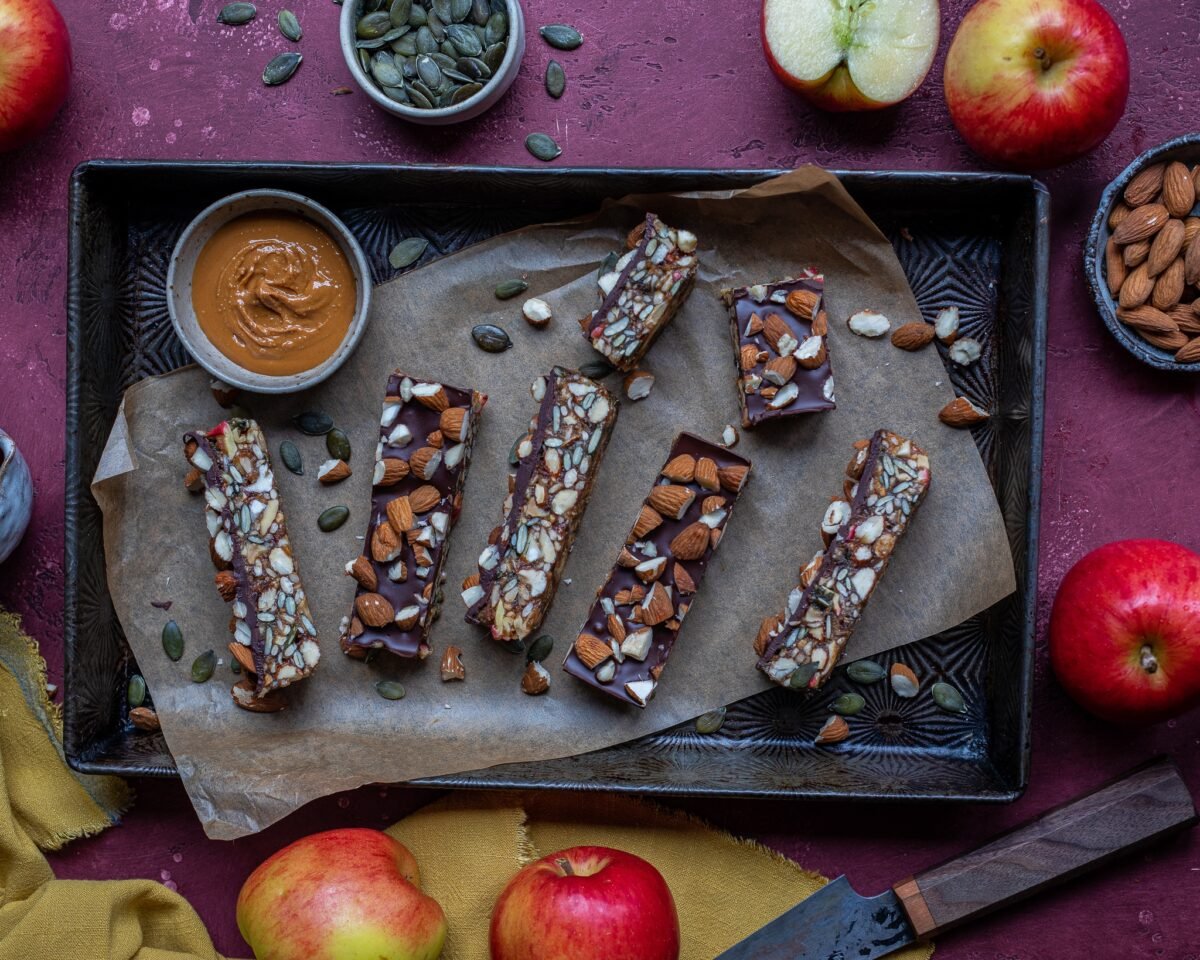 Ingredients
100

g

almonds, roughly chopped + an extra handful to sprinkle on top

50

g

sunflower seeds

50

g

pumpkin seeds

1

Jazz apple , cut into small and thin pieces

6

Medjool dates, pitted

3

tbsp

nut butter of your choice – I have used peanut

3

tbsp

maple syrup

2

tbsp

plant milk

50

g

chocolate (you can use any chocolate here or mix chocolate together)
Instructions
Add the chopped Jazz apple to a large baking tray covered with parchment paper and bake in the oven for 25 minutes until the apple pieces are fairly dry.

Next, add the maple syrup and Medjool dates to a pan on a medium heat. Mix everything together and once the maple syrup starts to bubble, add in the nut butter. Using the back of a wooden spoon, mash down the dates until you have a sticky paste. Add in the plant milk and mix everything together.

Next, add in the chopped almonds, sunflower seeds, pumpkin seeds and the baked Jazz apple pieces. Mix everything together until everything is well coated in the sticky date paste.

Transfer the mixture to a loaf tin covered with parchment paper. Spread the mixture in the tin and with the back of a spoon make sure to press the mixture firmly down. Place the tin in the fridge to firm up for 30 minutes.

In the meantime, melt the dark chocolate. Remove the tin from the fridge and pour over the melted dark chocolate and sprinkle over some chopped almonds. Place the tin in the freezer to set for 2-3 hours.

Remove from the freezer and cut into thick bars. The bars will be a bit sticky (but so utterly delicious) so the best way to store them is to keep them in the freezer.
This recipe comes from plant-based chef Happy Skin Kitchen. You can check out her website here, and try out more of her recipes below: