To the disappointment of many chocolate fans and sweet tooths, Bounty bars are not vegan – but that doesn't mean you can't make your own. This plant-based, gluten-free recipe creates a delicious (and nostalgic) snack or dessert. Here, coconut and dairy-free chocolate are the stars of the show.
This seven-ingredient recipe takes 15 minutes to prepare, plus a one-hour resting period. It can be adapted to suit your personal taste preferences (see the notes below the recipe), and can be frozen for later.
These homemade vegan Bounty bars (Mounds bars) have a soft chewy texture, sweet flavor, and are 100 percent dairy-free and gluten-free.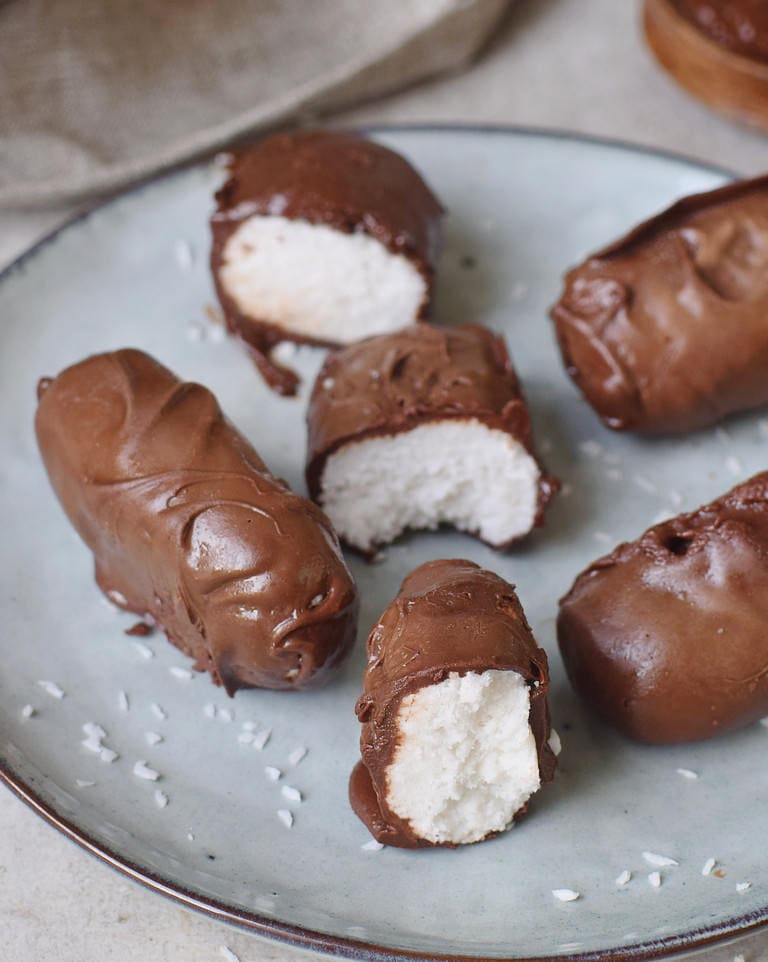 Ingredients
1 1/4

cup

shredded unsweetened coconut

(100g)

1/3

cup

coconut yogurt *

(100g)

1/3

cup

powdered Erythritol or Xylitol *

(60g)

1

tsp

vanilla extract

1

pinch

salt

1/2

cup

dairy-free chocolate of choice

(90g)
Instructions
First, combine the shredded coconut, Erythritol (or powdered sugar), and salt in a food processor and blend for a few seconds to combine everything well. Then add the yogurt and vanilla and blend again, scraping down the sides as needed, until a dough forms. If the mixture is too wet, add more coconut. If it's too dry, add more yogurt.

Working with heaped tablespoons of the mixture, use your hands to form small, slightly rounder bars. Repeat this until no coconut dough is left, then transfer them to a plate or parchment paper lined baking tray.

Allow the bars to freeze for about 45 minutes, or until firm.

When they're firm, prepare the chocolate coating. Melt the chocolate and coconut oil in a double boiler or microwave (in 10-15 second increments, stirring between) in a bowl.

Dip each of the bars in the chocolate, allowing excess to drip off, then freeze the bars once more for 15 minutes or until solid. If needed, you can double-dip the bars.

At this point, your coconut chocolate bars are ready! Enjoy them immediately and/or store them for later.
* I used Erythritol as a sweetener. To make powdered Erythritol, simply process the granulated Erythritol in an electric coffee/spice grinder. You can use powdered sugar instead.
* You can use coconut cream (the hard part of a can of coconut milk after you chill it in the fridge overnight) instead of coconut yogurt.
The coconut center is pretty soft and the bars can be eaten right out of the freezer (don't need to be thawed). If you prefer a harder center, then add 2 tbsp of melted cacao butter (or coconut oil) to the coconut mixture. If you love a soft center, then definitely leave out the oil!
This recipe was republished with permission from ElaVegan. Find the original recipe here.
More like this: