This marbled banana bread recipe is dairy-free, egg-free, and completely vegan, and trust us, everyone will want a piece. Classic banana bread with a chocolate twist not only tastes delicious but also looks like a work of art, and vegan banana bread is no different.
This banana bread is as rich and decadent as the non-vegan kind, and the health benefits of its ingredients make it the perfect breakfast, on-the-go snack, or to enjoy with a warm cup of coffee or tea.
Because the ripe bananas replace the oil and some of the sugar, this recipe is oil-free and especially healthful. You can also dial back the sugar based on how ripe the bananas are, and your own personal desire for less sweet dough.
This recipe with a chocolate twist serves 10 to 12 people and slices are also easy to wrap and freeze, then microwave or toast later when you need a quick snack.
This recipe takes approximately ten minutes to prepare and 45 to 50 minutes to bake. But during baking time, your kitchen will fill with an irresistible aroma and everyone will ask, "What's in the oven?"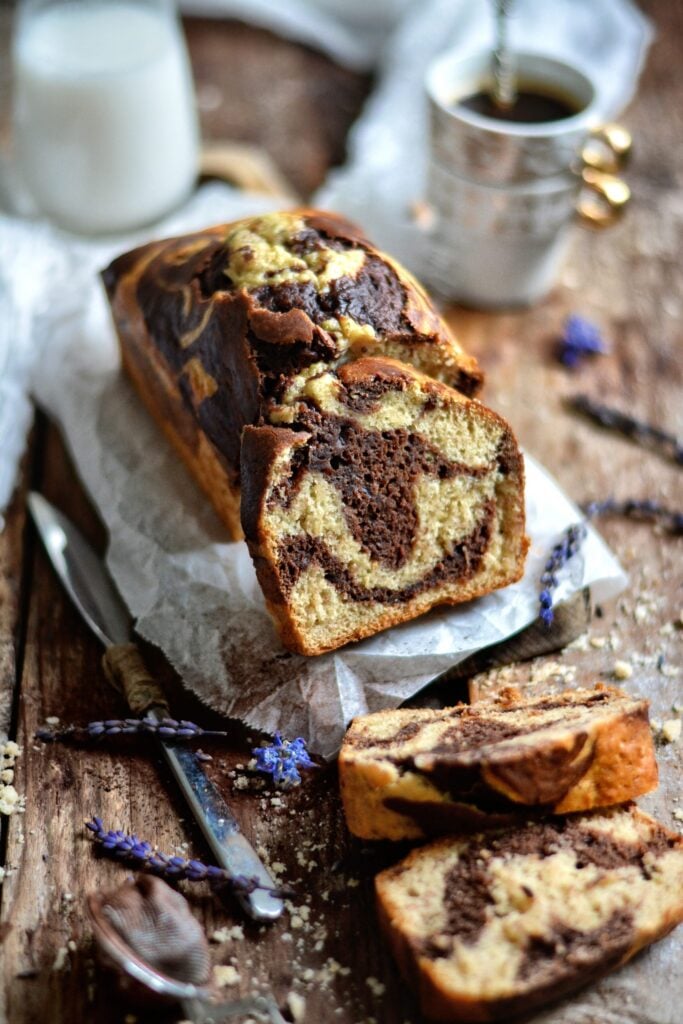 Ingredients
4

Ripe Bananas

2

cups

Flour

3/4

cup

Sugar

1

tsp

Vanilla Extract

4

tbsp

Plant Based Milk

1 1/2

tsp

Baking Powder

2

tbsp

Cacao Powder

A Pinch of Salt
Instructions
Preheat the oven at 350 F and line an 8-inch cake pan.

In a bowl, whisk flour, sugar, baking powder and salt together.

Mash bananas into puree. Then add it into the wet ingredients bowl with vanilla and milk. Whisk until well combined. Divide the batter in half. Add cacao powder in one half and whisk to combine until smooth and chocolate colored.

In the cake pan, pour a bit of white batter, then the chocolate batter, alternating. Repeat until no more batter.

Bake for 45 to 50 minutes or until a toothpick comes out clean when inserted in the middle.

Remove from the oven and let cool down completely.
This recipe was republished with permission from Barbara French Vegan. You can find the original here.
—
Looking for more recipes like this? You might like: