This decadent vegan muffin recipe produces the ultimate dairy-free coffee and chocolate treat. Bursting with bold flavors, the perfect blend of deep espresso and rich chocolate is a delight for any coffee-lover. Plus, they're super easy to make, so whip up a batch for a heavenly (and unashamedly indulgent) experience.
Why espresso and chocolate together?
Coffee and chocolate are both super bold and recognizable flavors in their own right. However, far from competing with one another, they complement and balance each other out when combined in baked goods.
The bitterness of coffee is equalized by the sweetness of the chocolate. Meanwhile, the sickly notes of the cocao are sharpened by the depth of strong espresso. Together, they make a perfect pairing that means one muffin is never enough.
How to store muffins
After baking your delicious and moist vegan coffee and chocolate muffins, it's important to store them properly. Nobody wants a dry sweet treat, after all.
Once cooled, place them in an airtight container or wrap them tightly in plastic or reusable wraps to prevent air exposure. Also, storing them in a cool, dry place away from direct sunlight and heat will help maintain their texture and flavor.
To further extend their shelf life, you can freeze them in airtight containers or freezer-safe bags for up to three months. Simply thaw them at room temperature or reheat in the microwave or oven for a gratifying treat anytime.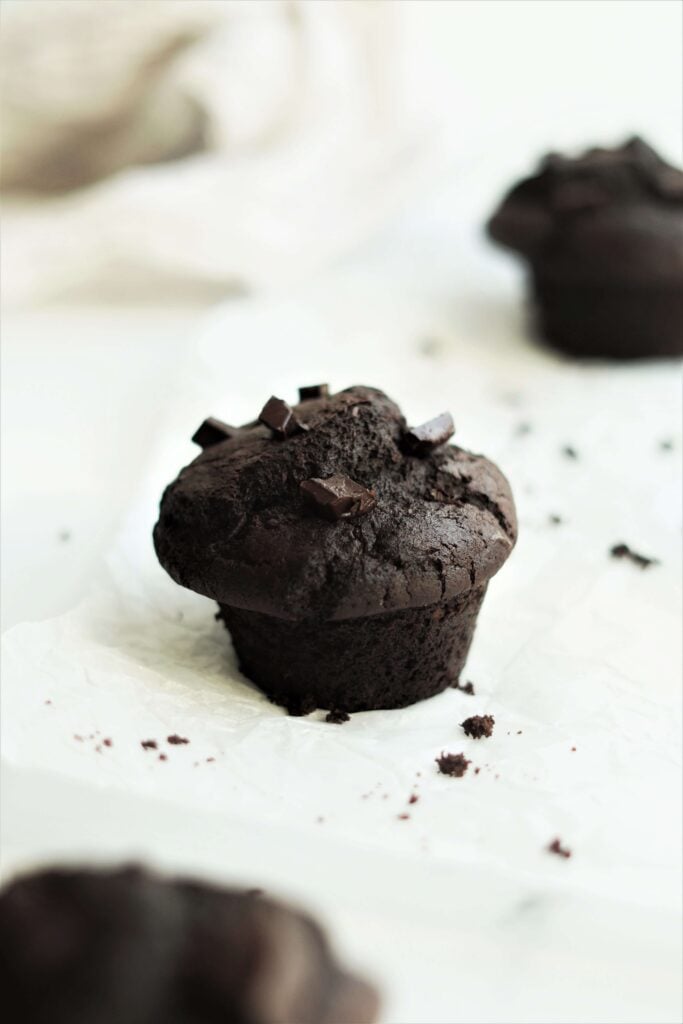 Ingredients
190

g

plain flour

160

g

white sugar

50

g

cocoa powder

1/2

tsp

salt

1

tsp

baking powder

1

tsp

baking soda

1

tsp

egg replacer

(Organ was used here)

1/2

cup

vegan chocolate chips

70

ml

neutral oil

(such as vegetable)

1

tbsp

apple cider vinegar

90

ml

oat milk

1

tsp

vanilla essence

100

ml

espresso
Instructions
Preheat your oven to 180°C.

Line a baking tray with muffin liners. If using a muffin tray, lightly coat it with oil to prevent sticking.

Begin by creating a homemade buttermilk substitute. In a jug, combine vinegar and oat milk, give it a swirl, and set it aside for 5 minutes.

Sift all the dry ingredients into a large bowl, then add the wet ingredients and mix until the batter is smooth and free of lumps. Gently fold in the chocolate chips to incorporate.

Spoon the muffin batter into your prepared muffin tins and bake for 20-25 minutes, or until a toothpick inserted into the center comes out clean. Once baked, remove from the oven and sprinkle with a few additional chocolate chips for a delectable finishing touch.

Enjoy these scrumptious muffins and savor the delightful flavors!
Top tips for the best vegan coffee and chocolate muffins
Choose a dark chocolate for the ideal balance with deep espresso flavors. Vegan milk chocolate can be a little lacking in richness and could easily get drowned out by strong coffee notes.
Use freshly brewed espresso for your baking. Honestly, nothing beats a perfectly pulled shot of coffee or a freshly made instant that has some body to it.
—
This vegan coffee and chocolate muffins recipe was republished with permission from Give Me Plant Food. You can read the original recipe here.