If you're planning a vegan date night this weekend and aren't sure what to cook, this one pot Tuscan pasta recipe could be just what you're after. It's packed full of veggies, requires minimal washing up, and gives you an extra protein boost with the addition of beans into the mix.
Tuscan pasta refers to pasta dishes that are associated with the Tuscany region of Italy. This below recipe features spaghetti and borlotti, navy, or cannelini beans in a tomato and vegetable sauce. It comes from plant-based chef Ashley Madden, and features in her cookbook Plant-Based Delicious.
This vegan one pot recipe features a number of ingredients you may already have in your kitchen cupboard. These include Italian seasoning, vegetable stock, and canned diced tomatoes.
While mixing beans with spaghetti may at first seem unusual, it actually makes for a delicious and more exciting twist on the usual spaghetti with tomato sauce. Beans are also regarded as a good vegan source of protein, so adding them into plant-based dishes is a great way to up your intake.
Benefits of beans
Beans are increasingly being seen as a healthy and environmentally sound protein source, with a growing number of people opting for them over meat. A can of cannellini beans, which can be used in this recipe, features 7.5g of protein. They also contain B vitamins (including folate), as well as vitamins A and K.
If you want to cook a tasty bean-filled recipe, here's everything you need to know about how to make this Tuscan one pot spaghetti.
Tuscan one pot spaghetti recipe
This one-pot pasta recipe requires minimum washing up, and it's also gluten-free if you use brown rice spaghetti. If you do eat gluten, you can opt for wholewheat spaghetti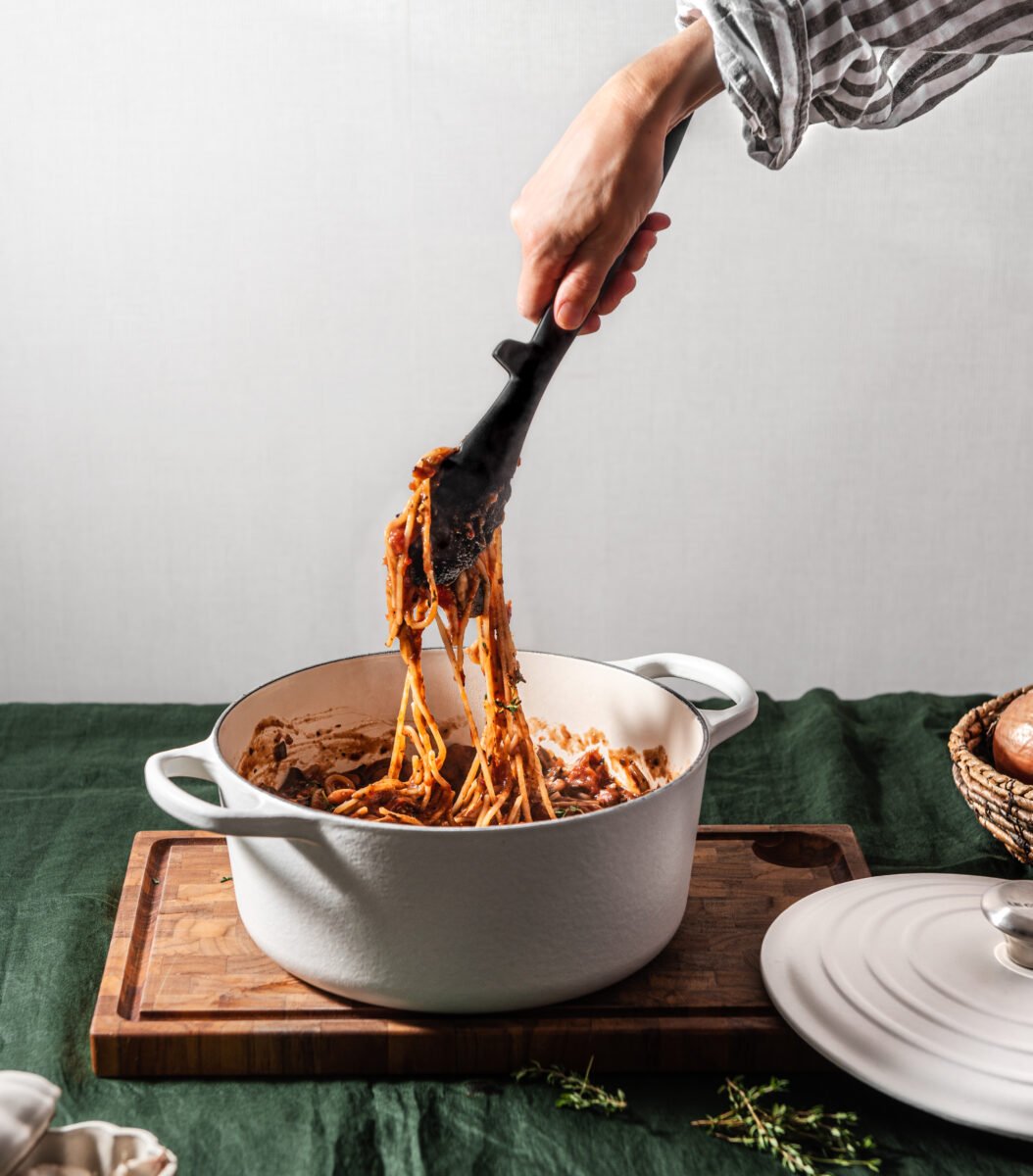 Ingredients
1

leek, dark green tips and root removed and discarded, halved lengthwise and thinly sliced

4

cloves

garlic, minced

10

oz (280g)

portobello mushrooms, thinly sliced (4 portobellos)

1

tbsp (6g)

Italian seasoning

¼

tsp

red pepper flakes (optional)

1

425g

can diced tomatoes

1

425g

can tomato sauce or passata

2¾

cups (650ml)

low-sodium vegetable stock

½

tsp

sea salt, or to taste

10

oz (280 g)

dried brown rice spaghetti or linguine

1½

cups (273g)

cooked or canned borlotti, navy or cannellini beans, drained and rinsed

1

tsp

coconut sugar (optional)

1½

cups packed (60g)

baby spinach (optional)

3

tbsp (12g)

nutritional yeast

1

tsp

red wine vinegar

Freshly ground black pepper
Instructions
In a Dutch oven or soup pot, sauté. the leeks and garlic with a few tablespoons (about 30 ml) of water over medium heat for 5 minutes or until softened. Add water, as needed, to prevent burning.

Add the mushrooms, Italian seasoning and red pepper flakes, and continue to sauté for another 5 minutes, or until the mushrooms have shrunken in size and begin releasing their juices. Now, add the diced tomatoes, tomato sauce, vegetable stock and salt, and bring to a boil.

Crack the pasta in half and add to the pot along with the beans. Lower the heat and simmer, uncovered, stirring often to prevent the noodles from sticking together or to the bottom of the pot and making sure the noodles are always submerged in the sauce for 12 to 15 minutes, or until the pasta is tender and the sauce has thickened. Toward the end of the cooking time and as the sauce thickens, it might start sputtering and splashing. If so, partially cover the pot to avoid a mess.

Turn off the heat. Stir in the coconut sugar (if using), spinach (if using), nutritional yeast and vinegar. Taste and reseason with pepper and salt, as needed, and divide among bowls. Garnish with fresh thyme or oregano if desired.
If you don't have leeks, use one large yellow onion, diced.
This recipe was republished with permission from Ashley Madden (owner of Rise Shine Cook). It features in her book, Plant-Based Delicious. You can follow Ashley on Instagram here.
More like this: