It's safe to say that tofu doesn't have the best reputation. Despite the fact that it's a nutritious vegan source of protein, many people avoid the food because they believe it to be "tasteless." If you learn how to cook tofu, however, you'll realize it can be an incredibly tasty and versatile ingredient for a range of dishes. The below one pot recipe will teach you how to make a Mediterranean cherry tomato dish with spongy tofu.
Tofu, also known as bean curd, has been eaten for thousands of years. It's made from curdled soy milk, which is often condensed into a solid block (creating firm and extra tofu). You can also buy a silken variety, which has a smoother consistency.
The food originates in China, and it's thought that it was first made over 2,000 years ago during the Western Han dynasty (206 BC – 9 AD). It's hugely popular in Asian cuisine, and it can also be bought in supermarkets and grocery stores all over the world.
Tofu as a vegan protein source
Tofu is often regarded as a good vegan source of protein, and a standard 100g serving contains around 8.1g. It's also a complete source of protein, containing all nine essential amino acids.
Due to its nutritional profile, tofu is often used as a meat replacer in curries, stews, and stiry dry dishes . While tofu on its own has a neutral flavor, it has the ability to take on the flavors of the dish your making. The below one pot recipe, which comes from plant-based chef George Stiffman, shows you how to cook tofu in a tomato sauce.
Mediterranean Cherry Tomato With Spongy Tofu
This one-pot wonder has become a staple in our kitchens. Olives, capers, and fermented tofu nurture a zesty and piquant tomato base, which spongy tofu and chickpeas zealously soak up. To achieve tender and juicy tofu, it needs to puff up and then deflate. Boil rapidly until the tofu triples in size, then reduce the heat and simmer. During this time, there should be enough liquid to cover. Alternatively, you can dry the tofu to puff up, then gently braise it in the sauce. You can prepare the sauce up to five days ahead of time and assemble before eating. If it thickens in the fridge, you may need to add another cup of stock or water before stewing.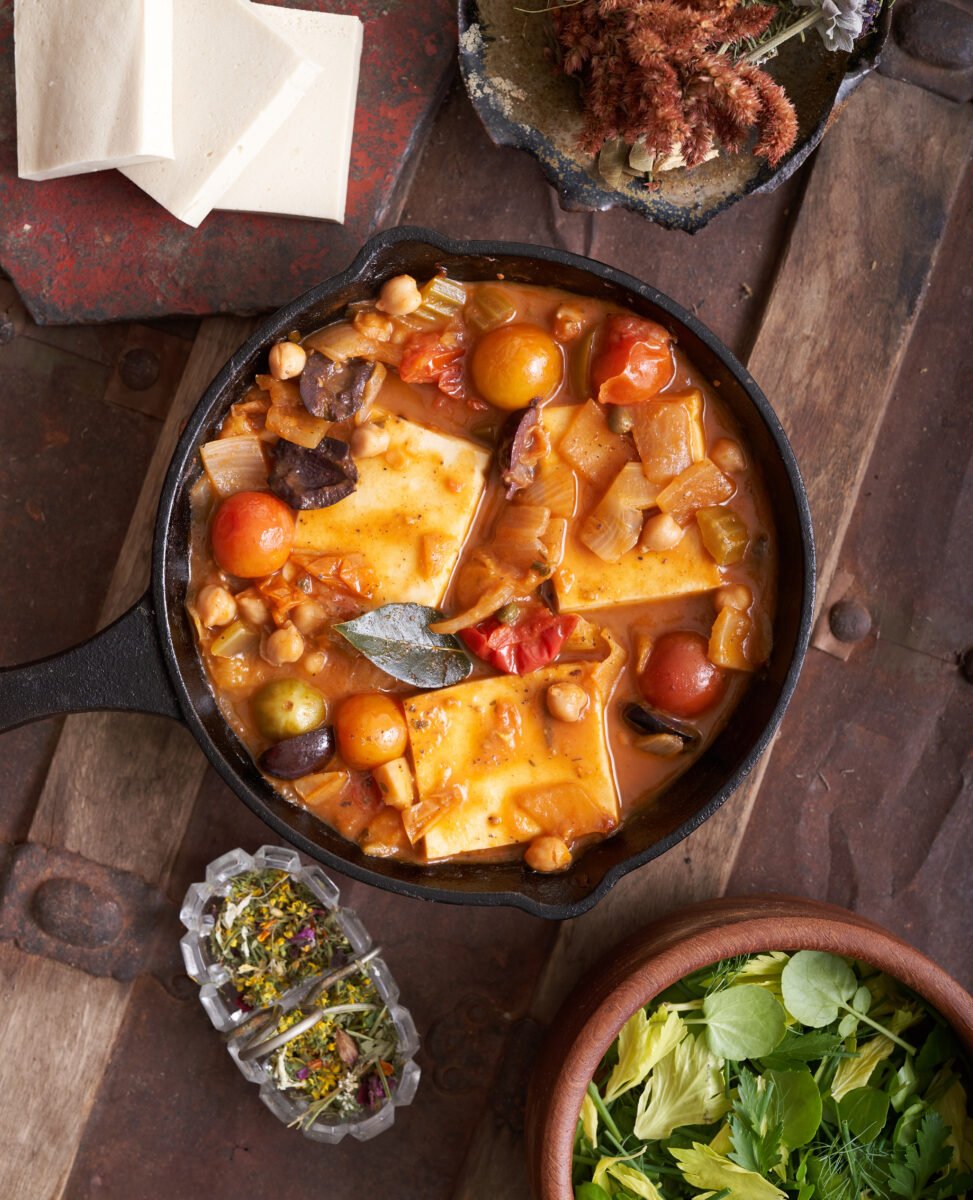 Ingredients
Mediterranean tomato sauce
2

tbsp

vegetable oil

1

red onion, diced

1

bulb

fennel, diced

4

stalks

celery, diced

2

pints

heirloom cherry tomatoes

2

tbsp

white wine

2 & 1/2

cups

vegetable stock

2

tbsp

tomato paste

2

tbsp

spicy red fermented tofu

16

oz can

chickpeas

1/2

cup

mixed olives, chopped

2

tbsp

capers, rinsed

1 & 1/2

tsp

smoked paprika

1

tbsp

sugar

3/4

tsp

salt

1

bay leaf

1

tbsp

dried thyme

1 & 1/2

tsp

dried rosemary

1/4

tsp

ground fennel seeds
Assembly
2

pieces

spongy tofu

2

tbsp

fines herbes (chive, parsley, chervil, tarragon), chopped

4

thick slices crusty sourdough
Instructions
In a large saucepan over medium heat, add 1 tbsp of vegetable oil and sauté the onion, fennel, and celery until softened and caramelized, around 15 minutes. Remove the vegetables and in the same pan add the remaining oil and cherry tomatoes. Turn up the heat and cook until lightly charred, 5-10 minutes. Deglaze with white wine, add in the remaining ingredients, and simmer for 20-30 minutes until the sauces is thickened and reduced.

Slice the tofu in half widthwise, then lengthwise in thirds. Transfer to a medium saucepan, cover with the tomato sauce, and boil until the tofu puffs up, becomes tender, and absorbs the flavors of the sauce, 10-15 minutes. If the sauce is getting dry, add a little more stock and boil with the lid on. Garnish with fines herbes and serve alongside toasted sourdough.
This recipe was republished with permission from George Stiffman's cookbook Broken Cuisine. Broken Cuisine introduces Western cooks to five legacy proteins. They taste like cheese, fish cakes, and phyllo pastry. They are healthy, sustainable, affordable, and delicious. And they all happen to be tofu – but not the jiggly, white cubes we're all familiar with. Click here to buy the book.
If you liked this recipe, check out more tofu recipes below: