This vegan orange tofu and broccoli recipe is inspired by Chinese orange chicken! We kept all the flavor but added our little touch to make it vegan and extra nourishing. It turned out so delicious and is sure to make a regular appearance on your meal prep rotation!
Oh, and it also contains 29g of plant-based protein. This makes it great one to whip up if you're trying to increase your intake or support an active lifestyle. Bet you never thought that something based on a popular take-out dish could be good for you and gym-approved. But here we are!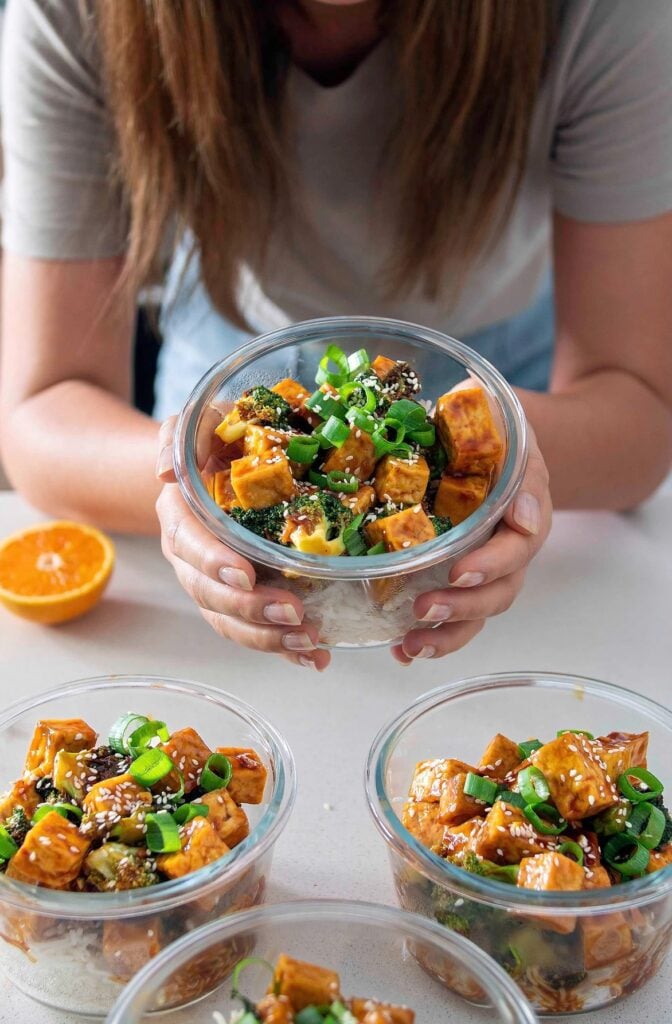 Ingredients
600

g

extra firm tofu

3

cups

broccoli

(diced)

3

cups

cooked rice

1

spring onion or scallion

1

tbsp

sesame seeds

1 1/2

cups

orange juice

1

tbsp

ginger

(grated)

2

cloves

garlic

(minced)

2

tbsp

tamari

1

tsp

rice vinegar

1

tbsp

sesame oil

2

tbsp

maple syrup

1 1/2

tbsp

tapioca starch

(plus 3 tbsp water)
Instructions
Bake the tofu in the air fryer at 350 degrees F (180 C) for 15 minutes (or 20 minutes at 400 F (200 C) in the oven).

Bake the broccoli for 8 minutes at 350 degrees F (180 C)(15 minutes in the oven).

Combine the orange juice, ginger, garlic, tamari, rice vinegar, sesame oil and maple syrup.

Combine the tapioca starch and water.

To a pan on medium heat, add the sauce and tapioca mixture. Cook until it starts to thicken.

Stir in the tofu and broccoli.

Serve with rice, spring onions and sesame seeds, and enjoy!
Top tips for the best orange tofu and broccoli
If you have a little more time (and produce) on your hands, consider using freshly squeezed orange juice. This way, you can adjust the sharpness for your own preferences.
Experiment with different varieties of oranges until you find the perfect blend of juicy, sweet, and tartness for your palate. But remember to strain your juice to remove pips!
You can substitute soy sauce for tamari, but be aware that the dish will not be gluten free if you do.
—
This orange tofu and broccoli recipe was republished with permission from Plant Baes. Find the original recipe here.