Vegans are constantly being asked where they get their protein from, but there are a huge number of high protein recipes that are quick and easy-to-make. Tempeh is an excellent source for vegans, and this sweet chili recipe uses minimal ingredients.
Despite tempeh's nutritional benefits, many people may be hesitant to try it. The food can sometimes have a bitter taste, but there are methods of cooking to alleviate this. This particular recipe comes from World of Vegan, and works as a starter, main, dinner, or lunch. It takes just 30 minutes to make, and doesn't use too many ingredients.
What is tempeh?
Tempeh (sometimes spelt "tempe") is a plant-based, high-protein food made from fermented soybeans, which are pressed into a compact cake-like structure. Tempeh has a slightly nutty taste, as well as a dry and chewy texture.
It's thought that tempeh has its origins in Indonesia, most likely in Java. While we don't know exactly when it was discovered, it could be as long as a thousand years or more.
What are the health benefits of tempeh?
The food is rich in protein, containing around 15 grams per 3 oz serving (by comparison, tofu offers six grams in the same serving). It's also a good vegan source of calcium, iron, and magnesium.
Eating tempeh is also thought to be beneficial for your gut, as it contains a type of fiber known to be prebiotic. This fiber feeds, and helps to increase, the good bacteria in your gut.
How to use tempeh
Like tofu, tempeh is a hugely versatile ingredient, and can be used as a protein source or meat replacer in many different dishes. It's popular in stir fries, pastas, curry dishes, sandwiches, and more. It generally needs to be cooked, and you should follow the recipe or packet instructions on how to do this. Tempeh can be fried, boiled, steamed, and baked.
Tempeh should be kept in the fridge, and eaten before the use by. Some tempeh is also suitable for freezing.
Where to buy tempeh
It used to be the case that tempeh wasn't widely available to consumers in the UK and US, as it was mostly confined to specialist and health food shops. Now, however, there are a number of brands available to buy at mainstream stores and supermarkets. Popular tofu brand Tofoo, for example, has launched its own tempeh product in UK stores including Tesco and Sainsbury's. Tiba Tempeh, which stocks a variety of plain and flavored tempeh products, is available to buy at Ocado. In the US, tempeh can be found at stores including Whole Foods Market and Trader Joe's.
Simple sweet chili tempeh recipe (made in an air fryer)
People all over the world are discovering the power of the air fryer, but is it good for vegan food? Plant-based eaters will be delighted to know that there are countless quick, easy, and meat-free recipes you can make using the gadget – and one of them is this sweet chili tempeh recipe. If you don't have an air fyrer, that's not a problem – you can either bake the tempeh for 15-20 minutes in a pre-heated 350F (177C) oven, or you can fry it in oil over a medium heat for 10 minutes.
See below for the full air fryer method:
This protein-rich tempeh recipe is an ideal dinner or side dish idea. This method uses an air fryer, but there are alternative ways to cook (by baking or frying) if you don't have one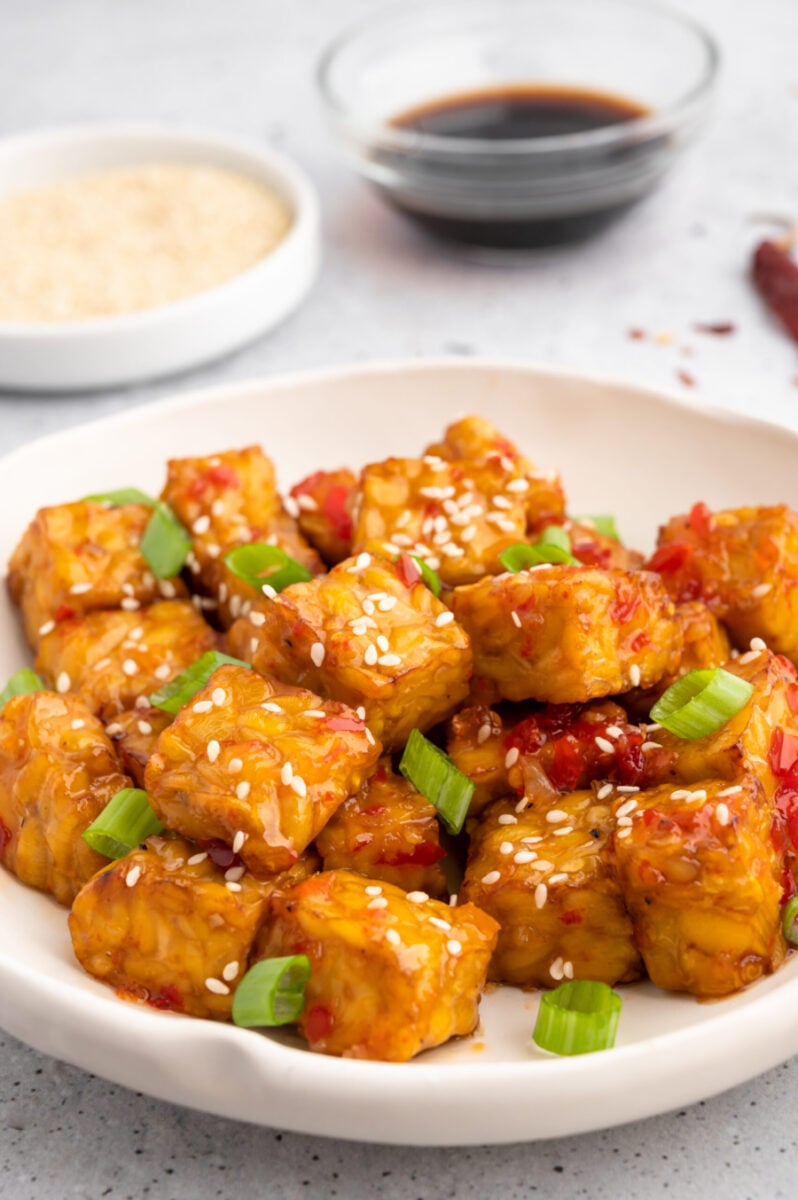 Ingredients
1

8 oz

block of tempeh

plain

3

tbsp

low sodium soy sauce

tamari or coconut aminos

1

tsp

toasted sesame oil

1/4

tsp

black pepper

1/4

tsp

smoked paprika

optional

3

tbsp

sweet chili sauce

1

large

scallion

finely slices

1

tsp

sesame seeds

black or white
Instructions
Advanced Instructions: Steaming (optional) & Marinating
Cut the block of tempeh into ½-inch cubes

Place the cubes in steaming insert, cover, and steam over boiling water for 10 minutes

Once at room temperature, place the tempeh cubes into a container or a zip bag. Pour in the soy sauce, toasted sesame oil, pepper, and smoked paprika and shake or mix. Make sure every piece is coated, and then cover the container or seal the bag. Let marinate for at least 1 hour, or overnight (for deeper flavor)
Cooking instructions
Preheat the air fryer (if your air fryer model requires preheating)

Carefully scoop out your marinated tempeh, allowing any excess marinade to drip off, and add it to the air fryer basket

Cook at 350 for 10 minutes, shaking the basket halfway through

Transfer the air fried tempeh to a serving bowl, drizzle with the sweet chili sauce, and mix well. Garnish with scallions and sesame seeds
Like this? Check out some more high protein vegan recipes below: