This vegan mushroom lentil risotto recipe is high in protein and ultra satisfying. A play on classic mushroom risotto, this dish won't leave you nursing a pot for hours on end, nor needing seconds before bedtime (unless you simply can't resist). It won't even leave you with a mountain of washing up, as it's made in one pot and comes together in less than 40 minutes.
You may find that you're blessed with plenty of leftovers too, which makes it ideal for meal prep, as well as a tasty vegan dinner.
Honest and fair warning: you must make sure that the rice and lentils do not stick to the pan. The only way to do this is to stir consistently and often. Have some faith though, the end result is 100 percent worth a little effort.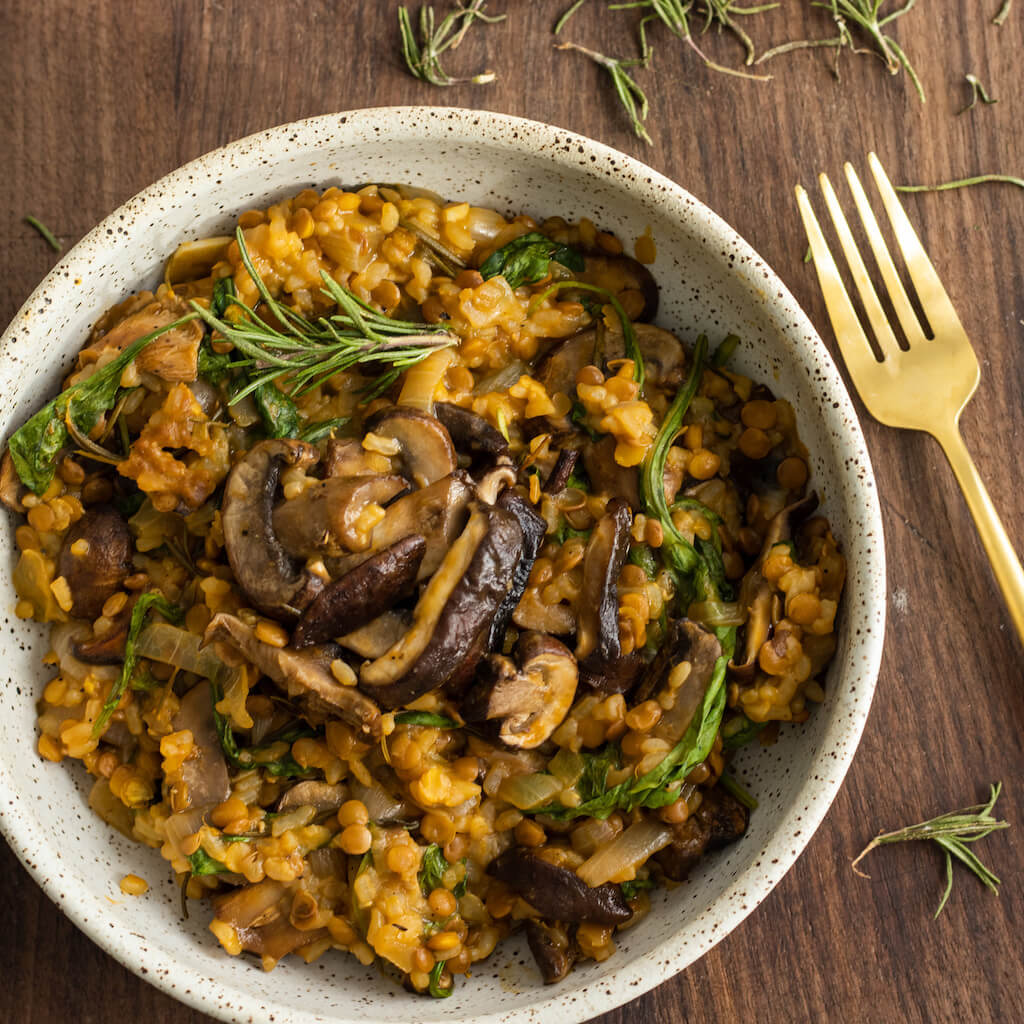 Ingredients
3

cups

finely chopped mushrooms

(I used a combination of shikate and baby portobello)

2

tbsp

soy sauce or aminos

1

tbsp

balsamic vinegar

2

cloves

garlic – minced

1

shallot – finely chopped

1/2

cup

arborio rice

1/2

cup

brown lentils

1/4

cup

nutritional yeast

juice from 1 lemon

1

tbsp

white miso paste

(or sub aminos or soy sauce)

1/3

cup

finely chopped fresh rosemary or 2 tbsp dried rosemary

4

cups

mushroom or vegetable broth

salt/pepper to taste

3

cups

finely chopped kale
Instructions
Heat oil or butter over medium heat in a large pot. Add mushrooms, soy sauce and balsamic. Cook for about 6 minutes or until the mushrooms are softened. Remove mushrooms from pot and set aside.

Add more oil to the pot along with the garlic and shallot. Cook for 5 minutes.

Add rice, lentils, yeast, lemon juice, miso, rosemary and 1/2 cup of broth. Cook until the liquid is absorbed, stirring occasionally so the lentils and rice do not stick to the bottom of the pot. Continue adding 1/2 cup of broth at a time(while stirring to prevent sticking), letting the risotto absorb most of the liquid before adding more. Total cooking time will be about 35 minutes, or until rice and lentils have softened.

Once risotto is done cooking, add kale and stir until wilted. Add back in mushrooms and stir until combined. Let cool and serve.
Top tips for the ultimate vegan mushroom risotto
Don't feel tied to any one kind of mushroom for this recipe and try to shop seasonally. Even better, if you have a local supplier nearby, shop small and in-season. That way, you'll be guaranteed to unlock the best fungi flavors.
You don't need to make vegetable stock for this recipe, as store-bought will work well. However, if you fancy flexing your cooking skills a little more, a rich homemade stock would be a coup.
—
This vegan lentil mushroom risotto recipe was republished with permission from Kristi AKA Avocado Skillet. Find the original recipe here.