It's now officially autumn, meaning many of us are seeking out comforting and hearty meals to enjoy in the dark evenings. This easy vegan pasta recipe contains sausage, kale, and apple – and it's a perfect – and very simple – sweet and savory plant-based dinner idea.
For many of us, pasta dishes are the ultimate comfort food. While there is sometimes some confusion over whether pasta is vegan, the vast majority of dried versions you buy in supermarkets are suitable for plant-based diets. Be wary of fresh pasta, however, which often contains egg. You should always check the label before buying.
For this recipe, which comes from plant-based chef Happy Skin Kitchen, you can use any type of pasta you like. She recommends, however, opting for orecchiette, a shape that originates in Apulia in southern Italy. The name orecchiette comes from the Italian "orecchia," meaning "ear," and "-etta,"("small"). The pasta was given the name due to the fact that its shape resembles a small ear.
Where to find vegan sausages
Sausage pasta is a classic dish, and many of us will have grown up eating some variation of it. Sausages made from pork are often used, but there is a growing demand for meat-free sausage pasta dishes made with plant-based sausages.
Meat-free sausages have been around for a long time, with many supermarkets in the UK and US stocking them since the late 20th Century. Linda McCartney's vegetarian sausages have been sold since 1991, for example, and the brand now sells a completely vegan version amid growing demand for animal-free food.
Other meat-free brands stocking vegan sausages include THIS, Heura, and Future Farm. Some mainstream meat brands also offer plant-based versions, including Richmond and Heck.
Vegan sausage pasta recipe
Here's everything you need to know about how to make this sausage pasta recipe, which also contains Jazz apple and kale.
This is a vegan take on the classic sausage pasta dish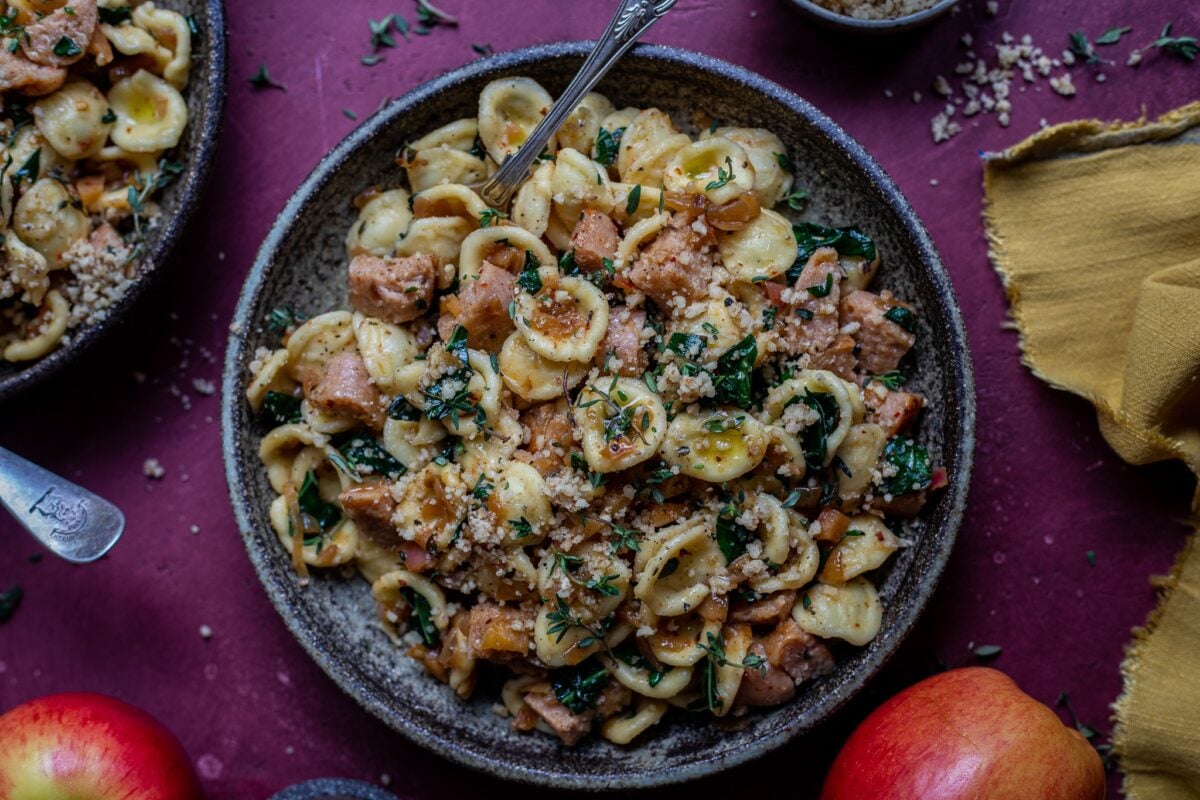 Ingredients
1

white onion

1

Jazz apple – cut into really small and thin pieces

3

garlic cloves

4

vegan sausages

100g

cavolo nero or curly kale – finely chopped

2

tsp

chilli flakes

A few sprigs of thyme

2-3

tbsp

olive oil for frying

Salt & pepper to taste

3

portions of pasta ((about 400g)

We love orecchiette pasta for this dish
For the walnut parm (optional)
50g

walnuts

1

tbsp

nutritional yeast

1

tsp

white miso paste
Instructions
Place a frying pan on a medium heat and add the oil.

Add in the vegan sausages and cook according to the packet's instructions. Once cooked, remove them from the pan and cut them into small pieces. Set them to one side.

To the same pan, add in the chopped onion and JAZZ™ Apple and cook for 5 minutes on a medium heat before adding in the chilli flakes, salt & pepper and the thyme leaves. Keep cooking for a total of 15-20 minutes until the onion and apple have cooked down and caramelised. Add some water if they start sticking to the pan.

In the meantime, make the walnut parm (if using). Just add all the ingredients to a food processor and blitz until you have a fine crumble. Transfer to a bowl and set to one side.

Cook the pasta according to the packet's instructions and before draining it, reserve 4 tbsp of the cooking water. Drain the pasta and add it to the pan together with the cooked sausages. Stir to combine and finally add in the pasta water and stir again.

Serve with a sprinkle of the walnut parm, an extra drizzle of olive oil and some thyme leaves.
If you liked this recipe, check out more from Happy Skin Kitchen below: