If you're on the hunt for some vegan salad ideas that are healthy, nutritious, and – most importantly – tasty, this kale, cashew cheese, and apple salad may be just what you're looking for.
Salads often get a bad rep, and many of us grew up thinking of them as boring meals consisting of nothing but lettuce. But many plant-based eaters will know there are few things better than a well put together salad, and the below is no different.
This recipe comes from Elisa Rossi, otherwise known as Happy Skin Kitchen. With over 300k followers on Instagram, plus a plant-based cookbook to her name, she creates a wide variety of vegan lunch, dinner, dessert, and snack recipes.
Why eat kale? The health benefits of the food
Kale is regarded as a highly nutritious food and is thought to offer a number of health benefits. The leafy green vegetable is rich in antioxidants, vitamin K, and vitamin C. It's also a good source of plant-based calcium, and has low levels of oxalate, meaning the calcium can be absorbed by the body more easily.
The vegetable may also support heart health, as it contains potassium, which maintains a healthy blood pressure. Some studies have also indicated that kale may help protect against cancer.
As well as kale, this vegan salad recipe contains a dairy-free plant-based cheese made from cashews, which you can make yourself at home. Here's everything you need to know about how to make it.
Kale, cashew cheese, and apple salad recipe
If you are not a big fan of kale, this cheesy salad will definitely change your mind. I have included the recipe on how to make the vegan cashew cheese from scratch, but if you are short of time please feel free to use whatever cheese you prefer! I absolutely love the contrast between the hearty kale, sweet JAZZ apple, and the creamy cashew cheese!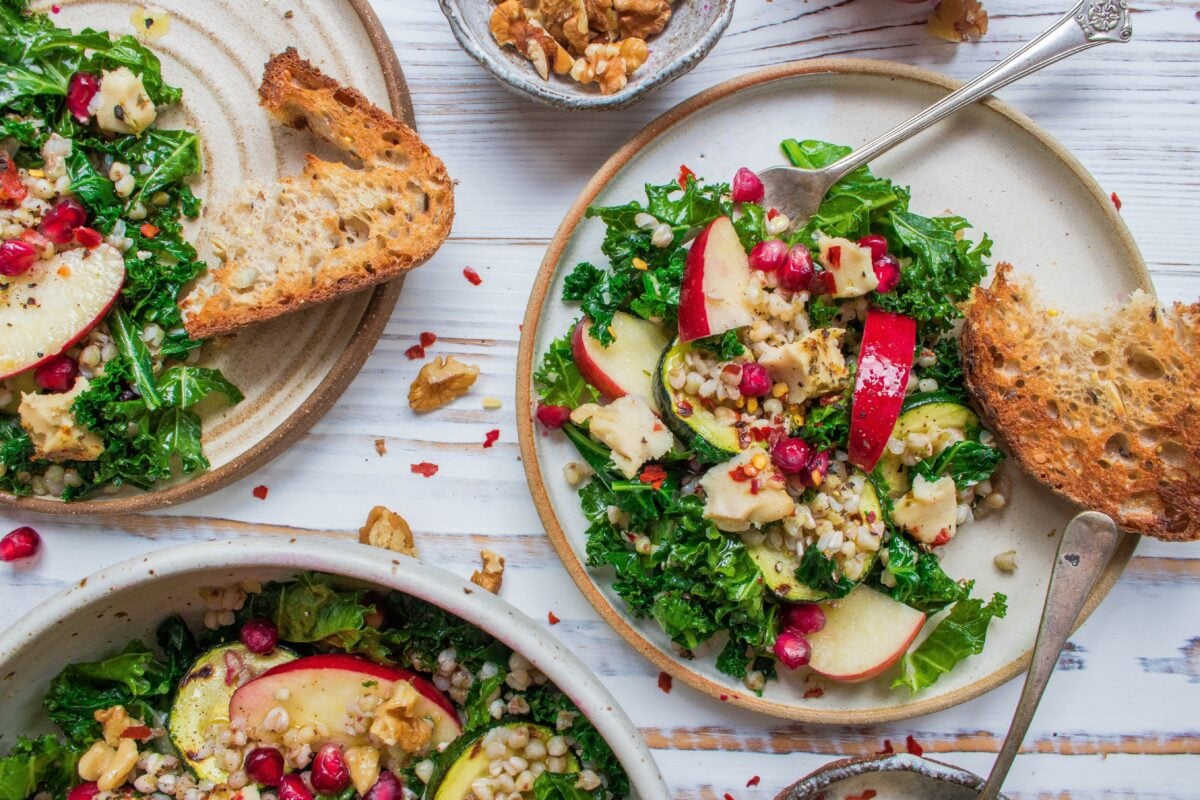 Ingredients
1

JAZZ apple

2-3

cups

de-stemmed kale – roughly chopped

3/4

cup

cooked buckwheat (you can also use quinoa)

1

pomegranate

1

courgette – cut into slices

A handful of walnuts
For the cashew cheese
2

1/2 cups

cashews which have been soaked overnight

1/4

cup of water

2

tbsp

nutritional yeast

1

tsp

miso paste

2

tbsp

lemon juice

Powder from 2 capsules of probiotics (make sure it's vegan)

1

tsp

salt

1

tbsp

fresh chopped dill
For the dressing
2

tbsp

extra virgin olive oil

1

tsp

balsamic vinegar

1

tsp

lemon juice

1/2

tsp

maple syrup

A pinch of sea salt and black pepper
Instructions
To make the cashew cheese drain the cashews and place them in a food processor, add the water, nutritional yeast, miso paste, lemon juice, probiotics, onion and salt. Start blitzing and stop the food processor from time to time to scrape the sides. Keep blitzing until you have a smooth and creamy consistency

Pour the cheese mixture into a double cheese cloth. Tie the cloth at the top around a wooden spoon or something similar that will keep it suspended from a deep mixing bowl. Cover it with a tea towel and leave it in a warm and dark place (I put mine on top of the fridge) for 16hours

Transfer the cashew cheese into the fridge and leave it for another 24 hours. The longer you leave it, the more it will have a "cheesy flavour"

To make the salad start by mixing together the dressing ingredients. Pour the dressing over the chopped kale and with your hands massage the leaves until they start to wilt and soften. Leave it to one side

Grill and cook the sliced courgette on the barbecue for few minutes each side. Add the grilled courgette to the kale together with the chopped apple, cooked buckwheat and pomegranate seeds. Mix everything together

Top with chopped walnuts and a dollop of the cashew cheese. Enjoy straight away
This recipe has been reposted from Happy Skin Kitchen. Find more recipes on her website, and follow her on Instagram here.
Find more vegan salad recipes below: