Pasta is one of those rare foods it's near impossible not to love, and it's a staple of diets all over the world. New vegans may be concerned, therefore, that some types and brands aren't suitable for plant-based eaters.
Pasta was first produced in Italy hundreds of years ago, and is now readily available in pretty much every grocery store you can find. It's cheap, versatile, and can be found as an ingredient in all kinds of meals, whether you're eating at a fine dining restaurant or cooking a 10-minute dinner at home. 
Not all pasta is the same, and there are some products that vegans must avoid. Here's everything you need to know.
Is pasta vegan?
The short answer to this is: sometimes. The vast majority of dried pasta that you buy at the store will indeed be made without animal products. These kind of pastas typically just contain wheat. 
This means that pastas like white or wholewheat spaghetti, fusilli, penne, tagliatelle, rigatoni, linguine, and any others that are found in the cupboard section of the grocery store will typically be vegan-friendly. Many people are now opting for pastas made from chickpeas, lentils, buckwheat, and other non-traditional bases. These are generally perfectly safe to eat as a vegan as well.
You should always check the label, however, as some brands or types of dry pasta will include egg in the ingredients. In some countries, the egg ingredient will be highlighted in bold if it's present, given that it's a known allergen. If not, it should be easy to spot as most pastas contain very few ingredients. A few pastas contain squid ink, which is used to dye certain brands black, so make sure to keep an eye out for this.
Vegan pasta sauce
Many of the sauces you buy at the grocery store will also be vegetable-based and contain no animal products. As well as the obvious exceptions (those based on meat, such as bolognese, or cream, such as carbonara), many people may be unaware that most jarred and fresh pesto you buy contains cheese. Many stores now offer vegan versions of popular non-vegan sauces, but it's also very simple you make your own at home if you'd prefer.
Some pasta sauces that are mostly (but not always) vegan-friendly include tomato based sauces (such as tomato and basil, tomato and herb, sundried tomato, tomato and garlic etc). You should avoid tomato and mascarpone, however, as this contains cheese.
What about fresh pasta?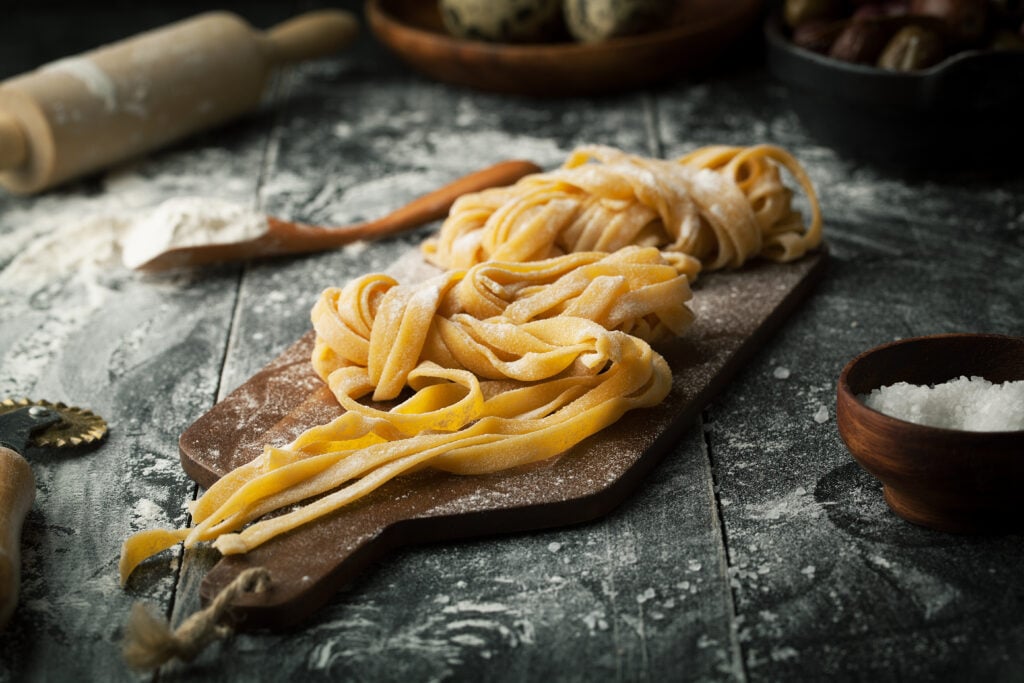 Fresh pasta is typically found in the chilled section of supermarkets, and will often cook more quickly than the dried version. Most of the fresh pasta you'll find in many parts of the world will contain egg, which acts as a binding ingredient. This means that fresh pasta is usually best avoided on a vegan diet.
If you're eating out, you should always check with your server whether any pasta dish is fresh or dry, and whether it contains animal ingredients. An increasing number of restaurants are labeling vegan options on menus, but it isn't always possible to tell whether a pasta contains egg from the description.
Can you buy vegan fresh pasta?
Just because you're vegan doesn't mean you have to miss out on the joy of fresh pasta. If you're a keen chef, it's possible to make your own pasta from scratch without using eggs. Sometimes oil will be used in their place, but a number of recipes require just wheat and water.
Increasingly, you can also find plant-based fresh pasta in the supermarket. Wicked Kitchen stocks a range of plant-based Ravioli with garlic and spinach, while Meatless Farm offers Ravioli with vegan meat.
More like: