If you're planning to do some baking this weekend and are on the lookout for vegan cake recipes, look no further than this egg and dairy-free red velvet cake.
Red velvet cakes are hugely popular desserts eaten in many countries in the world. They are known for their distinctive red color, as well as moist and soft interior. Traditional red velvet cake recipes often use buttermilk and eggs, but it's more than possible to bake one using only plant-based ingredients.
What is a red velvet cake?
A red velvet cake is a red or crimson colored cake. It contains cocoa powder, but tends to be less chocolatey than traditional chocolate cakes. Many recipes use a cream cheese frosting, and it will sometimes have multiple layers. The term "velvet" refers to the cake's smooth and soft texture.
How to make a vegan red velvet cake
Baking a dairy and egg-free red velvet cake doesn't mean sacrificing taste and texture. There are a number of plant-based ingredients that can be used in a variety of vegan baking recipes.
The below recipe, which comes from BOSH!, is republished from the chef duo's new book MEAT, which features plant-based recipes for traditional animal-heavy dishes. The cake is bright red in appearance, and features layers of cream cheese and a vanilla flavored frosting.
Note: You can make this cake with three tiers for an extra-impressive centrepiece. Simply divide the batter equally between 3 x 20cm cake tins and bake for 30 minutes. When assembling the cake, divide the frosting in thirds between the cake layers. As the cake is so large with three tiers, you can use cake dowels to hold it together.
Here's how to make it:
If you've followed us for a while you probably know we LOVE cake. In fact, we love cakes so much we started selling them in UK supermarkets! We've done chocolate, lemon, vanilla and carrot, but we haven't done a red velvet, which is why we've given you this scrumptious recipe. This cake is a real showstopper-we first made it three tiers high, with layers of the cream cheese frosting sandwiching it together(and a few toothpicks!).The sponge is soft and bright red in colour with a super creamy vanilla frosting: everyone will love it!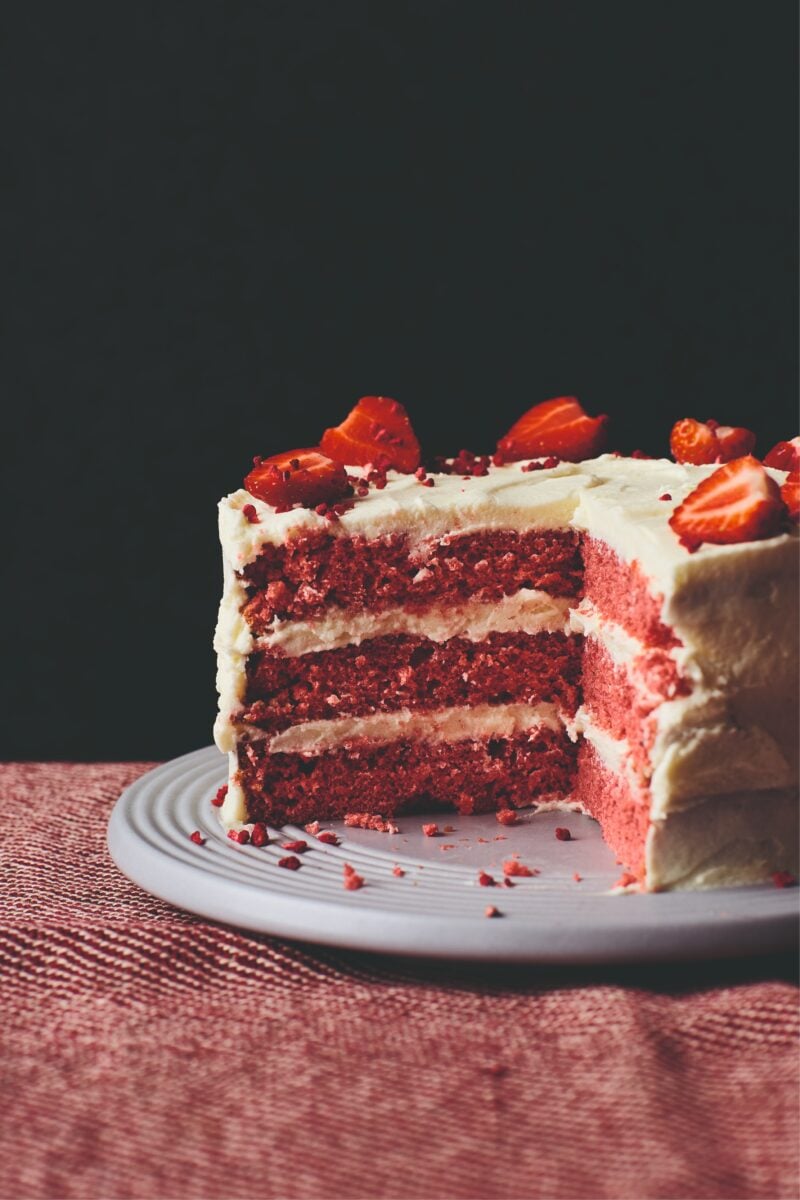 Ingredients
For the cake
2

tbsp

apple cider vinegar

450

ml

oat milk

150

g

plant-based butter (block), plus extra for greasing

400

g

golden caster sugar

500

g

self-raising flour

2

tsp

baking powder

1

tbsp

cacao powder

1/2

tsp

table salt

1/2-1

tsp

plant-based red food coloring
For the cream cheese frosting
100

g

plant-based butter

500

g

icing sugar

125

g

plant-based cream cheese

1

tsp

vanilla extract
For the top
10

g

freeze-dried raspberries or a handful of fresh strawberries
Instructions
Grease 2 x 20cm cake tins and line the base and sides with baking parchment

Leave the plant-based butter for the frosting out at room temperature
Prepare the ingredients
Mix together the vinegar and oat milk in a small bowl and set aside until needed

Melt the butter in a small saucepan

Once melted, leave to cool before making the cake
Make the cake batter
Spoon the sugar, flour, baking powder, cacao, and salt into a large bowl and mix well until there are no lumps

Pour in the cooled butter and oat milk and mix well until a thick, smooth batter forms
Color the cake batter
Add ½ teaspoon of the red food colouring and mix it through the batter-if the colour is not a really bright and vivid red, add another ½ teaspoon and mix through
Bake the cakes
Divide the batter evenly between 2 lined cake tins and bake in the oven for 30 minutes, or until the cakes are cooked through (a knife inserted into the middle of each cake should come out clean-if not, place back in the oven for another 5-10 minutes)
Make the frosting
Put the room-temperature butter, icing sugar, cream cheese, and vanilla extract in a food processor and blend until smooth
Cool the cakes
Once the cakes are cooked, remove from the oven and leave to sit in the tins for a few minutes, then flip them onto a wire rack and remove the baking parchment

Leave to cool completely until room temperature
Ice the cake
Place one cake half onto a serving plate and top with half of the frosting

Use a spatula to spread the frosting out over the cake evenly

Top with the other cake before adding the rest of the frosting

Use a spatula to spread the frosting out over the cake evenly
For the top
If using freeze-dried raspberries, crush the freeze-dried raspberries and sprinkle around the edges of the top of the cake

If using fresh strawberries, cut the strawberries in half and place the halves around the top of the cake (if using fresh strawberries, serve the cake immediately so they remain in place)
Like this? Check out some more recipes from BOSH! below: