Halloween is fast approaching, and if you're planning to throw a party this spooky season, you may be looking for some fun Halloween recipes to impress your guests. This Hocus Pocus peanut butter popcorn could be just what you're after.
Whether your guests prefer sweet or salty popcorn, this recipe is a mixture of both. It features popcorn, pretzels, peanut butter, and chocolate chips, and it's sure to be a crowdpleaser.
If you have kids, making this could be a fun activity to do with them in the run-up to Halloween. And if you don't, it's still a great recipe to make yourself. It's easy and quick to make, fun for all the family, and – most importantly – completely vegan-friendly.
Hocus Pocus peanut butter popcorn recipe
Make your Halloween movie night even more spooktacular with this Hocus Pocus peanut butter popcorn! It's a mouthwatering, sweet, and salty snack. There's candy, pretzels, popcorn, and chocolate all rolled into one for an amazingly addictive any-night treat. Make sure you have extra ingredients on hand because you may want an extra batch!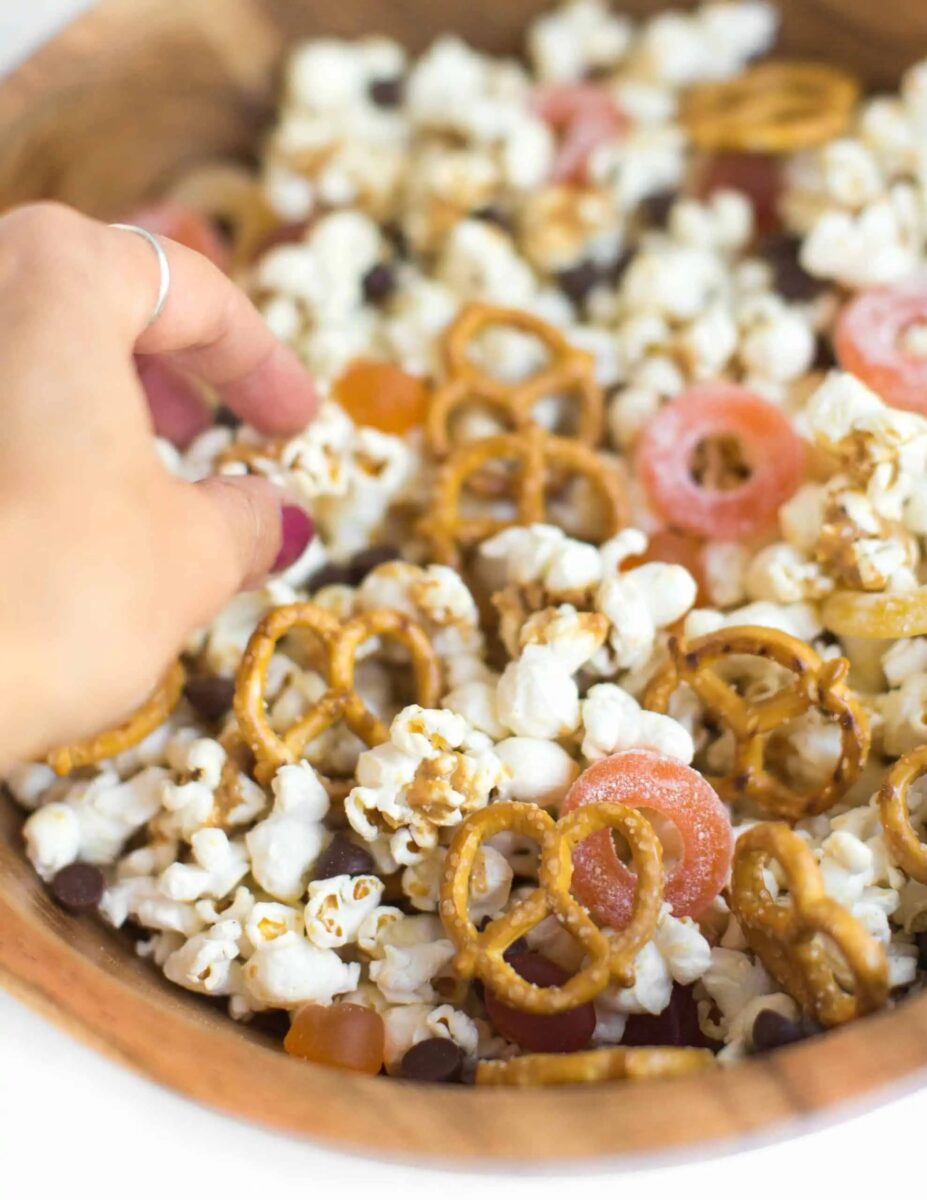 Ingredients
1/4

cup

unpopped popcorn kernels

1/2

cup

small pretzels, your choice of shape

2

tbsp

natural peanut butter, or favorite nut butter

1/4

cup

vegan-friendly chocolate chips or chunks

1/4

cup

favorite vegan-friendly Halloween candy, choose an orange shade for even more fun
Optional add-ins:
1

pinch

salt, or two

1

tsp

powdered sugar, for a puppy chow effect, especially if not using any candy

Dried fruit, a health alternative to candy
Instructions
Measure out the popcorn kernels, pretzels, peanut butter, chocolate chips, and candy.

Using your favorite cooking method (see below), pop the popcorn.

As soon as the popcorn is done and still very warm, drizzle the peanut butter slowly on top of your popcorn, mixing gently. The heat from the newly popped popcorn will help to melt the peanut butter more easily.

Add the pretzels and candy and mix again. Sprinkle the chocolate chips and optional salt and sugar on last.
Microwave – Place kernels into a paper bag or microwavable container, cover (or, for the bag, roll down the top) and cook on high for about 2-3 minutes, depending on your microwave. When you hear the popping of the kernels slowing down, it's time to stop before it burns.
Stovetop – Place a pan on medium to high heat on the stovetop. Add 3 kernels to the pot (with optional teaspoon of oil) and cover. When you hear the kernels pop, you can add the rest of the kernels, cover, and gently shake until the popping becomes more regular. When the popping slows down, take the pot off of the heat and let it continue to pop until done. Be careful when taking the lid off – the steam is very hot.
Air Popper – Turn on your air popper, add the kernels to the well, and place a large mixing bowl beneath to catch the kernels. (Make sure to follow the specific instructions for your particular air popper.)
Use Natural Peanut Butter – Natural peanut butter usually has a much thinner consistency and makes it much easier to drizzle over the popcorn. If you only have the thick and dense kind, heat it up for a minute or two until it's warm and liquid-y. You can even whisk in a little bit of water for a thinner texture before adding to the popcorn.
Oil-free Version – You can pop the corn without oil in the pan, if using the stovetop method. Just be careful to keep the pan moving quickly to avoid the kernels burning.
Sugar Sensitive – You can either eliminate the chocolate chips and candy or use a sugar-free version instead. Choose an all natural peanut butter with no added sugar – only ground peanuts.
Salt-free Version – You can make a no-salt version of this snack by not adding any additional salt and also using salt-free versions of pretzels (or another crispy snack), peanut butter, and chocolate/candy.
Soy-free, dairy-free, and high in fiber
This recipe was reposted with permission from World of Vegan. Find the original recipe here.
If you liked this recipe, check out more World of Vegan recipes below: