Summer means it's officially cherry season, and there's no better time to try out the many diverse vegan recipes you can make with the fruit. Cherries are hugely popular, and sold in supermarkets in many countries in the world. While they're often consumed straight out the packet, there are also a great deal of dishes and meals they can be added to. Whether you're after a starter, breakfast, or dessert, there are a number of cherry recipes you can make, whatever your expertise in the kitchen.
Cherry season generally runs from mid-April to late July. By the middle of August, you may be hardset to find good quality fresh cherries in the shops, and they also often skyrocket in price.
Health benefits of cherries
As there's a relatively short window you can enjoy cherries at their best in the calendar year, many people will rush to snap them up during this time. They are popular not only for their taste, but for their health benefits as well.
According to Healthline, they are packed with fiber, vitamins, and minerals. One cup (154g) also contains 18 percent of your RDA of vitamin C, as well as 10 percent of your potassium, five percent of your copper, and five percent of your manganese.
Fiber helps regulate your digestive system, while vitamin C is essential for maintaining skin health and your immune system. Potassium is an essential nutrient for nerve function, blood pressure regulation, among a number of other bodily functions. In short, cherries provide a number of key nutrients to keep your body healthy.
Here are three recipes that use cherries as a key ingredients, from UK berry firm Driscoll's.
Recipe 1: Vegan Pickled Cherry Bruschetta
The dish is full of nutrients, with 3 percent of your daily requirement of iron, 7 percent of your daily requirement of copper, and 8 percent of your daily requirement of vitamin C.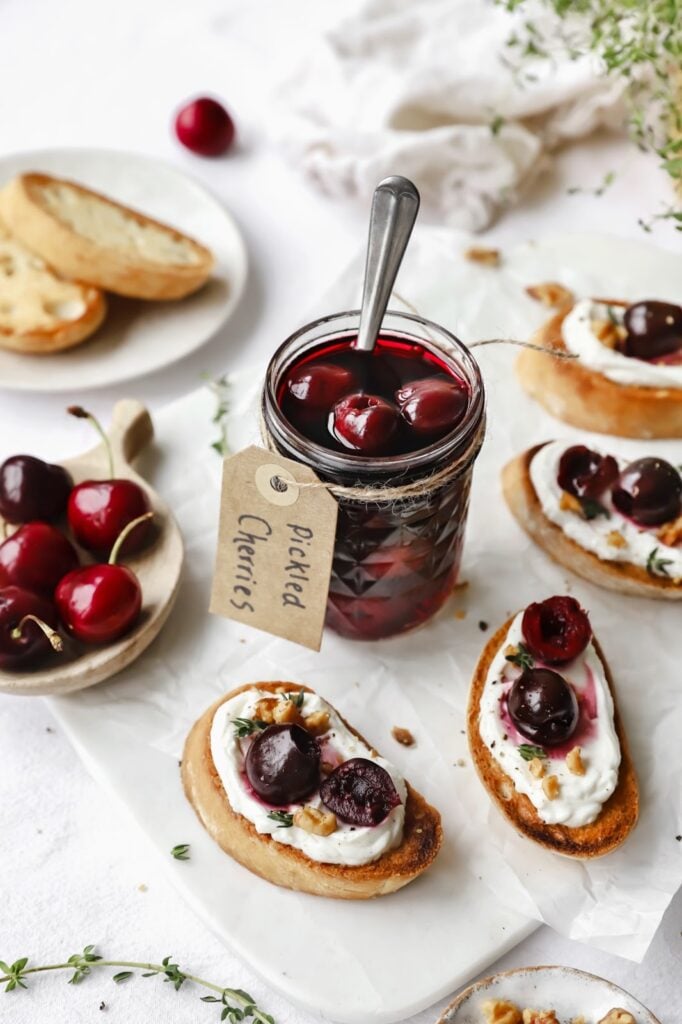 Ingredients
Ingredients for the pickled cherries
100

ml

white wine vinegar

85

ml

water

50

g

caster sugar

2

bay leaves

250

g

fresh cherries, destalked and pitted

2

crushed juniper berries

5

peppercorns
Ingredients for the bruschetta
1

ciabatta loaf, sliced

200

g

plant-based ricotta alternative (you can often find this in Whole Foods, or you can make it yourself)

50

g

walnuts

fresh thyme

salt and pepper

1

tbsp

olive oil for brushing and 1 tsp for walnuts
Instructions
Method for picking:
Firstly, start with pickling your cherries. It is best to do this around a week in advance at least, and once made they will keep in sterilised sealed jars for months – meaning you can hang on to cherry season for even longer! (Once opened, store in the fridge).

To sterilise your jars, wash with hot soapy water then put in a low oven for around 10-15 minutes.

Pour the white wine vinegar, bay leaves, peppercorns, juniper berries, caster sugar and water into a pan and simmer for around 10 minutes.

Whilst this is cooking, de stalk and pit your cherries. Pack the cherries into the sterilised jar/s and pour over the vinegar mix, ensuring all cherries are covered. Tightly seal and leave in a cool dark place for at least a week.
Method for making the bruschetta:
First, preheat the oven to around 180c.

Spread the walnuts out on a tray lined with baking paper.

Toss in a tsp of olive oil and toast for around 10-15 minutes. Set aside to cool.

Next, slice your ciabatta at a slight angle, into 1cm slices. Lightly brush with olive oil on each side and place under a hot grill until evenly golden.

Put the ricotta in a bowl with a pinch of salt and whisk until light and fluffy. 

Spread a teaspoon over each of the ciabatta toasts and top with the pickled cherries, crumbled walnuts, fresh thyme and black pepper.
Recipe 2: Vegan Cherry French Toast
This Cherry French Toast is a quick and easy brunch recipe that makes the most out of fresh cherries and is a healthier take on the breakfast classic.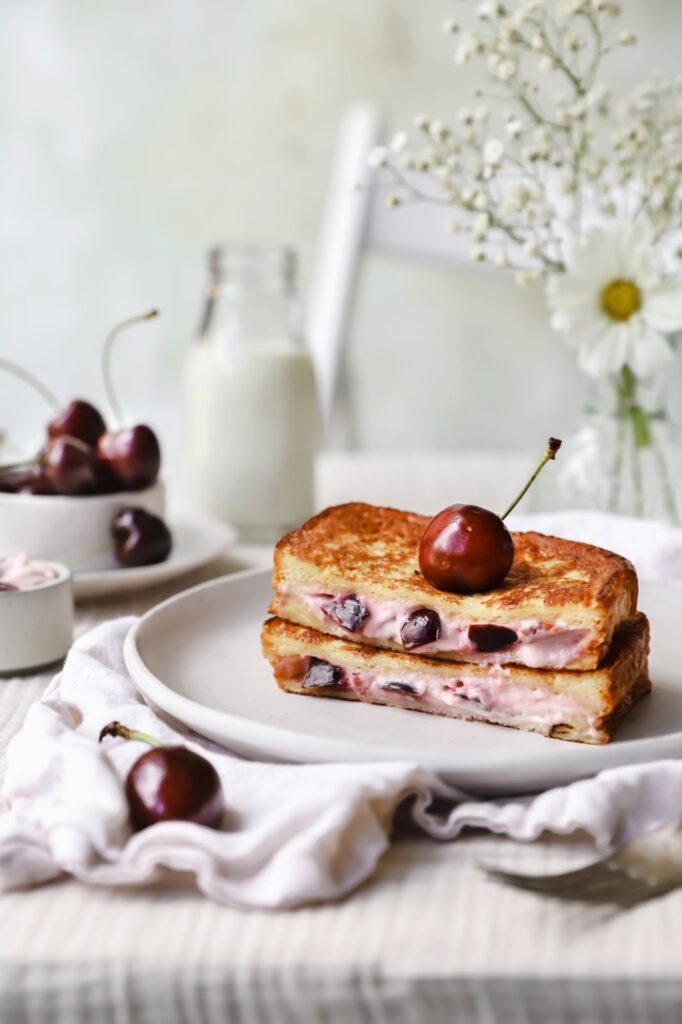 Ingredients
2

slices

bread (stale bread works especially well)

1

liquid vegan egg alternative

50

ml

plant-baseed milk

5-6

cherries, destalked and stoned

1

tsp

brown sugar

2

tbsp

vegan Crème Fraîche (such as Oatly)

1

tbsp

agave

1

spray

oil for cooking
Instructions
Roughly chop your cherries and add to a pan with a teaspoon of brown sugar.

Briefly stir and heat on a medium heat for around ten minutes until they are broken down and syrupy.

In a shallow bowl, pour in your egg alternative and plant-based milk

Whisk well and dip each side of your bread in the egg mix.

In a separate small bowl add your vegan Crème Fraîche and agave syrup and stir in the cherries.

Heat a pan over a medium heat and cover with a little spray oil

In the heated pan, lay down one slice of the bread before topping evenly with the cherry mix and placing the second slice on top, and pressing down gently.

Cook for 3-4 minutes, then flip the bread over and repeat. 

Remove from the heat and enjoy!
Recipe 3: Vegan Cherry Cacao Fro-Yo
Cherry and Cacao Fro-yo is a delicious and nutritious summer treat that you don't need an ice cream maker to prepare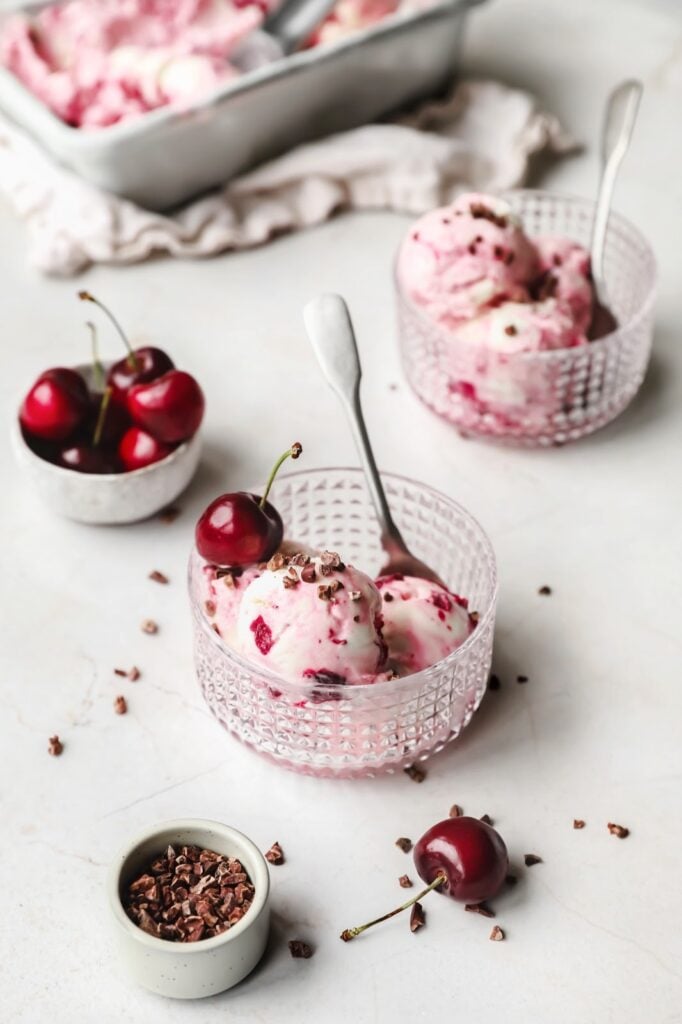 Ingredients
175

g

cherries, de-stalked, pitted and roughly chopped

1

tsp

brown sugar

juice of half a lemon

750

g

plant-based yoghurt

125

ml

plant-based milk

1

tsp

vanilla extract

30

g

sugar (this can also be substituted for the equivalent in stevia)

1-2

tbsp

cacao nibs for sprinkling

You will also need a small loaf tin or 7-8 inch cake tin
Instructions
Put your loaf tin or cake tin into the freezer.

In a medium bowl add your yoghurt, milk, sugar or stevia, vanilla and stir well.

Chill in the freezer whilst you complete the next steps.

Empty your cherries and brown sugar into a pan and simmer on a medium heat for 10-15 minutes.

Stir in the juice of half a lemon and leave to cool.

Remove the tin and yoghurt mix from the freezer and pour the yoghurt into the tin.

Stir every 20-30 minutes and when it's starting to thicken considerably, swirl through your cherry mix.

Leave to freeze for at least 3-4 hours before serving.

Sprinkle your fro-yo with cacao nibs for a crunchy topping!
More like this: