For a vegan pasta that's creamy, smooth, and garlicky, read on. This Italian-style recipe from Crow Moon Kitchen is completely vegan, and can easily be made nut-free and gluten-free. It's also simple to prepare and takes around 30 minutes all up, making it a great weeknight dinner idea.
What is fettuccine Alfredo?
Fettuccine Alfredo is an Italian pasta dish, made with (dairy) butter and parmesan. It's named after Alfredo Di Lelio, who created the dish in 1914. It came after Di Lelio's partner Ines gave birth to their son, and was left without an appetite. Struggling to find something she would eat, Di Lelio put together a plate of fresh fettuccine, cheese, and triple-cream butter. As the legend goes, it was a hit.
Di Lelio later began serving the meal at his restaurant in Rome, where it became hugely popular and earned Di Lelio the title "King of the Noodles."
The original recipe featured a great deal of eggs, cheese, and butter, making it far from vegan-friendly. This plant-based version has the same creamy, rich flavor, using ingredients like nutritional yeast, roasted* cashews, dairy-free butter, sushi rice, and a smidge of miso paste.
Buon Appetito!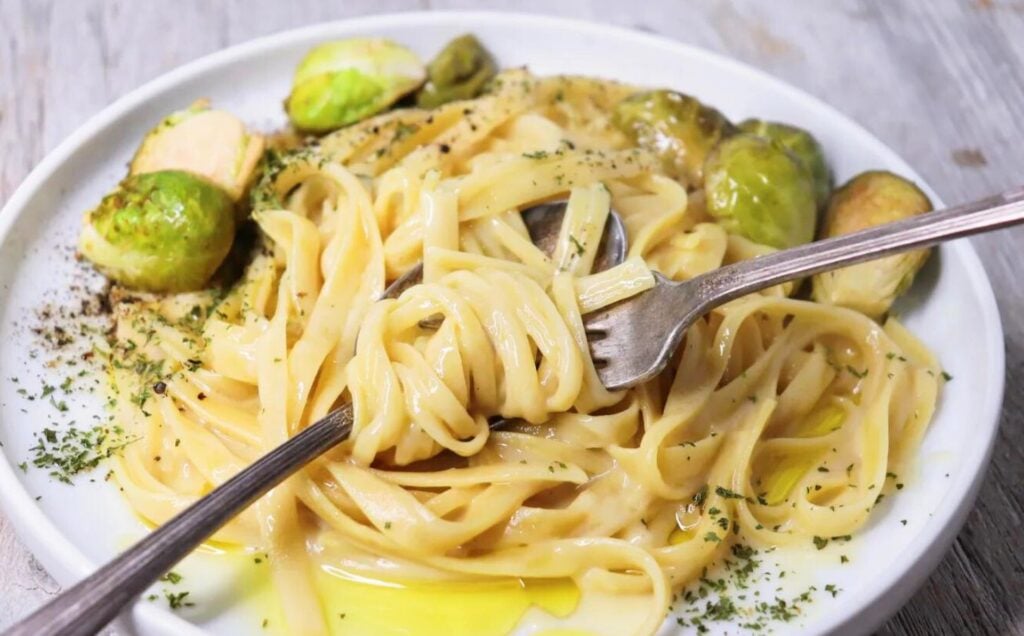 Ingredients
2

cups

water

more as needed

1/4

cup

sushi rice

needs to be sushi rice

8

cloves

garlic

minced (use more or less )

2

tablespoons

nutritional yeast

1

tablespoon

white/yellow miso paste

not red

2

teaspoons

lemon juice

1/2

teaspoon

salt

4

tablespoons

butter

I use EarthBalance vegan butter

2

tablespoons

roasted cashews

the kind you can find at any store, can use other cashews

1

pound

fettuccini or other noodle

1/4

cup

pasta water

see directions
Instructions
Melt the butter and add the roasted cashews. Allow to soak while you prepare the remaining ingredients.

In a large sauce pot bring the water to boil, add the sushi rice, and once it returns to a boil reduce heat to medium. Cook uncovered for 10 minutes. Add the garlic and cook for 5 minutes.

Transfer rice and water to a blender and add in the nutritional yeast, miso, lemon juice, salt, and the butter soaked cashews. Blend until smooth. Leave the sauce in the blender until your pasta is finished cooking. Add more water if it's too thick. It should be on the thinner side because gloopy alfredo is gross.

Cook your noodles in salted water. It makes a huge difference because the noodles are salted from the inside out rather than just flavored with salt. Once your noodles are cooked to al dente reserve 1/4 cup of the water. The starchy and salted water adds flavor as well as a sheen to the sauce. You should always do that when making pasta sauce.

After draining the noodles, return them to the pot and pour in the alfredo sauce. Gently turn the noodles to mix and allow to rest in the sauce for 5 minutes before serving. Top with fresh cracked pepper and enjoy!
* A note about the cashews
It's important to soak the cashews in the hot butter so that they soften. This recipe uses roasted cashews instead of raw for two reasons. Raw cashews are hard to find and have little flavor. Roasted cashews add just a hint more flavor to this cream sauce. But they need to be soaked so that they will blend.
You can skip the cashews and the sauce will still be delicious. The amount of cashews is just for added flavor. Don't omit the butter. If you really need to, you can swap the butter for a good-tasting olive oil. But you need some kind of fat in the Alfredo sauce. It adds both flavor and silky mouthfeel.
—
This recipe was republished with permission from Crow Moon Kitchen. Find the original recipe here.
More like this: