Billions of animals die at the hands of humans each year (when fish are included, this number jumps to trillions). These individuals, most of whom are fish, chickens, cows, pigs, and sheep, are predominantly killed for food.
Although interest in veganism has continued to snowball over the last decade, there is still a long way to go when it comes to freeing animals from the food system.
Here, we take a moment to look at some of the rescue success stories, featuring animals who managed to escape slaughter and find forever homes at sanctuaries. In no particular order, here are five times animals in the food system found their happy ending. (We will keep adding to this list over time!)
5 times animals escaped slaughter
1. Matilda, mother of nine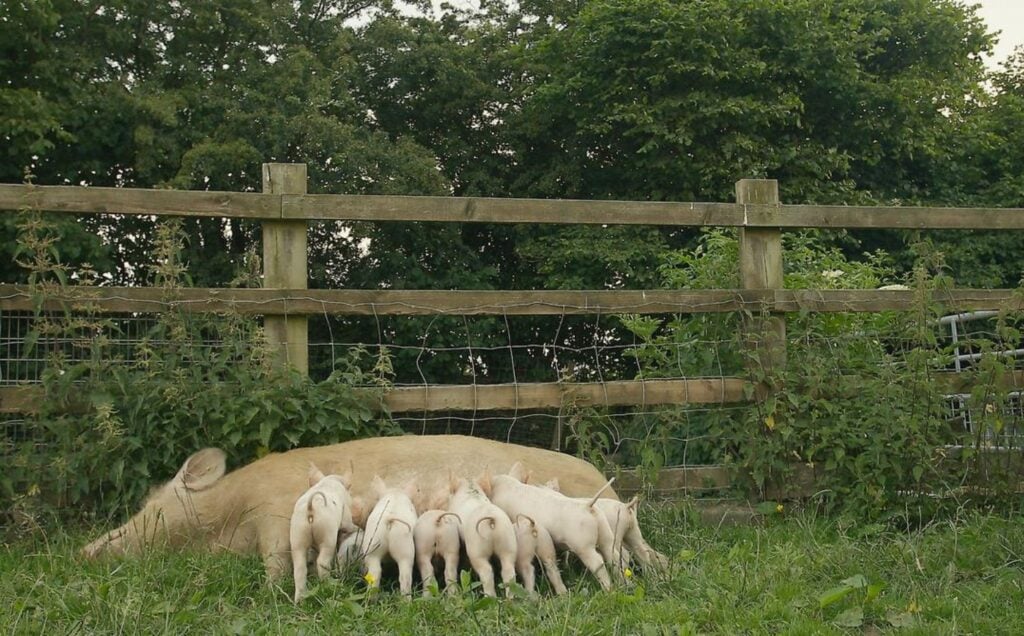 In 2021, a heavily pregnant pig named Matilda managed to escape a pork farm in Nottinghamshire in the UK. She soon gave birth to nine piglets in the woods, and the family lived there for around three weeks until a dog walker stumbled upon them.
Despite efforts from Brinsley Animal Rescue to get the pigs to safety, Matilda and her piglets were originally sent back to the meat farm (a supplier to Marks & Spencer). Following this, a petition to save the family gained more than 5,000 signatures in a day. Ultimately, with the help of Brinsley, the pigs were sent to Surge Sanctuary. The Midlands-based sanctuary is home to more than 100 animals, many of whom were also saved from the food industry.
"We cannot tell you how emotional we all feel but we have just picked up Matilda and all her babies," Brinsley wrote on Instagram at the time. "Thank you so, so much everybody for helping us to do this today and all the reporters that have taken this story around the world. We also thank the farm for allowing us to rescue this courageous girl and her beautiful babies. We will update you and I think Matilda herself wants to say a big, big thank you too."
Matilda and her family later became the stars of a documentary, called When Pigs Escape.
Learn more about Surge Sanctuary here, and follow Brinsley Animal Rescue here.
2. Freddie: 'The Runaway Cow'
In 2016, a cow escaped from a trailer at a live meat market in New York City. He caused a stir when he was filmed trotting past shops and restaurants in the area. He was soon captured by police, however, and returned to the meat business he came from. After a lengthy back and forth between the business owner and Skylands Animal Sanctuary, it was agreed that the cow could go free. The sanctuary named him Freddie, after Queen's Freddie Mercury (see: I Want To Break Free).
Freddie the cow's story captured the hearts of many, earning him celebrity status alongside the name "Runaway Cow." In an anniversary post from Skylands, the sanctuary team thanked Freddie for "being in our lives and letting us be in yours."
"He has inspired logos, tattoos, paintings, books, and inspired so many people to live vegan and remove intentional animal suffering from their lives," the sanctuary wrote online. "He has inspired activists to do more, and he continues to inspire us here at the sanctuary every single day, and the best part is that he does it all by simply existing and being his truly wonderful self."
Skylands Animal Sanctuary has taken in many individuals with similar stories. Learn more about them here.
3. Babe (the second)
Earlier this year, a piglet fell off a meat truck in Pennsylvania and was found injured nearby. Animal rights organization PETA rescued the young animal, and helped transfer him to Indraloka Animal Sanctuary.
The pig's story struck a chord with actor James Cromwell, who starred in 1995 film Babe. Cromwell requested to (virtually) meet the pig, and gave him the name Babe.
"I hear you're rather an extraordinary pig," Cromwell said to Babe on the call. "You jumped off a truck so you wouldn't be someone's Easter dinner? What a great thing to do. Nobody should have any animal for dinner, invite the animals to dinner, that's what I say."
Learn more about Indraloka Animal Sanctuary here.
4. Basil, Fleur, and Rosie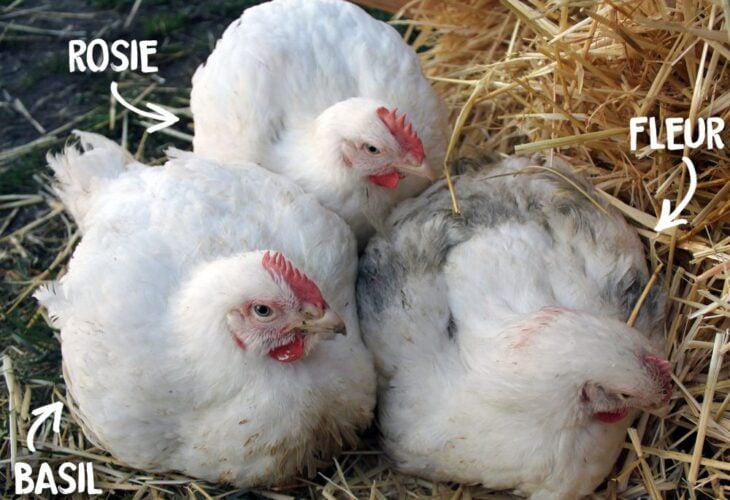 In 2019, advocacy group Animal Justice Project (AJP) conducted an investigation into two chicken farms that were accredited by the Red Tractor "assurance scheme," indicating a farm or product meets "high standards."
Investigators discovered extensive animal abuse at the farms, one of which supplied chicken meat to Tesco, while the other was RSPCA-approved.
During the investigation, AJP discovered three chicks on the side of a busy road commonly taken by slaughtertrucks. After much discussion, it was decided that the chicks – named Basil, Fleur, and Rosie – were allowed to go free.
"Despite seeing such awful abuse on the farms during this investigation, we are delighted that there are three survivors," AJP campaigner Ayrton Cooper said at the time. "Fleur, Basil, and Rosie are symbolic of an industry built on pain and suffering, no matter where you look.
"The answer isn't 'slow-growing', and it's not 'free-range'. Brutal handling and slaughter is standard. The answer is to go vegan."
Learn more about Animal Justice Project here.
5. Sammy, Sunny, and Sooty
On May 24, 2023, three Animal Rising activists entered a farm on Sandringham Estate in the UK, on land owned by the royal family. There, they took three lambs who were set to be slaughtered for meat. Later named Sammy, Sunny, and Sooty, the lambs were taken to safety and the activists handed themselves into police.
"Saving lives is morally the correct thing to do," Rose Patterson, one of the rescuers, told Plant Based News the following day. "We are all taught that preventing harm is a good thing to do and that is exactly what we did yesterday at Sandringham."
"At barely months old – just babies – lambs are killed for food; it doesn't have to be this way. We can live in a world where the freedom of all animals is valued, they're not used for food, and we have a safe and secure food system."
Learn more about Animal Rising here.
More like this: