Members of Animal Rising (formerly Animal Rebellion) have rescued three lambs from the royal family-owned Sandringham Estate in Norfolk, UK.
At 8pm last night (Wednesday, May 24), three women entered the grounds of Appleton Farm and took three lambs. They named them Sammy, Sunny, and Sooty, and they have all been taken to safety. According to the group, the lambs were due to be slaughtered soon. 
The women have since handed themselves into police at Windsor. They held placards reading slogans like "I rescued the King's Sheep" and "This is how we love animals."
Animal Rising said this is the first of a number of "open rescues" the team will carry out this summer.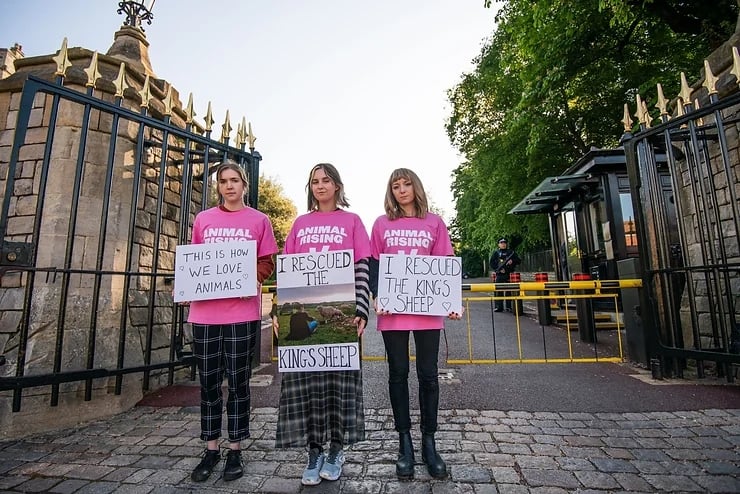 'It doesn't have to be this way'
Animal Rising has since confirmed that the activists made "every attempt" to rescue the mother sheep along with her babies, but that it wasn't possible.
"​​We take solace in knowing that we have done our best by these babies," the group said. "Saving them from slaughter and helping them to a long life of freedom."
"Saving lives is morally the correct thing to do," Rose Patterson, 33, one of the rescuers, told Plant Based News. "We are all taught that preventing harm is a good thing to do and that is exactly what we did yesterday at Sandringham.
"At barely months old – just babies – lambs are killed for food; it doesn't have to be this way. We can live in a world where the freedom of all animals is valued, they're not used for food, and we have a safe and secure food system."
Animal Rising have also called on the royal family to commit to the transition of a plant-based food system. The group pointed out that they own an area of land larger than Greater London, and that it would be an "incredible statement" to commit to a rewilding program.
"Mending our connection to animals is vital in tackling the climate and nature crises," Foy said. 
Sheep farming in the UK
Farming sheep is big business in the UK. Around four million hectares are used for this purpose, which is an area twice the size of Wales. Despite this, they provide only a tiny fraction of the calories consumed, around 1.2 percent. Many activists, including those from Animal Rising, are calling on the government to rewild the land used for grazing animals to help us fight the climate crisis. 
Lambs are generally killed when they are around seven-months-old, though they are sometimes just six weeks. At the slaughterhouse, they are shackled upside down and stunned before having their throats cut.
"Three lambs have been given a second chance at life, a life free from the harms of our food system," Animal Rising wrote on Instagram. "Through their actions, [the Animal Rising rescuers] not only saved these innocent babies but they also continue the crucial conversation on our broken relationship with animals."