A cow who was filmed running around New York after escaping from a slaughter truck has been rescued by a sanctuary.
The black Angus calf was being driven from Pennsylvania to Saba Live Poultry in Canarsie, Brooklyn, a butcher's that keeps live animals for slaughter on the premises. 
After he jumped off the truck, workers from a nearby pizza restaurant filmed the cow being chased around the street in an attempt to catch up with him. The cow was eventually caught and taken to the slaughterhouse.
The rescue
This wasn't the end of the story, however. After hearing about what happened, the owner of New Jersey's Skylands Animal Sanctuary, Mike Stura, decided to attempt to rescue the cow.
He reportedly had a three-hour phone call with both the owner of the farm and manager of Saba Live Poultry, which was later described as "tense."
Stura is well known for animal rescues, and has secured the release of many more prior to this. While he doesn't reveal his exact methods, he has stated he never offers to pay for their release. He said offering payment would be "counterproductive" to his goal of ridding the world of slaughterhouses.
Rescued animals given sanctuary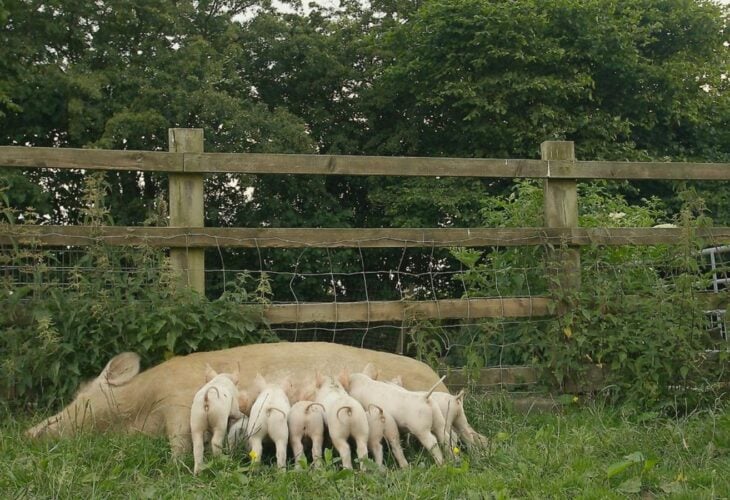 While it's very unusual for "livestock" to have a happy ending, this isn't the first time an escaped animal has been rescued in similar circumstances.
Back in 2016, Stura also secured the rescue of a cow named Freddie, who had escaped from a slaughterhouse in Queens, New York. Freddie had been delivered from upstate, and had managed to run away while being transferred from a trailer at a live meat market.
In 2021, a pregnant pig named Matilda escaped from a factory farm in Nottinghamshire and gave birth to 10 babies in the woods. Thousands of people signed the petition calling for Matilda to be rescued, and she now lives with her children at Surge Sanctuary.