Wagamama is a British-based restaurant chain that's been serving up bowls of noodles since launching in 1991. Inspired by the fast-paced ramen bars of Japan, its menu has flourished over the years – especially with vegan options. A dedicated vegan and vegetarian menu was launched in 2017. Since then, the restaurant has crafted dishes to create a main menu that's 50 percent plant-based. With vegan diners no longer restricted to having sides of edamame and miso soup, Wagamama has launched a whole range of vegan alternatives to some of its most popular and well-loved dishes.
The restaurant has acknowledged the impact of non-vegan food on the planet on its website. It states that it believes in making small changes collectively to create bigger, more positive changes in the world with "soulful substitutes that don't compromise on taste."
Ready to tuck in? Here's what you can find on the menu.
Wagamama vegan mains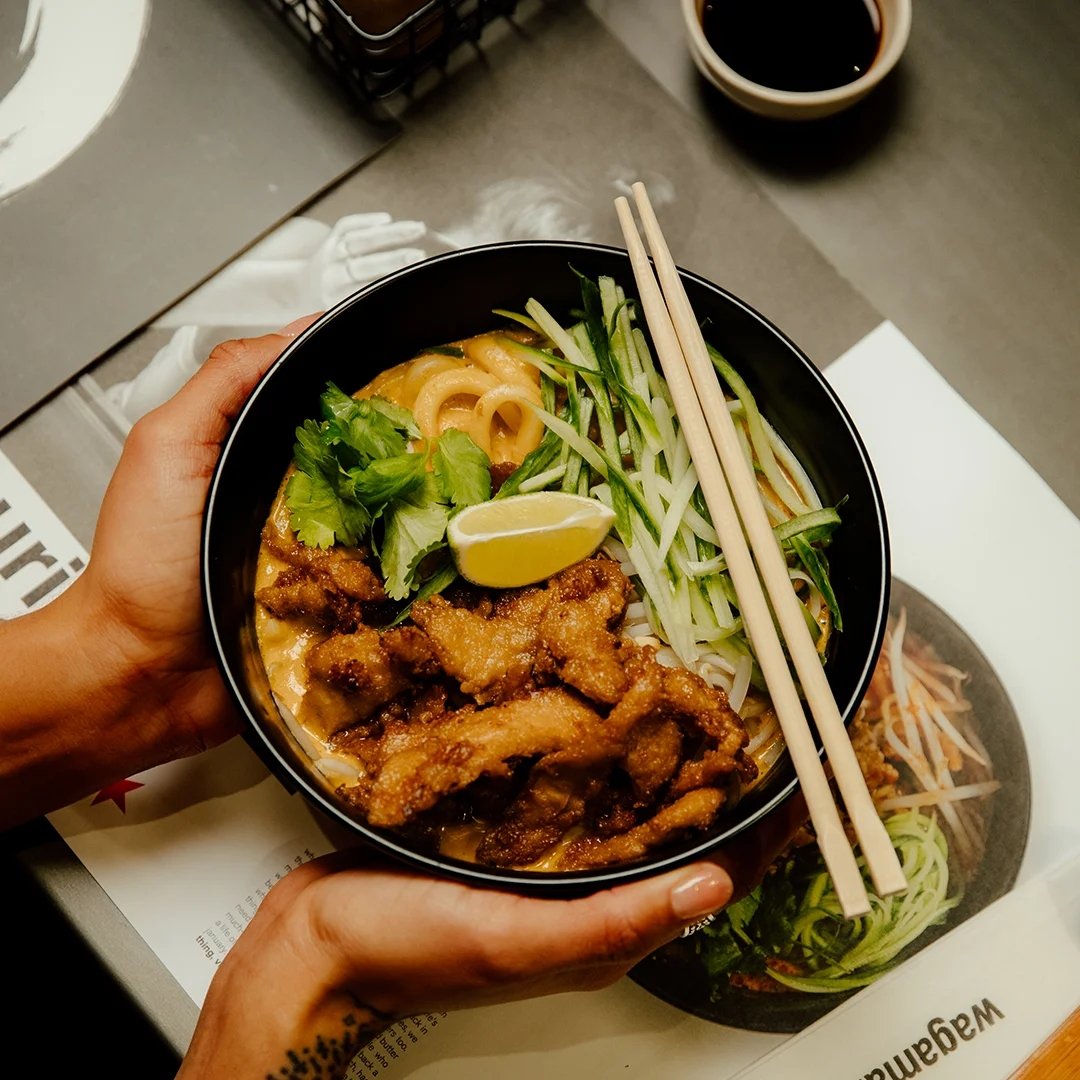 Big plates: vegan ramen
Yasai vegetable gyoza ramen
The first of its three ramen options, this dish has a base of a hearty vegetable broth. Steamed yasai gyoza, udon noodles, and roasted bok choi with a chili sambal paste come on top. Spring onion, chili oil, and coriander are sprinkled on top with a side of chili, soy, and sesame dipping sauce.
Kare burosu ramen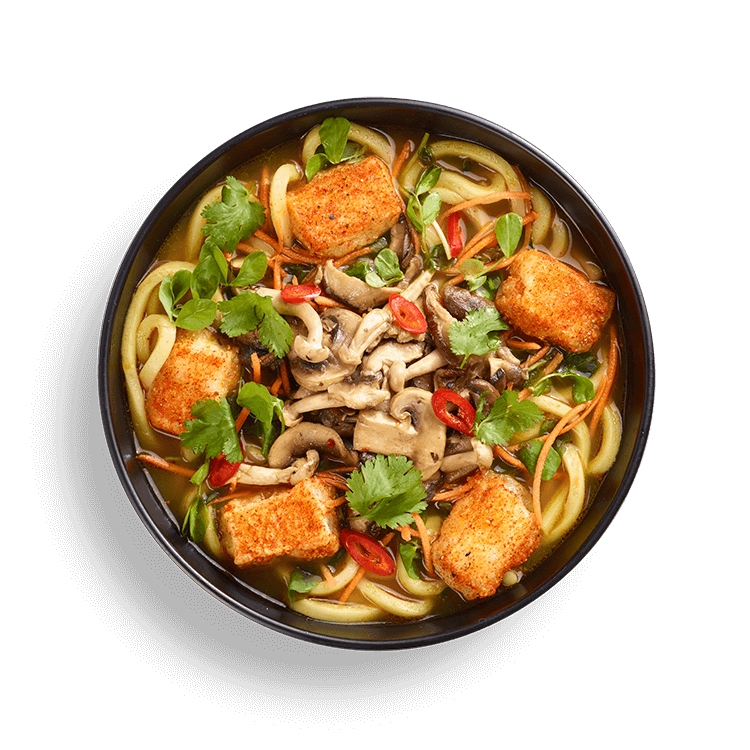 Silken tofu is coated in shichimi (a Japanese spice blend including chili flakes, seaweed, and sesame seeds). It's then bundled onto udon noodles in a curried vegetable broth. Topped with wok-fried mushrooms, pea shoots, shredded carrots, chili and coriander for extra character. 
Big plates: vegan curries
Katsu curry
The katsu curry is perhaps the restaurant's most iconic dish, and Wagamama has a range of vegan options. The first is the yasai katsu curry: sweet potato, butternut squash, and aubergine are coated in crispy panko bread crumbs. It's served on a bed of sticky white rice with a classic katsu curry sauce poured on top. The Vegatsu is similar, only swapping out the vegetables for tofu and soya protein coated in panko bread crumbs. The hot yasai katsu curry meanwhile is the yasai option, cranked up a notch with a spicy katsu curry sauce. All of the options come with a dressed side salad and Japanese pickles. 
Tofu raisukaree curry
A mild coconut sauce curry covers tofu, mangetout, peppers, and onion for this citrus-forward dish. It's served with a dome of white rice, topped with chili, sesame seeds, coriander, and a lime wedge for extra freshness. For a similar curry with a fiery hit, there's the tofu firecracker curry. It's all the same ingredients as the raisukaree curry, with additional red hot chillies and shichimi.
Big plates: teppanyaki
Yasai yaki soba | mushroom
With a choice of udon or rice noodles, this dish is cooked up with mushrooms, peppers, beansprouts, and white and spring onion. It's then topped with crispy fried onions, pickled ginger, and sesame seeds to add that extra bit of crunch.
Yasai pad thai | tofu
A twist on a Thai classic. Rice noodles are cooked up in an amai sauce (sweet, sour, and a little savoury), alongside tofu, beansprouts, leeks, chili, and red and spring onion. Crispy fried onions, coriander, and mint are sprinkled on top, with a lime wedge for an extra fresh kick. 
Other big plates
Tofu hot pot
As part of its new Korean-inspired menu, this dish consists of a broth with tofu, tteokbokki (spicy rice cakes), mangetout, butternut squash, bok choi, kimchi, and red onion. The bowl is topped off with fresh red chili, coriander cress, and spring onion, with a final drizzle of chili oil.
Aubergine and caramelised onion koyo bowl
One of Wagamama's most colorful bowls, this one is full of nourishment. Aubergine is combined with caramelized onion with a sticky red chili and miso sauce. Served on a bed of mixed leaves, with beetroot, cucumber, mooli (radish), and edamame beans. Crunchy sunflower seed brittle and coriander cress are served on the side in a creamy white dressing.
Silken tofu gochujang rice bowl
Another new addition, silken tofu is coated in the spicy gochujang sauce. It's mixed with pickled cucumber, bok choi, red onion, and slaw. Served on sticky white rice, and topped with fresh red chili, spring onion, sesame seeds and red pepper powder.
Vegan 'chicken' kare lomen
Teriyaki 'chicken' is layered on top of udon noodles, before being covered in a coconut sauce that brings in a warm chili kick. Topped with beansprouts, cucumber, coriander, and a lime wedge, this dish is one of the newest on the menu, packing a warming punch just in time for autumn.
Vegan Wagamama sides and sharing dishes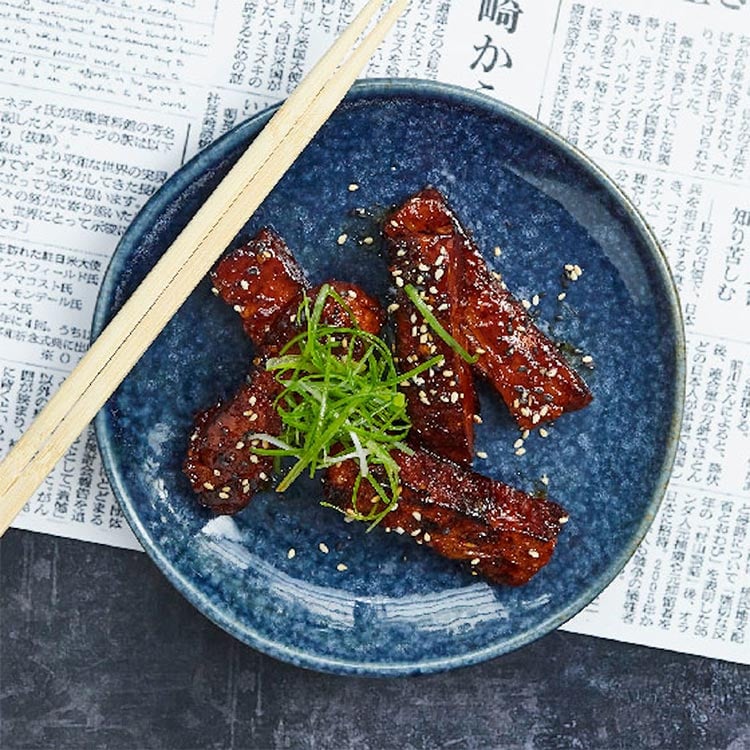 Wagamama hasn't overlooked its small plates, either, with 11 vegan options available. There's crispy chili mushrooms, roti + raisukatsu, vegan k-dogs, king oyster mushroom skewers, mixed mushroom hirata buns, and yasai vegetable gyoza to snack on and share. As well as edamame with salt or a chili and garlic salt, bang bang cauliflower, wok-fried greens and sticky vegan mushroom and soya protein 'ribs'.
Vegan extras
Add some plant-based chili sambal paste, snow onion slaw, kimchi, chillies, Japanese pickles, or a miso soup for a tasty addition to a big or small plate.
Vegan Wagamama desserts
If you have room for a little more, there's four plant-based options for a sweet treat. Banana katsu, juice sorbet, coconut reika ice cream, and a miso caramel ice cream are on the menu.
Vegan drinks
Choose from one of four juices for an extra one of your five-a-day. Carrot cleanse combines carrot and ginger; positive is a mix of pineapple, lime, spinach, cucumber and apple; up-beet blends beetroot with red pepper, ginger, cucumber and apple; and power blitzes spinach with apple and fresh ginger.
Other soft drinks include peach ice tea, cloudy lemonade, Coke, Diet Coke, Coke Zero, still and sparkling water. There's also three non-alcoholic cocktails: a ginger no-jito, cherry blossom lemonade, and yuzu + lychee tonic.
Additionally, in the alcoholic division, there's a range of cocktails: a Thai chili margarita, pandan passion fruit colada, roku tonic, sakura pink g + t, positive panchi, and a sake spritz. Beers include Asahi, Lucky Buddha, Days Pale Ale, and an Asahi Zero (alcohol free). While there's a Dead and Berried cider and Hawkes East by Southeast Cider. Not all of Wagamama's wines are vegan, so it's worth double-checking when ordering. But they do have a vegan malbec, pinot grigio, sauvignon blanc, and prosecco.
Wagamama's teas and coffees are also vegan (though make sure you order without dairy milk).
Vegan kids menu
Children and those with a smaller appetite are being catered to as well, with a bunch of smaller options of some of Wagamama's classic and most popular vegan dishes. Tuck into a mini yasai ramen with rice or udon noodles or a mini yasai yaki soba with rice or udon noodles. The yasai katsu curry is available with a curry or amai sauce, or there's the mini yasai cha han – combining fried tofu with stir-fried rice, sweetcorn, carrots and mangetout in an amai sauce. For something sweet after, there's a choice of two ice pops in a blackcurrant and apple or mango and apple flavor.
Wagamama has 165 restaurants throughout the UK and is available to eat in or to order for pick-up or delivery.
More like this: