Taco Bell has added a new plant-based meat option to its UK menu, aiming to cater to the country's growing appetite for vegan foods. 
The new meatless protein will be available nationwide. Customers can order it for no extra cost, making it one of the more accessible meat alternative options in fast food. 
"We're always listening to our customers and evolving our menu based on their needs and preferences," the chain said in a statement. "While Taco Bell has always had black beans as an option, we know our fans are curious about other ways to satisfy their Bell cravings, so we're looking to fulfill those."
'Just as craveable'
Taco Bell will feature its new protein in the Volcano Burrito, Quesadilla, and Crunchy Taco, as well as the beloved Crunchwrap Supreme. Customers can also request to replace animal meat with the plant-based version in any item on the menu.
The meat alternative is made from soy, peas, and a proprietary blend of other legumes, flavored to be "just as craveable" as its signature seasoned beef. For those on a budget, the plant protein will be available for the Taco Tuesday deal, where customers can order a regular drink and a taco for £2.
While Taco Bell defines "vegan" as made with no animal ingredients, the company warns that the plant-based options are likely cross-contaminated with the same frying oil used for its conventional meat ingredients. Currently, Taco Bell UK does not provide alternatives for its dairy toppings, such as cheese and sour cream, but you can opt to have your meal without these.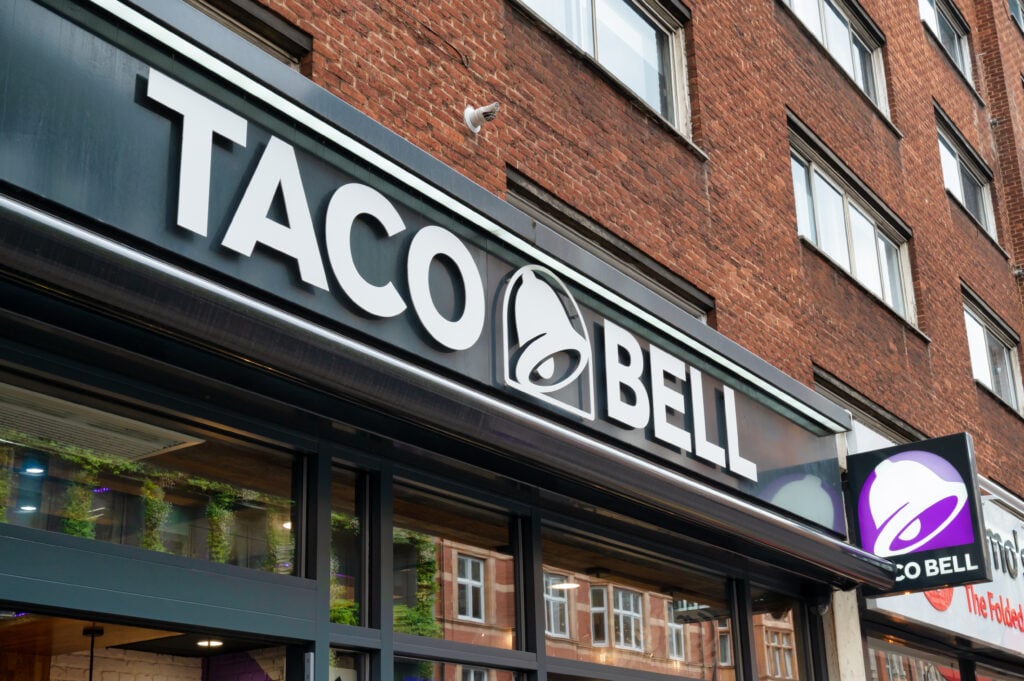 Introducing the Vegan Crunchwrap
This June, Taco Bell debuted the first all-vegan Crunchwrap in Los Angeles, New York City, and Orlando. The item is packed with Taco Bell's new proprietary "boldly seasoned" plant-based protein and topped with two plant-based sauces: the vegan nacho sauce and blanco sauce. The Vegan Crunchwrap rolled out at select restaurants in areas with sizeable vegan populations. 
"Such a large part of our fandom is vegan or vegetarian, and we're as committed to them as they are to us and our menu," Liz Matthews, Global Chief Food Innovation Officer at Taco Bell, said in June. "That's why we took so long, months and years, to release something this special; we wanted and needed to get it exactly right, to get it mouth-watering."
It is not yet known if or when the Vegan Crunchwrap will role out to other US locations, or more countries.
Taco Bell is committed to vegan customers
For decades, Taco Bell has catered for plant-based consumers. While the fast-food chain didn't always offer vegan options, the main menu allowed customers to substitute beef and chicken for beans, guacamole, and potatoes.
Taco Bell has also tested several vegan options before, including Beyond Meat and the Naked Chalupa with a Crispy Plant-Based Shell. However, these additions did not remain on the permanent menu.
"Our fans are always hacking our customizable menu to try new options, especially veggie-forward," Director of Global Nutrition and Sustainability Missy Schaaphok said. "So now we're hacking the hack, if you will, with a product that's completely vegan as-is, right off the menu. I may be biased, but no veggie burger could compare."
More like this: