A few years ago, the idea of a vegan eating other than corn on the cob at Pizza Hut would have seemed an impossible prospect. But the chain, like many of its competitors, is increasingly catering to plant-based consumers.
Pizza Hut is one of the most famous fast food restaurants in the world, and its menu has traditionally relied heavily on meat, dairy, and other animal products. The American multinational chain was founded in 1958 in Wichita, Kansas, by two American brothers named Dan and Frank Carney. It now operates 17,639 restaurants across the world, as of 2020. Whether you live in the UK or US, here's everything you need to know about eating plant-based at Pizza Hut.
Please note: the menu is subject to change, and you should always check with your server to ensure that what you're ordering is vegan. There may be risk of cross contamination at some restaurants.
What's vegan at Pizza Hut UK?
Pizza Hut first introduced its vegan pizza with dairy-free cheese in 2017. Now, diners can choose from a variety of options and toppings. 
Vegan bases include thin, pan, and gluten-free. Vegan stuffed crust is also available at some restaurants.
You can order any of the pizzas with Violife vegan cheese, meaning the vegetarian options can be easily made plant-based. These include the Margherita, Hot 'n' Spicy Veg, and Veggie.
Pizza Hut UK also offers a Vegan Pepperphoni Feast pizza, as well as the Flamin' Buffalo, which features vegan chick*n. It's worth noting that there is a £1 surcharge for vegan cheese on pizzas.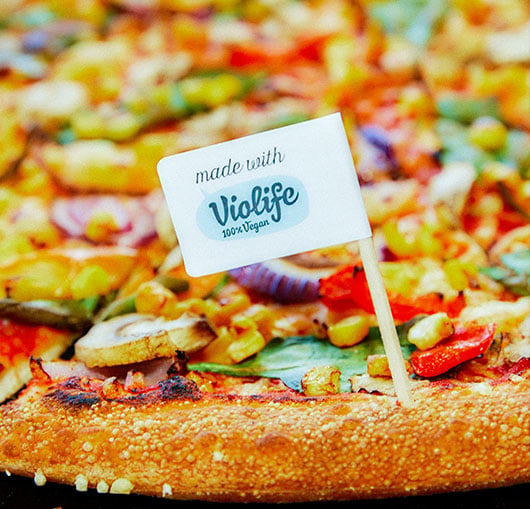 If you fancy making your own pizza, you can choose from toppings including vegan Pepperphoni, soy-based chik'n, soy-based chik'n in Frank's RedHot Drizzle, sweetcorn, cherry tomatoes, black olives, red onions, rocket, mushrooms, spinach, peppers, caramelized onions, jalapeños, green chili, pineapple, and Frank's RedHot Drizzle.
Sides: are the chips plant-based?
Unfortunately for fans of fries with their meal, the Pizza Hut chips are vegetarian, but not vegan. The onion rings also contain animal products. If you do want to order a side, you can choose the mini Corn on the Cob, which is listed as vegan. Another option is the Vegan Southern Fried Nuggets, which are made from Quorn protein.
Desserts
Unusually for a fast food restaurant, Pizza Hut's menu does indeed have a plant-based dessert option. This is the I Can't Believe It's Not Cheesecake, which is entirely dairy-free. 
Drinks
All of Pizza Hut's soft drinks are vegan-friendly, with the exception of Diet Pepsi. Diet Pepsi contains an animal product, meaning it isn't suitable for those on a plant-based diet.
The Pizza Hut soft drinks options are as follows:
Pepsi
Pepsi Max
7 Up Zero
Tango Orange
Tango Apple
Orange Squash
Apple & Blackcurrant Squash
Bottle of Pepsi
Gingerella Gingerale
Still / Sparkling Water
Sodafolk Cream Soda
J2O Apple & Raspberry
J2O Orange & Passion Fruit
Fruit Shoot
Orange Juice
Apple Juice
Irn Bru (only available in Scotland and some other locations)
There are also a range of vegan-friendly alcoholic drinks. At the time of writing, all beers and ciders are plant-based, which are as follows: 
Budweiser
San Miguel
Brewdog Punk IPA
Bulmers Original Cider
Kopparberg Strawberry & Lime
Kopparberg Tropical Fruit
The wines are not listed as vegan, but the Prosecco does appear to be suitable. 
What's vegan at Pizza Hut USA?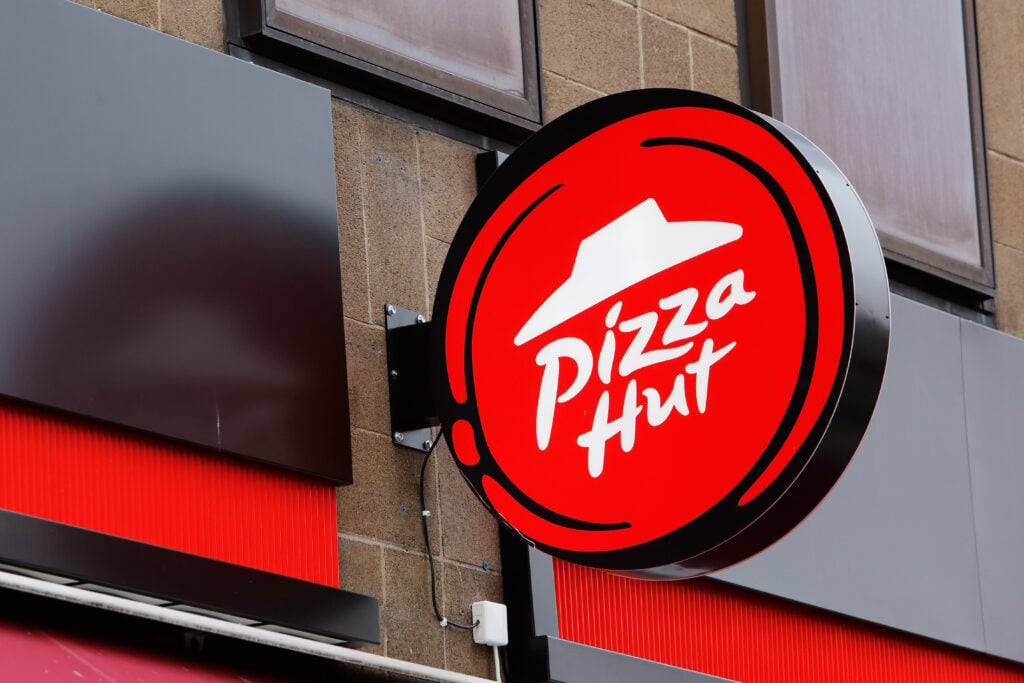 Pizza Hut USA hasn't yet introduced a nondairy cheese, but that doesn't meat you can't enjoy a meal there. Most of its bases are vegan-friendly, meaning you can ask for a vegetarian option with no cheese. You can choose from Thin and Crispy Pizza Base, Hand-Tossed Style, Pan Crust, and P'Zone Dough (just make sure you ask for it without Crust Flavor or Buttery Blend). Both the Classic Marinara and Buffalo Pizza Sauce are vegan-friendly. 
Vegan toppings include diced tomatoes, green peppers, red onion, mushrooms, black olives, jalapeños, banana peppers, and pineapple. 
Sides
It's thought that the Pizza Hut fries are vegan, but there is a risk of cross-contamination. You can also order the breadsticks without parmesan seasoning.
Desserts
The cinnamon sticks should be vegan-friendly if you order them without icing – but always check with your server.
Drinks
Suitable drinks include Pepsi, Mountain Dew, Aquafina, and Dr Pepper.
More like this: