Since releasing its OMV! range in January 2023, ASDA has been increasing its vegan and plant-based products. In its vegan Christmas 2023 range, there's a lot to choose from in the mains, sides, desserts, and sweet treats section this year. The UK supermarket chain is adding new vegan products for the festive period, including an entire plant-based turkey. And while the range centers 'decadence', the supermarket wants to keep the cost low. It's frequently titled the lowest-priced traditional supermarket in the UK. 
Asda vegan Christmas food 2023
As the cost of living crisis continues, Asda has stated that its aim is to make sure vegans (as well as those wanting to cut back on their meat and dairy intake) are catered for this Christmas. The supermarket broke its record last Christmas by releasing its largest ever vegan and Free From ranges, with 97 products. And this year, it continues to grow. From a plant-based chocolate advent calendar to the entire no turkey, here's what you can find in stores and online.
Jump to section:
Asda vegan mains
ASDA OMV! Whole No Turkey 
This year, vegans (and those cutting down on animal products) can buy an entire whole no turkey from ASDA. Wheat, soya, and pea protein make up the 'crown'. This will appear bright white on the inside and have a lean texture. The "legs" are produced from a similar base, but have a juicier texture, darker color, and more intense flavor profile.
Cost: £6
OMV! Deliciously Vegan No Turkey & Trimmings For One
ASDA is packaging up an option to serve one. Vegan no turkey has a cranberry and orange stuffing. There are sides of vegan sage and onion stuffing balls as well as vegan pigs in blankets.
Cost: £TBC
OMV! No Turkey Crown
Available now in Asda's frozen section. Sage and onion stuffing run through the middle of this vegan 'turkey crown'. It's made from a blend of broad bean and pea protein.
Cost: £6

OMV! Oyster & Porcini Mushroom Wellington
An additional main. Oyster and porcini mushrooms are bound with pea protein. Topped with a duxelle of minced mushrooms, onion, herbs, and black pepper. It's then encased in a flaky puff pastry.
Cost: £TBC
OMV! Festive Butternut & Chestnut Roast
Available from the frozen section. The mix is made with a blend of chestnuts, butternut squash, onions, kale and bulgur wheat. Sunflower and pumpkin seeds are also added with black garlic and seasoning. After cooking, the roast is then finished with a clementine and maple glaze.
Cost: £3.50
Asda vegan sides
OMV! Miso and Mushroom Gravy
The supermarket is yet to release details on ingredients, pricing, and availability of their upcoming miso and mushroom gravy.
Cost: £TBC
OMV! Mushroom Pigs in Smoky Aubergine Bacon
White and oyster mushrooms form the base. Wrapped in a smoky aubergine bacon, seasoned with smoked paprika and natural smoke flavors.
Cost: £TBC
OMV! Deliciously Vegan Christmas Trimmings Selection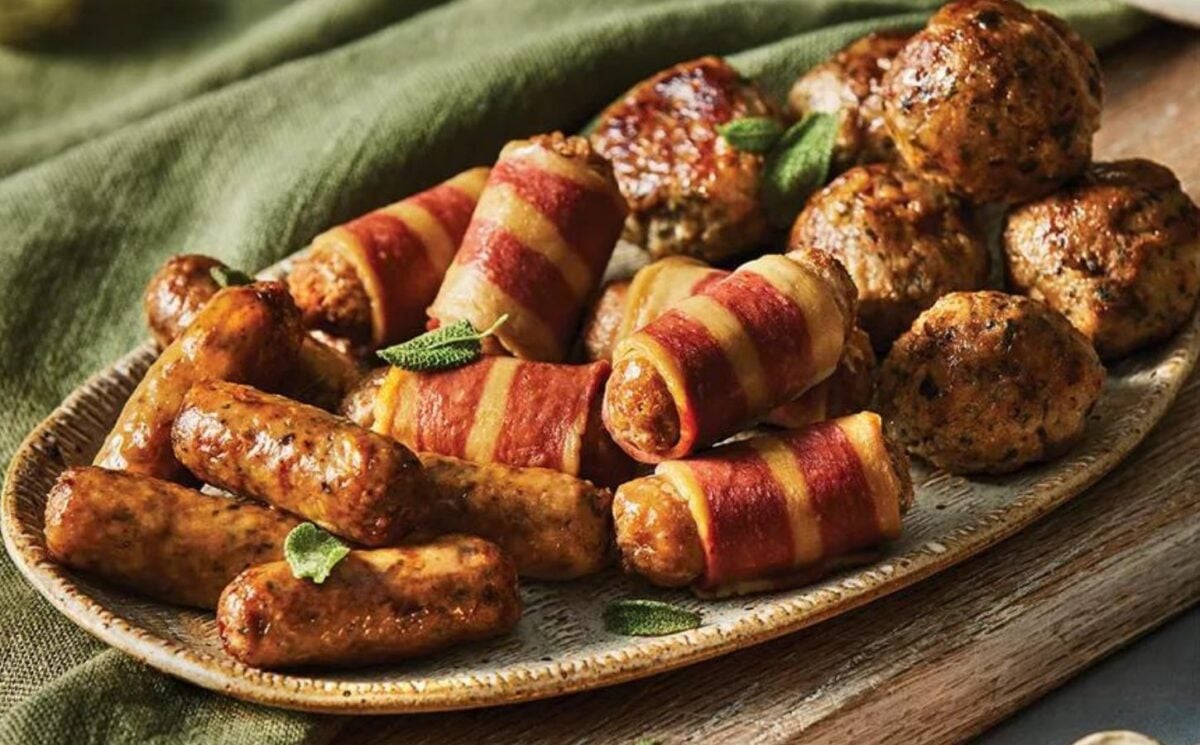 Plant-based sides for a Christmas dinner bundled up into one package. There's vegan sage and onion stuffing balls, no pigs in blankets, and caramelized red onion cocktail sausages.
Cost: £TBC
Asda vegan desserts
OMV! Strawberry Trifle
Strawberry compote made from whole strawberries. Topped with egg-free sponge and dairy-free vanilla custard. Finished with a lentil and coconut cream.
Cost: £TBC
OMV! Chocolate Salted Caramel Tarts
Sweet chocolate pastry tarts form the base. They're filled with salted caramel and topped with rice-based alternatives to white chocolate drops. Available as a pack of four.
Cost: £2.25
OMV! 4 Crumble Top Mince Pies
Asda's first launch of festive vegan mince pies. Fruity mincemeat filling is encased in pastry, topped with cinnamon and ginger spiced crumble.
Cost: £2
ASDA Christmas sweet treats
OMV! Double Choc & Honeycomb Cake Pop Bites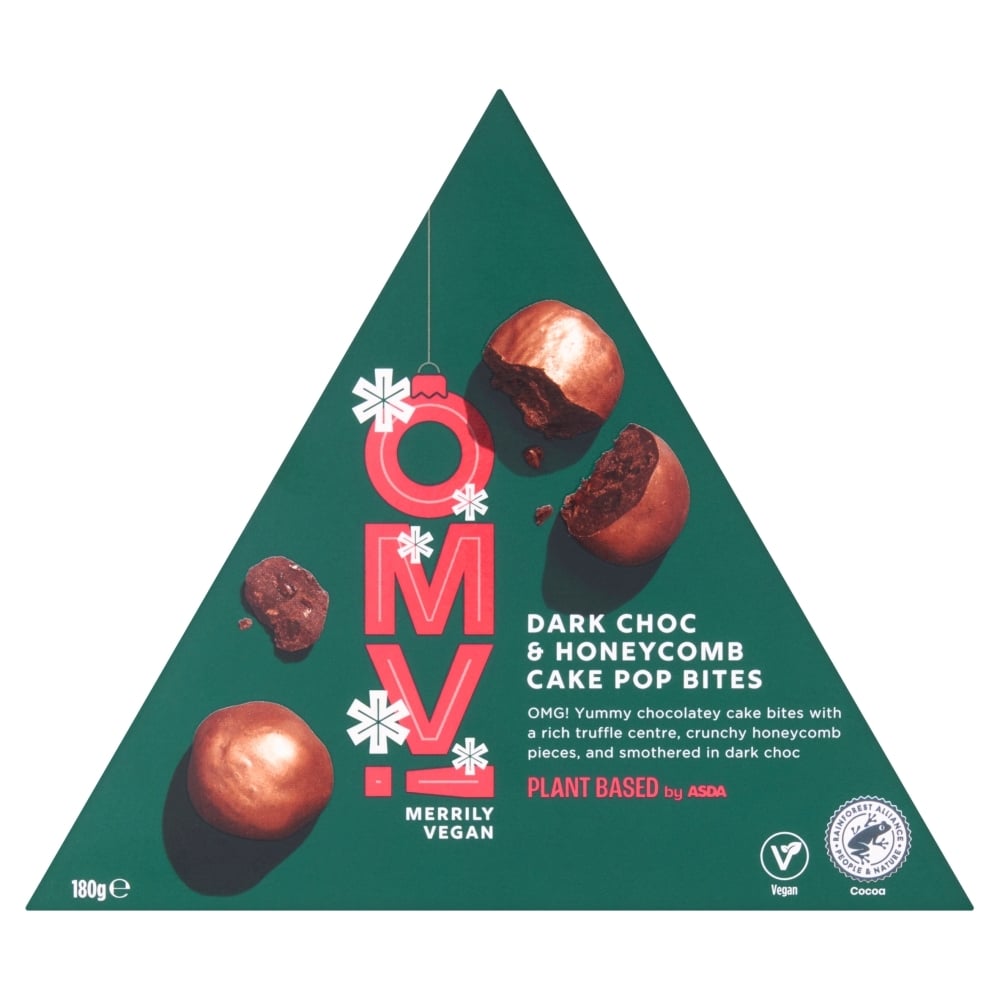 Vegan cake pops, with Belgian dark chocolate and honeycomb pieces. They have a rich truffle center and are finished with a dark chocolate, shimmery coating.
Cost: £4
OMV! Espresso Martini Flavored Loaded Choc Bar
The supermarket is yet to release details on ingredients, pricing, and availability of their upcoming Martini-flavored loaded chocolate bar.
Cost: £TBC
OMV! Deliciously Vegan Advent Calendar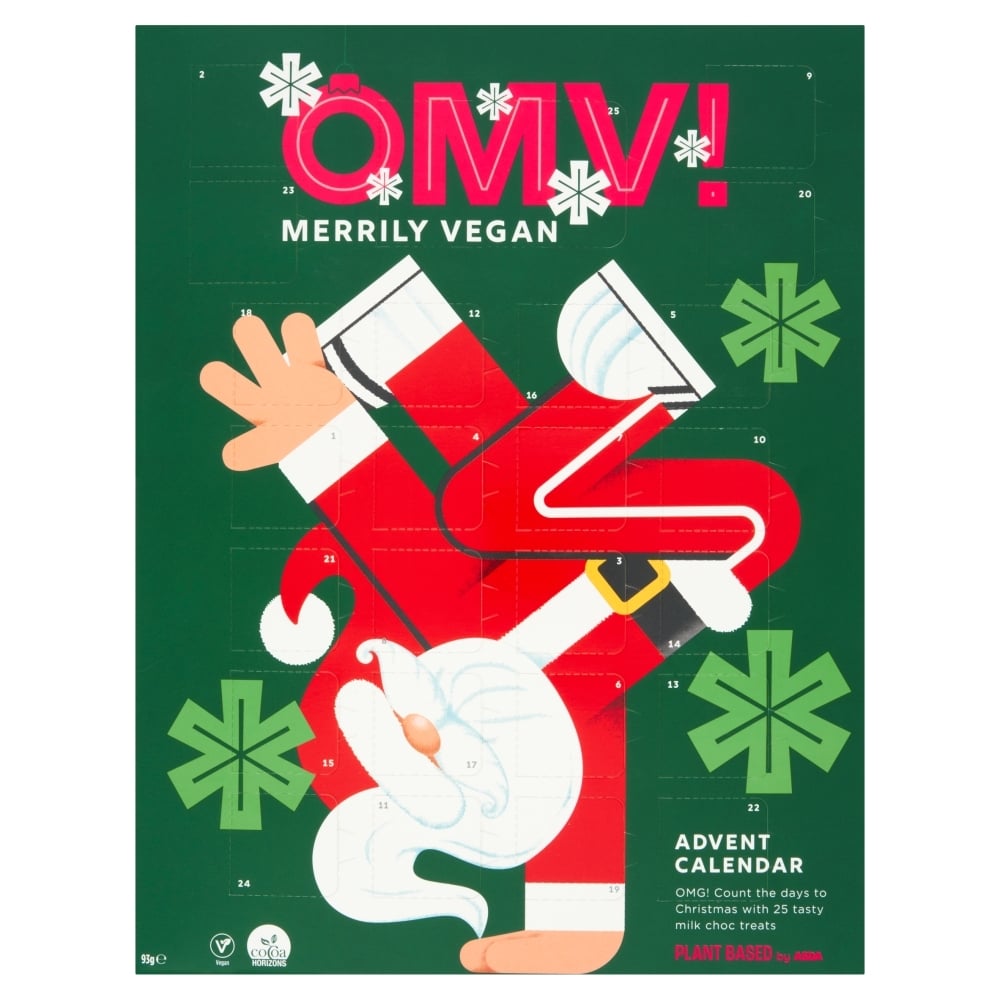 A rice-based alternative to chocolate milk, ready to count down over 25 days to Christmas.
Cost: £4
OMV! Cinnamon Hot Choc Pearls & Mallows
Plant-based milk chocolate (rice based alternative) pearls blended with cinnamon and caramel flavor to melt down into a hot chocolate drink. Comes with little marshmallows to float on top.
Cost: £2.50
OMV! Gingerbread Flavour Loaded Choc Slab
A rice-based alternative to ginger-flavored milk chocolate forms the base. Topped with cinnamon biscuit crumb, honeycomb pieces, and sugar sprinkles.
Cost: £2.50
OMV! 4 Iced Christmas Cake Slices
Four individual vegan Christmas fruit cake slices. Topped with apricot jam, marzipan, and a sweet fondant icing.
Cost: £2.50
OMV! Double Choc & Hazelnut Cookies
Rich vegan chocolate cookies with an oat flour base. They have dark chocolate chunks, roasted nibbed hazelnuts, and a hazelnut paste swirled into the mix.
Cost: £2.60
When can I order Asda Christmas food?
Many of the products in the range are still awaiting a formal release date to be confirmed, however the below are currently available or coming up:
Available now:
OMV! Chocolate Salted Caramel Tarts
OMV! Festive Butternut & Chestnut Roast
OMV! No Turkey Crown
OMV! Double Choc & Hazelnut Cookies
OMV! 4 Iced Christmas Cake Slices
OMV! Gingerbread Flavour Loaded Choc Slab
OMV! Deliciously Vegan Advent Calendar
OMV! 4 Crumble Top Mince Pies
OMV! Cinnamon Hot Choc Pearls & Mallows
OMV! Double Choc & Honeycomb Cake Pop Bites
Thursday, December 14
More like this: