To celebrate its 100-year anniversary, Disney has collaborated with Adidas to release two vegan Samba shoes featuring both Mickey and Minnie Mouse.
Originally designed for soccer players in 1949, the Samba sneaker is traditionally made with kangaroo leather. However, this has been swapped for a synthetic upper. Interior leather and suede trims have also been substituted for cruelty-free alternatives.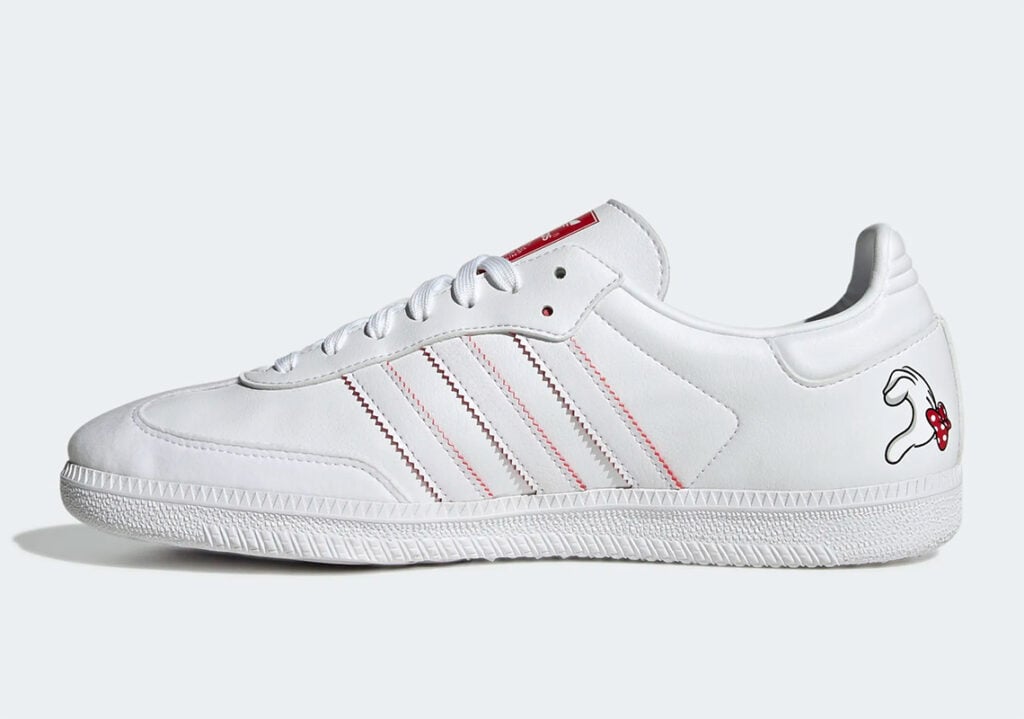 Disney x Adidas Samba design details
The Mickey shoes feature a monochrome graphic of the character on the tongue, as well as black outlines around Adidas' signature serrated three-stripe design. An image of Mickey's gloved hand appears on the heel panel, to finish the look.
Similarly, the Minnie Sambas showcase a red shadow around the three stripes and a gloved hand with a red polka-dot bow on the heel. A red Adidas tongue label completes the design.
In place of the standard suede toe cap, both versions now showcase a felted-style material.
Adidas embraces vegan sneakers
As one of the largest global sneaker manufacturers, Adidas is no stranger to vegan shoe releases. It has previously unveiled leather-free football boots, plus vegan versions of its classic Stan Smith and Superstar designs.
However, the brand is now under increasing pressure to permanently remove kangaroo leather from its supply chain. This comes as Puma and Nike pledged to use synthetic materials for their premium football lines going forward. Both cited better performance and sustainability credentials as being instrumental to their decision.
Adidas is yet to announce a similar move. Instead, it has seemingly doubled-down on its use of kangaroo leather. The brand recently confirmed that it will use the material through 2024. 
The new Disney x Adidas sneakers will drop in the UK on April 25 at 11pm BST, priced at £85. They will be available in the US from April 27 at 3am EDT, for $100.