As more people tune into the impact of the purchases they make – whether it be food, clothing, or cosmetics – many have started looking closer at their haircare products and questioning whether their shampoo is vegan. As a result, the demand for cruelty-free beauty products made with vegan ingredients is soaring.
In 2017, The Body Shop partnered with Cruelty Free International. The collaboration resulted in the launch of a petition calling for a worldwide ban on cosmetic animal testing. The petition amassed 8.3 million signatures.
Further, research from last year estimated that the US market for vegan cosmetics will surpass $3 billion by the end of 2025.
But a lot of companies have been slow to adapt to shifting consumer preferences, and still include non-vegan ingredients in their products.
Which ingredients do you need to look for?
Animal-derived ingredients are surprisingly common in hair products. Shellac is secreted by female lac bugs and is sometimes used to make hair sprays. Glycerin, which can moisturize hair, is sometimes sourced from plants but also from animals, like cows and sheep. Lanolin, a wax secreted by the sebaceous glands of sheep, is used to moisturize hair.
Stearic acid (typically from pigs' stomachs), casein (usually obtained from cow's milk), squalene (a compound that comes from shark liver oil), keratin (from feathers, horns, or wool), and beeswax are all used in hair products.
Which shampoo brands are vegan?
Some non-vegan brands are taking steps towards reducing animal cruelty. Haircare brand Aussie joined PETA's Beauty Without Bunnies program in 2019. The move reflected the brand's commitment to not test on animals anywhere in the world.
The same year, cosmetics brand Lush stopped using eggs in its products, and a growing number of all-vegan companies are joining store shelves everywhere.
Here is a brief list of haircare brands offering cruelty-free, vegan shampoos.
ACURE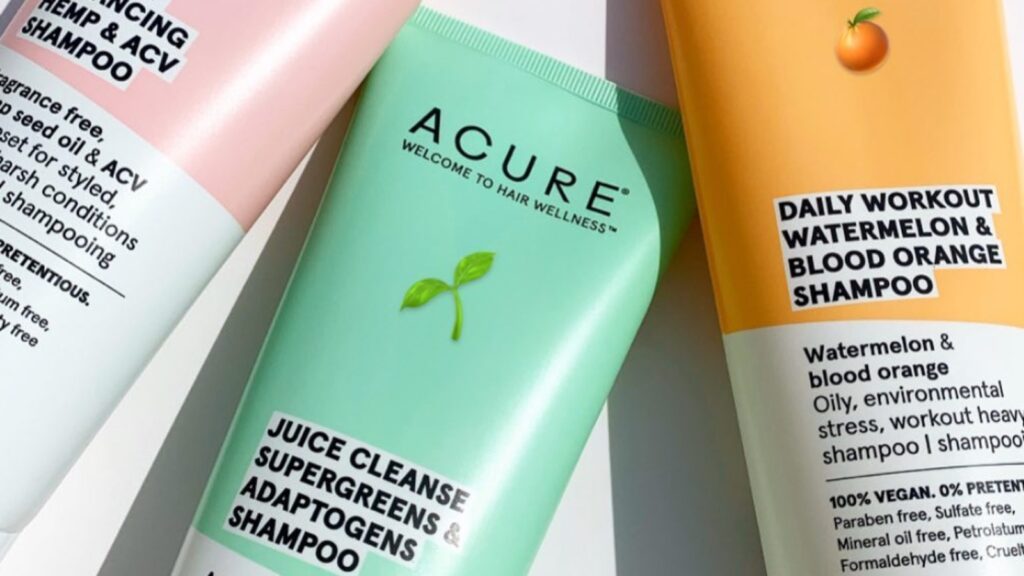 All-vegan beauty brand ACURE is on a mission to make better-for-you hair and skin products more accessible, according to its Facebook page.
ACURE is part of the Leaping Bunny Program – the highest standard for American and Canadian companies that don't test on animals. It means that no ingredients or formulations used in manufacturing or production can involve animal testing.
ACURE's hair products are also free from sulfates, parabens, mineral oils, petrolatum, and formaldehyde.
ACURE produces clarifying shampoo, color protecting shampoo, dry shampoo, as well as shampoos featuring apple cider vinegar, hemp, watermelon, blood orange, spirulina, kale, and spinach.
The company also offers vegan deodorants, facial creams, cleansing bars, jelly masks, eye creams, and body scrubs.
Noughty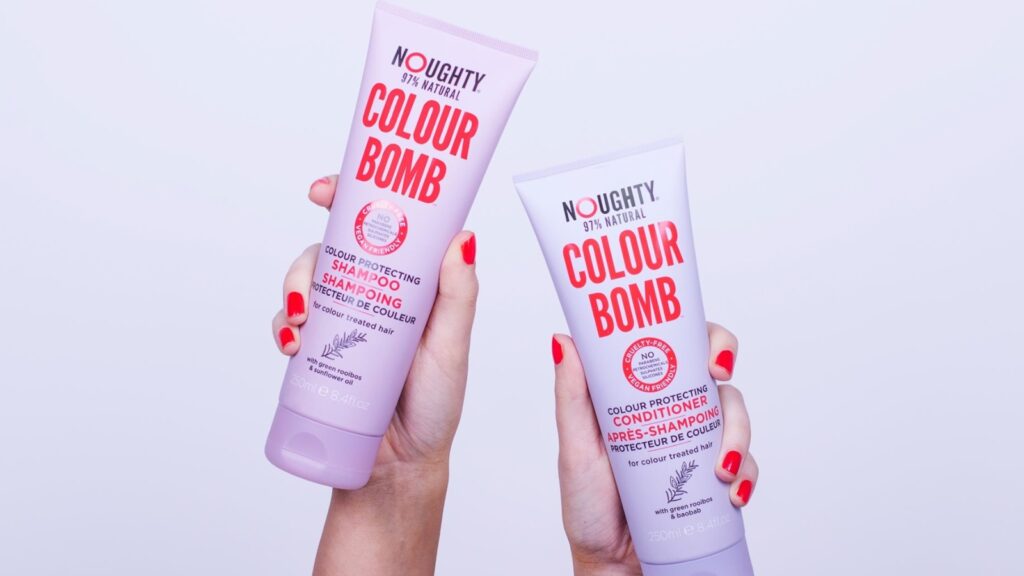 On its website, UK brand Noughty pledges to 'do better, be better, and make a difference'. "At Noughty, we love animals. We make sure this is reflected in everything we do, so our products have never been tested on animals. Ever," the company writes, adding that it is 'very proud' to only use vegan ingredients.
Noughty – which is Leaping Bunny-approved – offers vegan shampoos for: defining curls, adding moisture to hair, clarifying, soothing the scalp, colored hair, and adding volume. It also offers a range of vegan conditioners, as well as hair sprays, body scrubs, and body polish.
Nylah's Naturals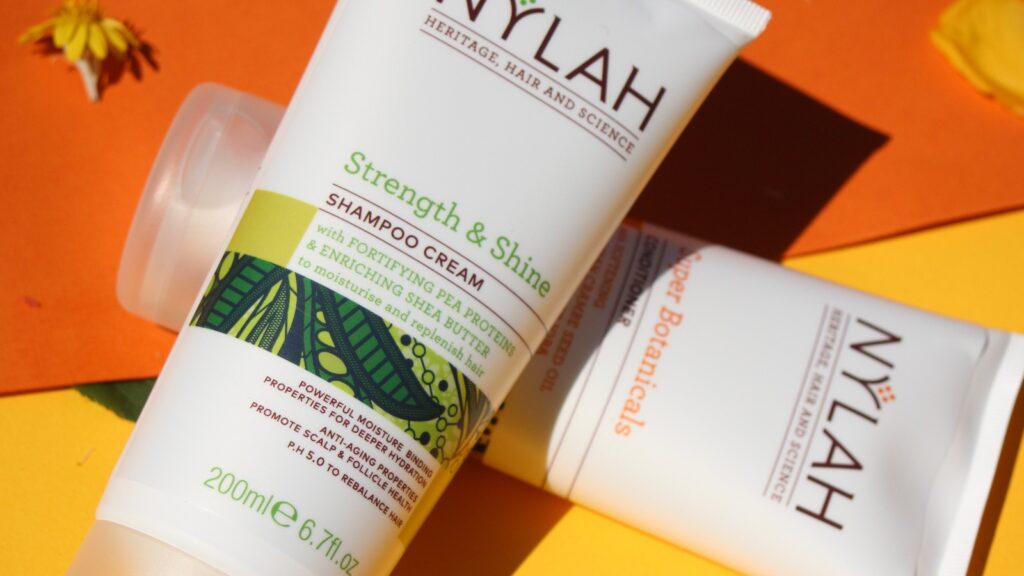 Nylah's Naturals offers products for Afro and curly hair. Its range includes Strength and Shine Thickening Shampoo, Super Botanical's Restorative Conditioner, Maximum Moisture Hair Sprits, and Moisture Retention Leave In Cream.
All of Nylah's Naturals' products are cruelty-free, vegan, and free from parabens and synthetic fragrances.
CEO and Founder Kameese Davis appeared on British TV series Dragon's Den earlier this year. She received a £50,000 investment to expand the business globally. In a statement sent to Plant Based News, Davis said: "By pitching my project to the Den, I was hoping to not just receive the investment. But, create a path for other aspiring entrepreneurs who are from a similar background.
"Nylah's Naturals has always been about authenticity and diversity. And I hope to raise awareness about those groups of entrepreneurs who have been systematically underfunded."
Giovanni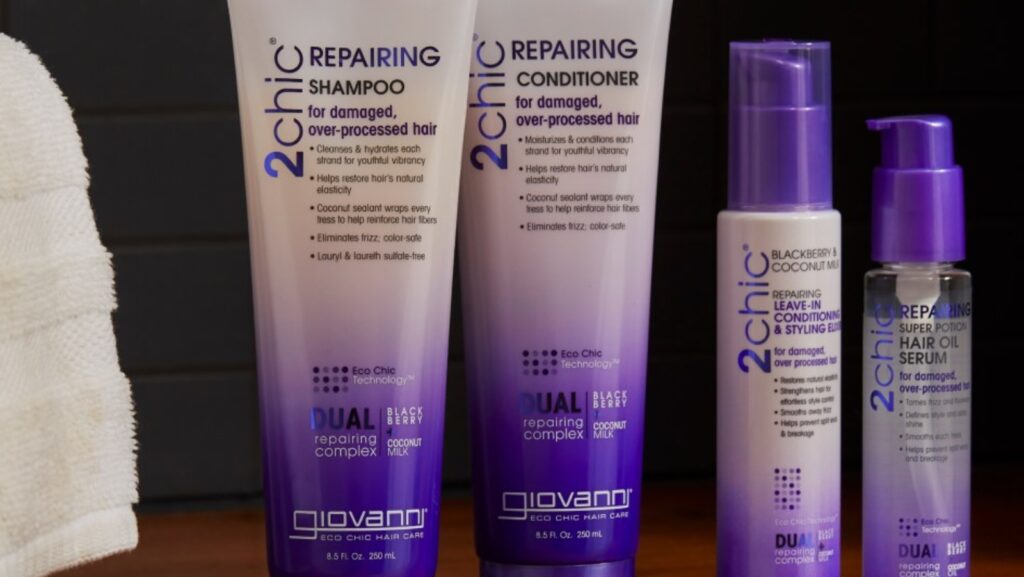 This family-owned and operated hair care company offers salon-inspired shampoo and conditioner. Hydrating hemp shampoo, frizz-reducing shampoo, repairing and color-safe shampoo, and activated charcoal shampoo with volcanic ash are all available.
Giovanni is cruelty-free and uses USDA Certified Organic ingredients. The brand is paraben- and sulfate-free, however, not all of Giovanni's products are vegan.
The company's range includes 'salon-quality' pet care products designed to moisturise your pet's skin and encourage shiny fur. The vegan cat- and dog-friendly line includes oatmeal and coconut shampoos and conditioner, as well as multipurpose wipes. Giovanni will donate 10 percent of the range's 2021 website sales to Welsh Terrier Cares, which rescues and rehomes Welsh Terriers.
Giovanni will also gift a care package to anyone who adopts a dog through the organization.