Among all the sentimental Christmas ads released at this time of year, one is highlighting the dark side of the holiday season. The new 90 second animated ad by PETA follows Tessa the Turkey as she observes strange festive traditions. But amusement turns to horror when Tessa is captured and taken to a slaughterhouse.
Voiced by British actor Jane Horrocks, known for starring in Absolutely Fabulous, Tessa sings about the odd traditions she witnesses around a neighbourhood to the tune of "Deck the Halls." She remarks on kids writing letters to "men with beards" and people kissing under mistletoe.
When Tessa is caught and taken to a spooky looking building, she keeps singing with increasing concern and confusion. "What's the fate that now awaits me?" she sings, as she is shackled alongside many fellow turkeys. "A tradition of such cruelty," is her final line before the audience sees her turn her head and realize what's coming.
The ad ends with the words, "Kill the tradition not a turkey. Try vegan this Christmas."
"I'm proud to be giving a voice to Tessa, a curious little turkey who questions why millions of birds are killed for the Christmas table each year when so many other options exist," Horrocks, who has done voice work for films including Chicken Run and Corpse Bride, said in a statement.
"I hope the spot encourages kind souls everywhere to explore vegan dishes that offer some peace on Earth to animals this festive season."
Millions die for Christmas
Every year, around nine million turkeys are killed in the UK at Christmas time. Most of them will have been kept in intensive indoor farming systems, with up the 25,000 birds in a single barn. They are unable to perform natural behaviors and have very little space to themselves.
Buying turkeys from free-range "high welfare" farms will not guarantee the birds had a good life or death. "Labels like 'free-range' and 'high welfare' are typically designed to make consumers feel better, not to help animals," PETA Vice President of Programmes Elisa Allen told Plant Based News (PBN).
"Although animals on these farms may be treated in ways that are marginally less cruel than at other facilities, they're often still mutilated without painkillers, artificially inseminated, kept in crowded conditions, robbed of their beloved offspring, and sent to the very same abattoirs used by the suppliers deemed to have the lowest welfare standards. There, animals are hung upside down and their throats are cut, sometimes while they're still conscious."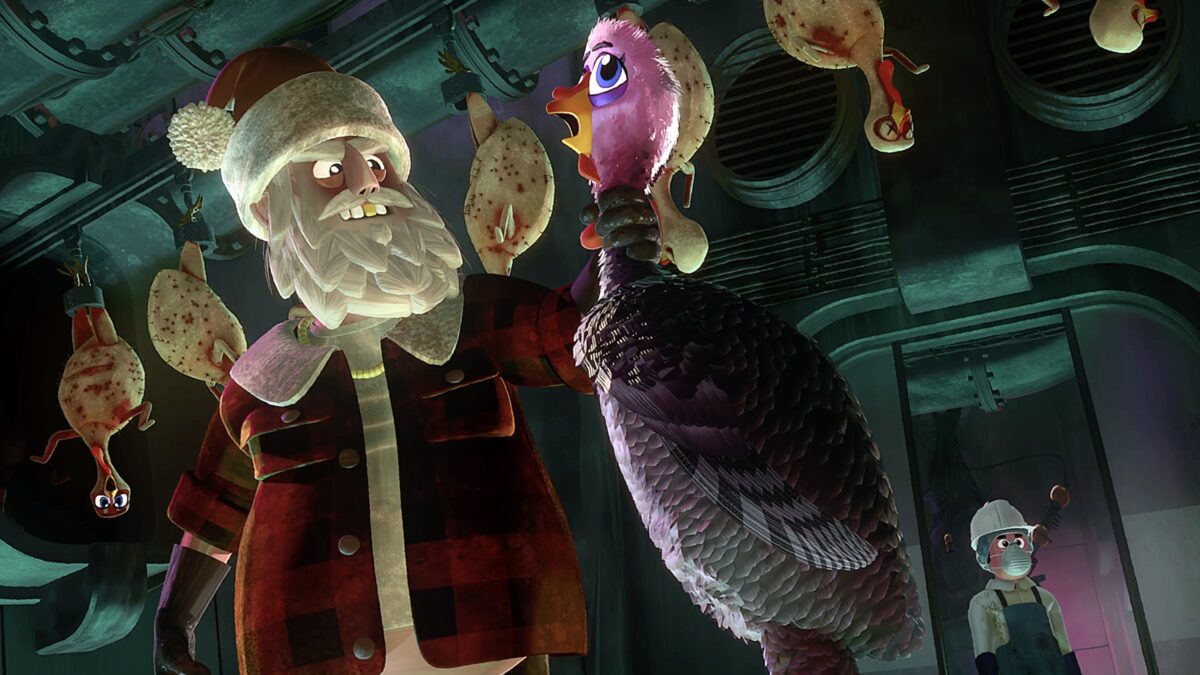 Investigations show reality of turkey farming
Undercover investigations have shown the reality of lives for many turkeys on farms in Britain. In 2019, a farm supplying Sainsbury's lost its Red Tractor certification following a Viva! investigation. Footage showed sick and injured birds left to die in overcrowded sheds with sore open wounds. Workers were seen "brutally killing birds with an inhumane neck crushing device."
Another Viva! investigation in 2021 showed turkeys at another farm with injuries, including one bleeding from the head, and living amongst dead carcasses.
In 2019, Animal Justice Project (AJP) exposed the cruel treatment of turkeys in a Northamptonshire "high welfare" on-farm slaughterhouse. Footage showed free-range Christmas turkeys panicking while having their feathers roughly plucked out. Chickens were also seen being dunked in scalding hot water tanks while still flapping and struggling. AJP said it identified several breaches of welfare legislation.
'A gentle, curious bird'
"People often connect with individual animals, so we created Tessa, a gentle, curious bird who – like all turkeys – doesn't deserve to be slaughtered for a meal," Allen told PBN.
"Hundreds of thousands of people – and counting – have watched Tessa's story online, and many have told us that they've been so moved by it that they have sworn off eating turkeys and other animals this Christmas," Allen said of the new ad.
Tessa's story is PETA's second Christmas ad. In 2022, it released an animated video about Toby the Turkey, a young turkey whose dad kicked him out of a slaughterhouse-bound truck to save his life. A vegan family rescues Toby and raises him as one of them.
Tessa's story will play in cinemas nationwide throughout December.
More like this: