A UK turkey farm has lost its Red Tractor accreditation following the release of an undercover investigation.
Footage filmed by animal welfare charity Viva! shows sick and injured left to die in overcrowded sheds with festering open wounds, as well as a worker 'brutally killing birds with an inhumane neck crushing device'.
Gravel Farm, which produces more than 30,000 turkeys a year, and supplies supermarket giant Sainsbury's, has now been reported to the Animal and Plant Health Agency. Sainsbury's has confirmed that it is 'investigating' the facility.
Hidden cameras
Viva! filmed at Gravel Farm – using hidden cameras – between September and November 2019. According to the organization, footage from the three-month investigation 'reveals shocking scenes of suffering and cruelty with a total disregard for animal welfare'.
The farm has two large sheds, each housing up to 5,500 birds each at any one time. Viva! says animals inside the sheds 'never see the light of day and are mechanically fed, watered and continually weighed to ensure maximum growth and profit'. The speed at which they grown means their legs can struggle to hold up their overweight bodies.
No enrichment
The investigation discovered a number of what campaigners described as a 'concerning number of birds at Gravel Farm suffering from disturbing injuries' – including bloody wounds caused by other birds pecking out their feathers, which went untreated for a considerable time.
Turkeys are intelligent and inquisitive animals, says Viva!, so without environmental enrichment, to reduce stress and pecking of other birds, the animals will often peck each other.
Segregation pens
Because injuries are widespread, Gravel Farm uses segregation pens to keep sick or injured animals away from others. Investigators found two birds 'of particular concern'.
"One [had] an infected and necrotic broken wing and another [had] severe respiratory distress. Both birds were identified on Sunday 24 November, and both birds were still present on Friday 29 November, showing no visible signs of improvement," said Viva!.
"This farm is blatantly ignoring Red Tractor standards, which state that sick or injured birds are to 'receive prompt attention in order that suffering is not prolonged' and that the segregation pens are checked 'a minimum of twice per day'."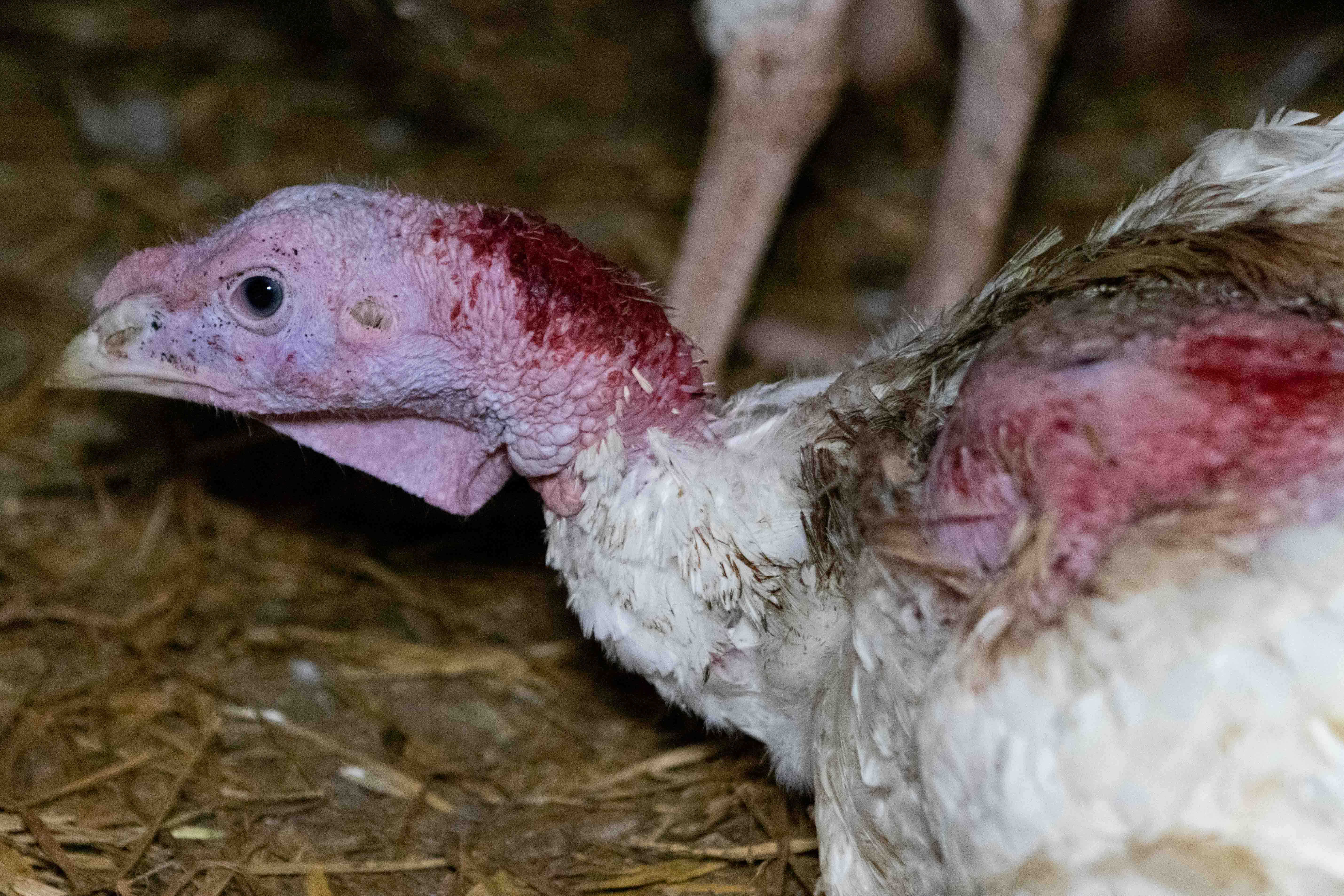 Neck crushing
Investigators also discovered turkeys being killed with a neck dislocation device – a plier-like tool that crushes the bird's spinal cord, describing this as 'one of the most disturbing and serious malpractices discovered at the farm'.
"Although neck dislocation, without prior stunning, has been widely used as a method of killing poultry, research indicates that neck dislocation does not consistently concuss the brain, and it is unlikely to cause immediate death," said Viva!.
"In the footage obtained by Viva!, one worker dislocates the neck of two turkeys in a segregated pen for the sick and injured. Both birds suffer prolonged and visibly distressing deaths, struggling for several minutes after the initial crushing.
"Despite the barbaric nature of the neck dislocation device, farming regulatory body Red Tractor continues to recommend its usage for turkeys weighing under five kilograms. However, records found on Gravel Farm indicate that at 13 weeks old, the birds weighed approximately 11kg at the time of death – more than twice the maximum weight permitted for the use of these inhumane killers according to Red Tractor guidelines."
'Scheme has been terminated'
"We were shocked to see the footage and the farm's membership from our scheme has been terminated. High animal welfare standards are a top priority, and we take any breaches to these very seriously," said Red Tractor.
"We have reported Gravel Farm to the Animal and Plant Health Agency (APHA) to investigate whether any legal action should be taken."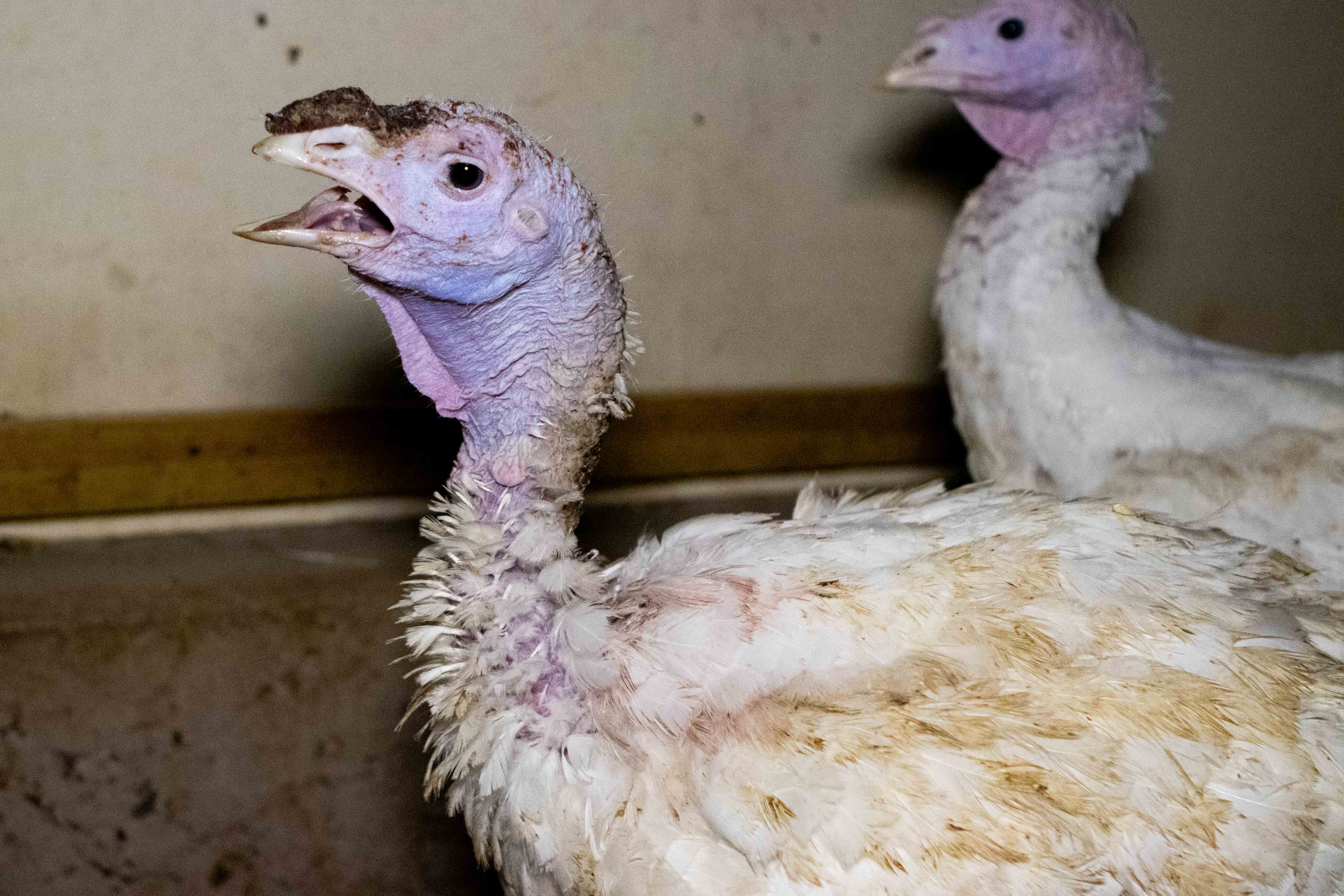 'Incredibly disturbing'
"We see extensive evidence of disease, pain and suffering on this unit. Feather pecking and cannibalism is widespread, and in some cases severe with raw open wounds, extreme swelling and bruising. This is despite the fact that the birds have been subjected to beak trimming mutilations in an attempt to curb this behaviour – a behaviour that stems from environmental conditions failing to meet the basic needs of the animal, indicative of poor welfare," Dr. Alice Brough, Veterinary Consultant, said of the findings.
"There is a failure by stockpeople to identify issues and deal with them appropriately. There is no evidence shown over the period of filming that any of the birds moved to segregation pens receive treatment for injuries or disease; the stockperson is not seen to apply topical treatment or administer injectable or oral medication. The feeders and drinkers are not separate from the lines supplying the rest of the sheds and therefore it is unlikely that feed or water medication is given.
"The device used for euthanasia is inappropriate for the weight of bird and is not recommended by the Humane Slaughter Association under any circumstances. One attempt at euthanasia leaves a turkey conscious and sensible to pain with crushed vertebrae, and despite the stockperson kicking her to check, there is no attempt made to rectify his mistake before leaving the pen. What we see in this footage is incredibly disturbing and shows a categorical disregard for animal welfare."
'Systematic abuse'
"We are absolutely thrilled by Red Tractor's decision to drop Gravel Farm as a result of Viva! 's investigation. Our team witnessed appalling conditions, documenting the systematic abuse of farmed turkeys, whose short lives are filled with nothing but misery and pain. While some birds were ruthlessly killed with barbaric neck crushing devices others were left to die slow, agonising deaths from their injuries – all for the sake of Christmas dinner," added Viva! campaigns manager Lex Rigby.
"Although we congratulate Red Tractor on taking action against animal cruelty, we are once again left wondering why it is down to organizations like Viva! to continually expose the abhorrent conditions on factory farms.
"Our investigation into Avara Foods reiterates the fact that regulatory bodies such as Red Tractor are nothing but a façade for the horrendous, brutal, and cruel reality of intensive factory farming in this country. Red Tractor is a meaningless label, who will only terminate a farm's membership when they are faced with yet another PR disaster, as Viva! Campaigns have shown time and time again.
"Christmas is supposed to be a season of peace and goodwill, and we believe there is no better way to celebrate than to extend our compassion to all beings. This is why we are calling on consumers to choose an alternative to turkey this Christmas and choose vegan."