Summertime in New York City is about to get more vegan-friendly. Street fairs and local markets usually only offer a few plant-based options, something that may come as a shock to visitors to the world's third most vegan-friendly city. But that is changing, with the opening of New York City's first-ever Vegan Night Market.
The Vegan Night Market opens at Central Park's Wollman Rink today (Tuesday, June 6), and will run weekly throughout the summer. Wollman is also home to 14 new pickleball courts, so you can play a competitive game of pickleball and grab a vegan snack afterward.
MHG Events, the group behind the event, is the organizer of similar night markets, including one Uptown, one in Brooklyn, and one in the Bronx.
"We're thrilled to bring the Vegan Night market to Central Park in NYC. Our goal is to create a space where people can explore and enjoy plant-based cuisine from some of the city's top vendors while promoting sustainable and ethical food choices," said Marco Shalma, founder of MHG Events.
"Thanks to the City Parks Foundation for supporting this event, and we hope it will encourage more people to incorporate plant-based options into their diets and support the growth of the vegan movement."
What you'll find at the Vegan Night Market in Central Park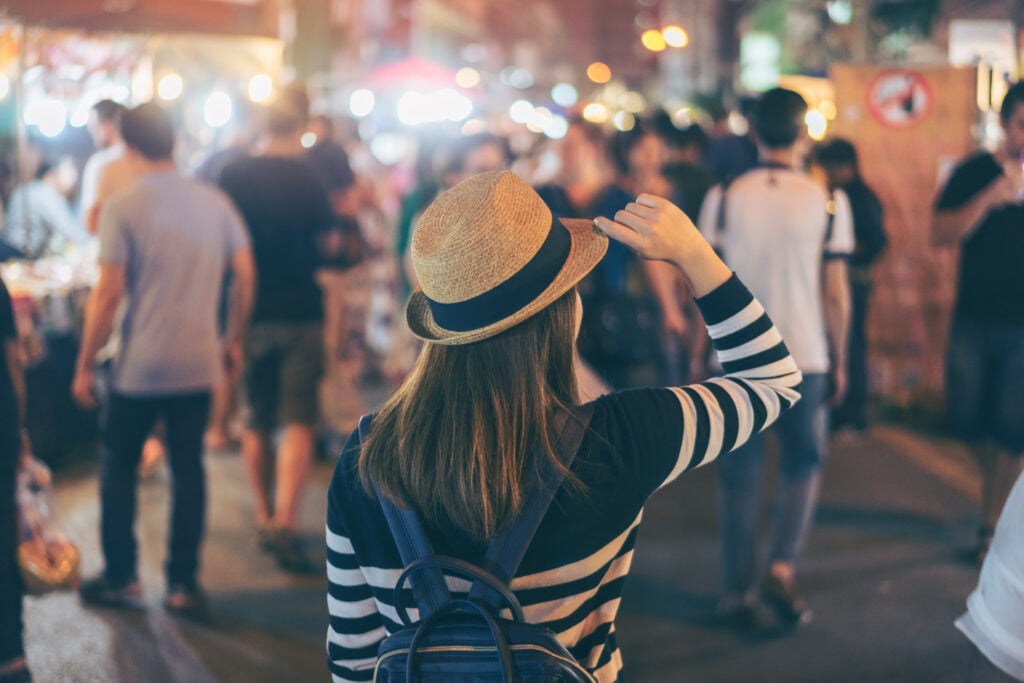 The organizers have curated top vegan eats and drinks from more than 25 businesses to allow shoppers to sample different cuisines all in one place. Vegan Night Market visitors can expect to find booths from The GingerShot Man, Mao's Bao, Secret Vegan Kitchen, Pinche Vegana NYC, Lillie Handmade Aromatherapy Products, Healthy As A Motha, The Waffle Chic, Nadas Colombian Rainbow Empanadas, Cuzins Duzin, and Sip & Savor BX, among others.
Vegan date night done right – and on the cheap
The Vegan Night Market is completely free for visitors. Items start at $5 and nothing costs more than $15. This affordable option provides market-goers with access to dozens of plant-based dishes from some of their favorite cuisines – such as Caribbean, Colombian, Chinese, and Mexican – as well as the chance to try new treats from restaurants they never knew about.
Along with the regular vendors, special guest chefs and artists will appear each Tuesday to host product tastings and live music performances.
"We're excited to be part of a market like this because we get to share our Colombian style empanadas with people who have been looking for the best flavor available," Carlos Santos, founder of Nadas, told amNewYork. "Our desire has always been to make vegan options that aren't good solely on being vegan, but their flavor profile is better than other empanadas, period."
In a city as diverse as it is exciting, the Vegan Night Market will not disappoint; 70 percent of the vendors are owned or founded by people of color, and 50 percent are women-owned businesses, Beatriz Torres Martinez of MHG Events said to amNewYork.
Vegan events around the world
Interest in vegan living is on the rise in the United States. Back in February, for example, veganism overtook keto as the most searched diet term in America. It's a trend that is growing worldwide as the impact of animal agriculture on the planet becomes more widely known, and people increasingly choose plant-based food for the sake of their health.
New York City's Vegan Night Market joins a growing number of plant-based festivities happening worldwide.
Last July, Vegan Camp Out once again hosted what's thought to be the world's largest vegan camping festival. It sold more than 10,000 tickets and invited more than 60 food vendors. The festival is slated to take place this year from July 28 to 31 (for more information about Vegan Camp Out 2023, see here). 
Also in July, the plant-powered Ital Food Fest will kick off in Jamaica for the first time. It aims to celebrate Ital cuisine as well as the Rastafari community's key role in the plant-based movement.
Other vegan events include film festivals such as the International Vegan Film Festival which presented 44 films from eight different countries late last year.
New York City's new Vegan Night Market opens today in Wollman Rink on 830 5th Ave, New York City. It will run every Tuesday evening from 4pm to 10pm until October 10, 2023.
For more information, check out the MHG website, or follow Vegan Night Market on Instagram.