🏕️ This is a sponsored article (what is this?)
As summer nears closer in the UK, so too does one of the world's most popular vegan events: Vegan Camp Out 2023. The annual celebration of all things vegan will take place in Oxfordshire, England, in July. Alongside various activities and musical performances, the festival promises a wealth of plant-based food options, from more than 50 vendors.
Vegan Camp Out 2023 will take place from Friday, July 28 to Monday, July 31. We've got the low-down on which food companies will be there, what they offer, and, of course, how to get your hands on some Vegan Camp Out tickets if you haven't already. But be quick, more than half of the tickets for this year's event are already gone.
UK's best vegan food brands in one place
Thousands of people — including long-time vegans, those just starting out, and the veg-curious — are expected to attend this year's event (last year's attracted more than 12,000 attendees). So a comprehensive selection of vegan food dishes and cuisines was essential for festival organizers.
Vegan Camp Out director Jordan Martin told Plant Based News: "It's always great to announce our food line-up to the world after months of curating a diverse and delicious array of tasty food options. We have over 50 of the UK's best vegan street food and restaurants coming to VCO this year."
This, he says, includes "many of the obvious veterans, but also a lot of new names that we welcome to the festival for the first time, and can't wait to see everyone tuck into!"
So without further ado, here are the plant-based food options you can expect at Vegan Camp Out in 2023. Take the below categories with a pinch of salt – many of these vendors will be plating up a lot more than we can give justice to here, and most are yet to reveal their final menu. But in the interest of keeping it short and sweet, here are the companies and the cuisines they are best known for…
Vegan Camp Out 2023: food vendor list
Caribbean
Eat Of Eden: best known for its popular Eden Platters, this brand dishes up everything from mac 'n' cheese to lentil stew to "wheat meat"
Mamas Ktchn: organic Afro-Caribbean food including jackfruit curry, plantains, and homemade slaw
Mel Tropical Kitchen: salad boxes, wraps, cakes, and raw vegan food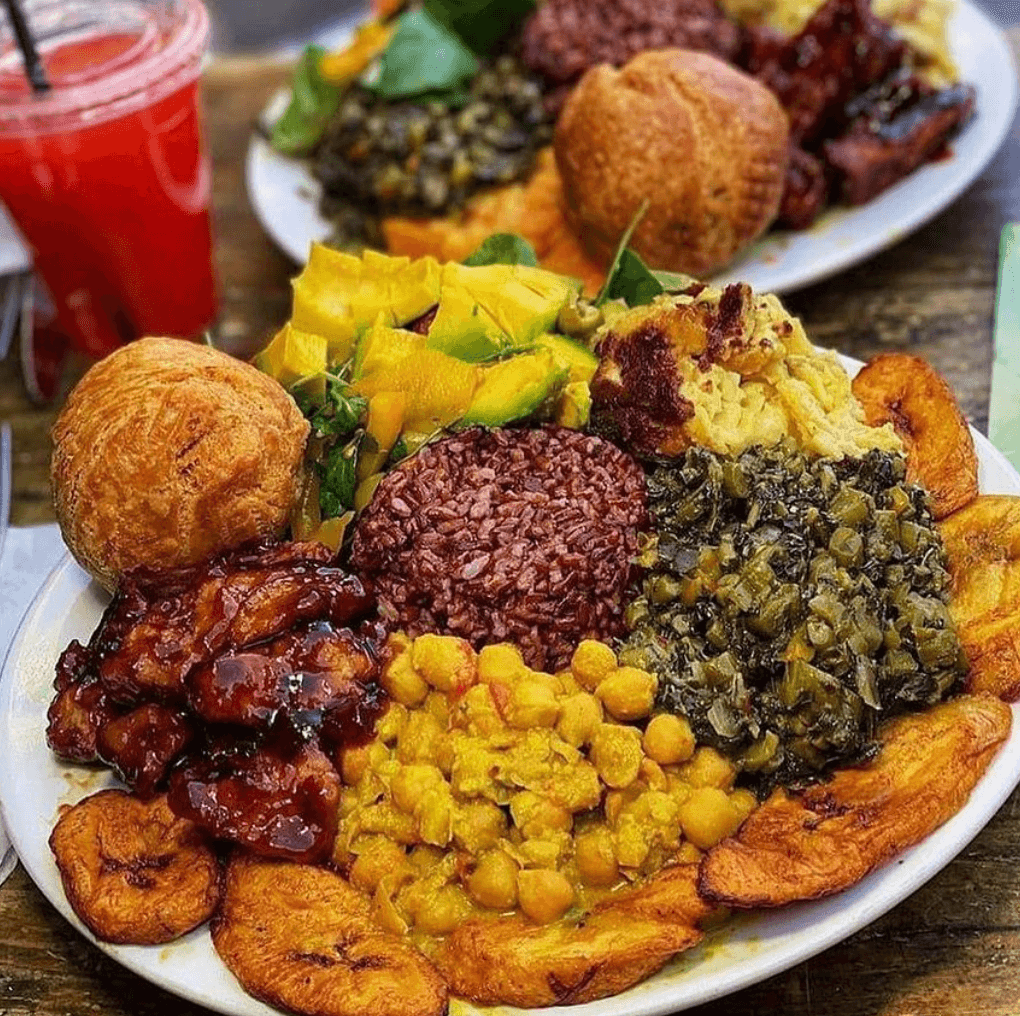 Chicken-free chicken
[SHICKEN]: this vegan ready meal brand sells products like chicken korma, Tikka Masala, and Tikka kebabs at Tesco – but now you can find their food at Camp Out too!
Chickenish: burgers, wings, and chicken bites – all the "chicken shop classics"
HUNS: loaded fries and next-level chicken (and bacon) burgers
No Frickin Chicken: Southern fried and popcorn chicken, but it also makes vegan fish and lamb
Chinese
Rockin Buddha: vegan Chinese street food at its finest, including noodles, curry, and tofu
Vegan Planet: this eatery makes vegan prawn crackers, prawn toast, dumplings, and more
Ethiopian, Thai, and Vietnamese
Banh Vi: Vietnamese-inspired eats, where oyster mushrooms often take centerplate
Red Tent Ethiopia: authentic vegan Ethiopian served with rice or injera
VeganThai: tofu chow mein and vegetable gyozas are just some of the options on offer
Hot dogs
Vausages: artisan vegan sausages. Be sure to check out the team's "secret blue sauce" in person
The Vegan Street Diner: classic American-style hot dogs, but vegan, obviously.
Pizza, burgers, and 'junk food' we love
BA-HA: wings, burgers, cookies, and more
Purezza: one of the most popular vegan pizza brands out there, and for good reason
Dutch Weed Burger: seaweed-enriched burgers, containing B vitamins and vitamin D
Herbivorous: think chips and gravy. Think double-bacon burgers with melting cheese…
The Hogless Roast: moreish burgers and wraps featuring the brand's popular meatless pork
Miami Burger: usually a restaurant, but you'll be able to enjoy its diner-style burgers and sides at Camp Out
Veg Heads: burgers, tacos, waffles, and more
VGN Boulevard: this eatery has confirmed its menu for this year's Camp Out event, and will be serving Beyond Meat smash burgers, Omni Fillay Ohh Phish, and 3D-printed steak and chips of an evening.
Wholesome Junkies: featured on Netflix and BBC Two's My Million Pound Menu, Wholesome Junkies' menu is diverse, and includes Teriyaki Surf 'n' Turf burgers and Korean cheese corndogs
Sandwiches, wraps, and health foods
The Garden Restaurant: health foods and cold-pressed juices, as well as sweet treats
Holy Carrot: salads, sandwiches, and more – all free from additives, refined sugar, and mostly gluten-free
The Hedgerow Hound: with an ever-changing menu, this family-run team have served up everything from pastries to salad bowls to "hangover soups"
Jam 'N' Vegan: a ready meal brand offering a wide range of cuisines, including Jamaican, Indo-Chinese, and Caribbean
Plant The Seed: vegan fried eggs are a rare find in the plant-based sector, so if you've been craving one, Plant The Seed has you covered with its egg and sausage, bacon, and/or cheese sandwiches
Yom: vegan soul food, bowls, curries, and more
Zest Kitchen: sandwiches, wraps, and nachos, to name a few
Street food
Antojitos: Mexican street food, including nachos and tacos
Bamboo Street Food: Greek and Lebanese kebabs and sides like orange chicken cauliflower wings
Desert Island Dumplings: delicious, delicious dumplings. Enough said.
Dhil's Eats: for the (vegan) meat-lovers among us, this brand is known for its Seekh kebabs, wings, and more
'Seafood'
Happy Maki: sushi burritos, bento, and bowls
The No Catch Co: fish and chips, calamari, popcorn prawns, and more
Vegan House Foods: nestled under this category for its fish and chips, but it also sells burgers, bowls, and other eats
Döner kebabs
What The Pitta: creating award-winning vegan kebabs since 2016. Plus, its menu shows the carbon footprint of each dish
Döner Summer: kebabs, of course, but also fried chicken, fries, and tots
For the sweet tooths
The After School Cookie Club: London's first vegan cookie bakery
Conscious Candy Co: hundreds of varieties of gelatin-free vegan sweets
DÁPPA: nut-based soft serve with all the best vegan sauces and toppings
Doughnotts: established in 2015, these plant-based donuts are the stuff of dreams
Fluff Pancakes: you can't go wrong with vegan pancakes. Like, ever
Lick: for ice cream waffle cones, Lick has you sorted with all the classic flavors
Love Is Churros: as above, are vegan churros ever a bad idea?
Pola Ice Poles: head here for sorbet and gelato sticks made from real fruit
Project D: donuts that put Dunkin' to shame, with (almost) as many varieties as you can imagine
Vegan Antics: cakes, cupcakes, and other bakery goods
Drinks
Cannon Coffee: the clue's in the name, but other beverages will be available too
The Fruitory: cold-pressed juices, smoothies, and more
Osu Coconuts: this vendor offers plenty of hearty meals, but given that you can buy actual coconuts to drink from, it's secured a spot in the beverages category
What can you do at Vegan Camp Out 2023?
We wouldn't blame you if you attended Camp Out just for the food. But as an added bonus, there are plenty of activities and stalls planned for the weekend, too.
Yoga and activism workshops will be held, along with live music, afterparties, and talks from some of the vegan movement's leading voices.
Comedian Romesh Ranganathan is headlining this year's event, and appearances will be made by activists Tash Peterson and Seb Alex, athlete Patrik Baboumian, Eurovision's Sam Ryder, and former model and filmmaker Jodie Marsh, among many others.
There are also child-orientated activities on offer, including a bouncy castle and face painting, along with a family-friendly camping field that isn't accessible to people attending without kids.
But you don't have to camp if it's not your thing. Attendees can bring a caravan or camper van, stay in a nearby hotel or other accommodation, or take things up a notch with the festival's Glamping experience (head here for more information). Those who plan on going for the traditional camping route, can hire a pre-pitched tent right here.
The best Camp Out yet
This year, Vegan Camp Out 2023 has partnered with animal rights organization Viva!. The group's founder, writer and activist Juliet Gellatley, commented:
"Viva! is delighted to be partnering again with Vegan Camp Out. With an excellent new venue, top vegan entertainment and activism events – not to mention delicious food, 2023 promises to be the best vegan festival ever!"
To learn more about the festival and to purchase tickets, head to the Vegan Camp Out website. To read about payment plans for tickets, head here. You can also follow the organization on Instagram, Facebook, and Twitter.
—
* This is paid-for content. Funds from this article help Plant Based News continue to provide millions of people around the world with free content they know and love. We only work with brands we support and enjoy.