Coming up with vegan dessert ideas these days couldn't be easier. A few years ago, puddings almost always relied heavily on dairy, eggs, and other animal products. But there are now a wide range of old favorites that can be easily veganized with simple changes to the recipe – churros are no different.
Churros are a type of fried dough that are popular in Spanish, Portuguese, and Latin American cuisines. They are often long and thin, and come served with chocolate dipping sauce. Churros will usually be sprinkled with cinnamon.
A traditional churros recipe is often heavy on dairy – they tend to utilize butter in the cooking, and the chocolate sauce will generally feature cream and milk. Like many other desserts, however, it is possible to veganize churros.
Vegan and dairy-free churros recipe
The below recipe from Viva!'s Vegan Recipe Club features all plant-based ingredients. As well as including a method to make vegan churros, it demonstrates how to make a dairy-free chocolate orange dipping sauce.
See below for the full recipe and instructions:
Light and fluffy vegan cinnamon churros with a golden crispy coating served chocolate orange dipping sauce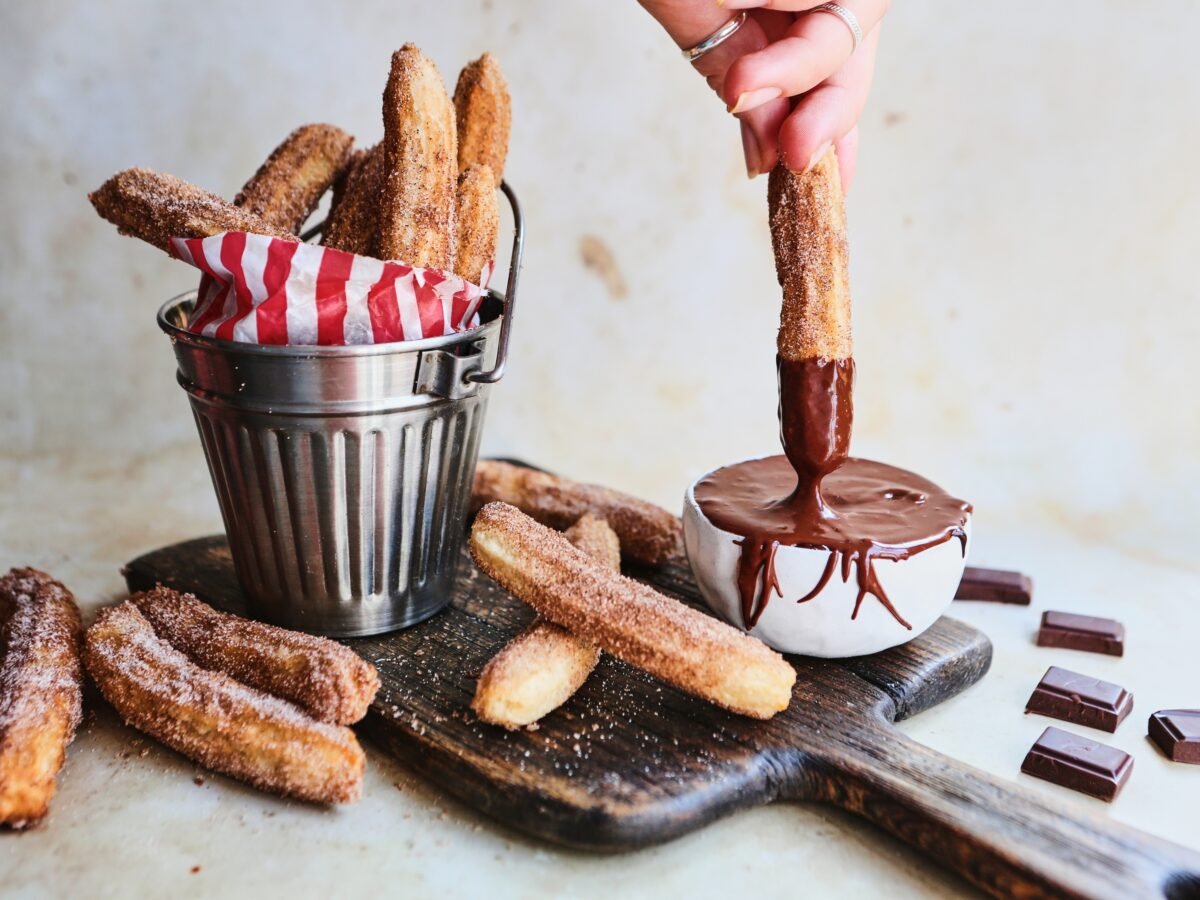 Ingredients
Sugar sprinkle
50

g

white caster sugar

1

tbsp

ground cinnamon
Dough/churros
250

g

plain flour

1

tsp

salt

485

ml

water

1

tsp

vanilla extract

60

ml

neutral oil (eg rapeseed)
Cooking
Neutral oil (eg rapeseed) for deep frying
Chocolate sauce
150

g

vegan dark chocolate (70% cocoa solids), broken into chunks/pieces

230

ml

vegan double cream, whipped or use vegan single cream

1

tsp

vanilla extract

1/4

tsp

salt

1

cinnamon stick (optional)

2

tbsp

fresh orange juice or 1/2 tsp orange extract (optional)

zest

1

orange, finely grated or chopped (optional)
Instructions
Sugar sprinkle
Combine the ingredients in a small but wide bowl then set aside
Dough/churros
Place the flour and salt in a large mixing bowl and set aside

Pour the water, vanilla extract and oil (60ml) into a medium-sized saucepan and bring to the boil

Once boiling, pour over the flour and thoroughly combine. Leave to cool for 15 minutes
Assembly/cooking
Heat a medium-large saucepan just under half full of vegetable oil, on a medium heat or around 180˚C

Transfer the dough to a reusable piping bag with a large star-tip attachment. Note: don't use disposable piping bags for this dough because they're not strong enough and will easily split (even if you double them up) – you'll need to use a reusable one

Squeeze 2-3 (max) strips of dough out at a time into the saucepan of oil (about 10-15cm long). Cut each piece off at the right length using a sharp knife or scissors

Cook each strip/churro until fully golden, then remove from the pan and place on kitchen towel. Dunk into the sugar bowl after about 60 seconds and then repeat the process until all the churros are made
Chocolate sauce
Place the chocolate chunks/pieces into a large jug then set aside

Place the vegan cream, vanilla extract, salt, cinnamon stick, orange juice/extract and orange zest in a medium-sized saucepan and bring to a simmer for around 5 minutes. Make sure the milk mixture is hot before pouring over the chocolate chunks/pieces

Pour the hot milk mixture straight over the chocolate chunks and stir until the chocolate is fully melted and you have a smooth sauce

If the sauce is too thick, stir through some plant milk or extra vegan cream little by little until you have your desired consistency
More recipes from Vegan Recipe Club
This recipe has been republished from the Vegan Recipe Club, which is run by animal advocacy organization Viva!. You can find the original recipe here. The site has a wide range of sweet and savory plant-based recipes available, some examples of which can be found below: