The rumors are true. You can enjoy a tasty salmon with dill sauce meal, while maintaining your vegan credentials. That's because this incredible tofu-based recipe looks and tastes like the real deal. Plus, it's fantastically easy to prepare.
The secret to transforming extra firm tofu into a salmon fillet is an extraordinary marinade. To that end, this recipe combines rich miso with piquant seaweed to mimic the oceanic taste that salmon is known for.
While the marinade does a lot of the heavy lifting, don't overlook the dill sauce. The creamy addition brings the final salmon-like dish together. Equal parts cool, creamy, and tangy it works perfectly with the tofu fillet. In fact, it's so tasty that you might want to add it to your regular sauce rotation, just to dip veggies in (highly recommended).
Here's how you can make your own cruelty-free vegan salmon fillet. And take our advice: serve with smashed new potatoes and seasonal greens for an incredible vegan dinner.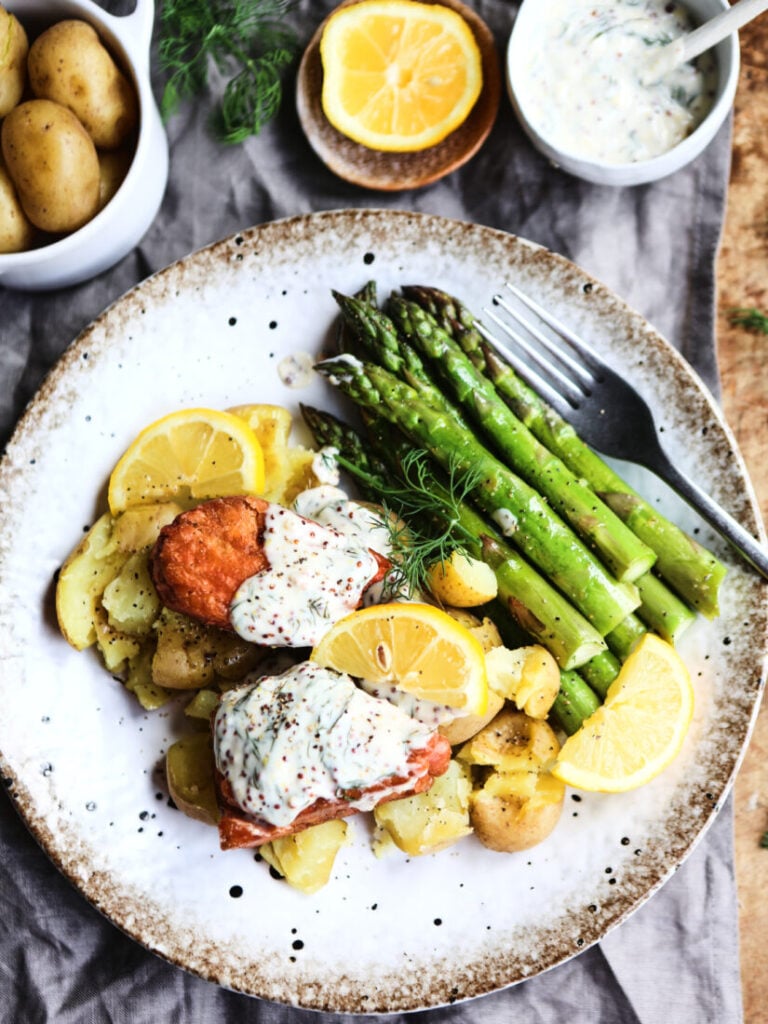 Ingredients
For the salmon fillet
400

g

extra firm tofu

6

tbsp

cornflour

(for coating)
For the marinade
250

ml

vegan stock

1

tsp

liquid smoke

(or smoked paprika)

2

tbsp

soy sauce

2

tbsp

cider vinegar

2

tbsp

neutral oil

2

tbsp

maple syrup

1

tbsp

white miso

small piece of fresh beetroot

(roughly chopped)

1

sheet

nori

(roughly torn)

2

cloves

garlic

(roughly chopped)

1/2

tsp

salt

1/4

tsp

black pepper
For the creamy dill sauce
1

clove

garlic

(crushed)

200

ml

vegan crème fraîche

1 1/2

tbsp

wholegrain mustard

1/4

tsp

salt

20

g

fresh dill

(big stalks removed)
Instructions
Drain the tofu then pat dry. Cut in half lengthways then in half again to make four rectangular chunks (they don't have to be perfect).

Take a chunk of the tofu and using a sharp knife, score some lines diagonally across one side (be careful to only cut to about halfway through – not all the way through). Repeat with the remaining three pieces and set aside (handle them carefully as they can come apart quite easily until cooked).

Set aside.

Place all marinade ingredients in a high-speed blender and blend until very smooth.

Place the tofu chunks in a small, airtight container and then pour the marinade over the top so that all four pieces are completely covered.

Leave to marinate for a minimum of an hour but ideally overnight.

When ready, remove the tofu from the marinade and then coat each piece thoroughly (on all sides) in the cornflour.

Using a large frying pan, heat a little oil on medium heat then place each of the tofu pieces into the pan. Turn each piece over and fry until golden on all sides.

Set aside.

Now make the dill sauce. Using a small saucepan, fry the garlic in a little oil on medium heat for two minutes.

Add all the other ingredients and heat for a further 3-5 minutes, stirring frequently.

Pour over the vegan salmon to serve.
Optional serving suggestions: fresh dill, green beans, kale salad, lemon pasta, lemon wedges, pan-fried asparagus, quinoa, rice, roast potatoes, salad, smashed new potatoes, steamed broccoli (or any other steamed veg you fancy).
Top tips for the best vegan salmon with dill sauce
If you can, plan ahead and let your tofu marinate overnight. It might feel like a long time to wait but the depth of flavor that this imparts is incredible and heightens the salmon-like quality.
Also, be sure to find fresh dill to make your sauce. The citrus and aniseed notes of the herb are more pronounced when fresh and help to create an uplifting accompaniment for your tofu fish.
—
This vegan salmon recipe was republished with permission from Viva's Vegan Recipe Club. Find the original post here.