Plant-based eaters are constantly being asked where they get their protein, but finding a wide range of high protein vegan dinner ideas couldn't be easier in 2023. The below chickpea stew recipe uses tinned chickpeas instead of meat. It's comforting, easy to make, and takes just 15 minutes to cook.
Chickpeas are among the earliest cultivated legumes, and they're thought to have originated thousands of years ago in Turkey. Now, they're eaten all over the world, and are a hugely popular ingredient in curries, salads, stews, and more.
Chickpeas: a vegan protein source
Chickpeas are popular with vegans and meat-free eaters as they're considered a good plant-based source of protein. One cup (164g) of chickpeas offers around 15g of protein. Chickpeas also contain manganese, Folate (vitamin B9), copper, iron, and zinc. They are also full of fiber, which is good for digestive health.
The benefits of cooking with chickpeas
As well as being hugely versatile, chickpeas are a cheap and easy ingredient to use. You can opt to buy them canned and ready to cook, which minimizes effort. Alternatively, you can buy dried chickpeas, which require soaking and cooking before use. Chickpeas are readily available at food shops all over the world. You'll pay more for canned varieties, but they're generally considered to be a low cost cupboard staple.
The below chickpea recipe, which comes from World of Vegan, is a cheap, easy, and high protein vegan dinner idea that's an ideal choice for your next weeknight meal.
Chickpea stew recipe
This savory chickpea stew is a delicious high-protein meal, perfect to have as a quick lunch. It's wonderful served with steamed rice, but it also pairs beautifully with toasted pita bread.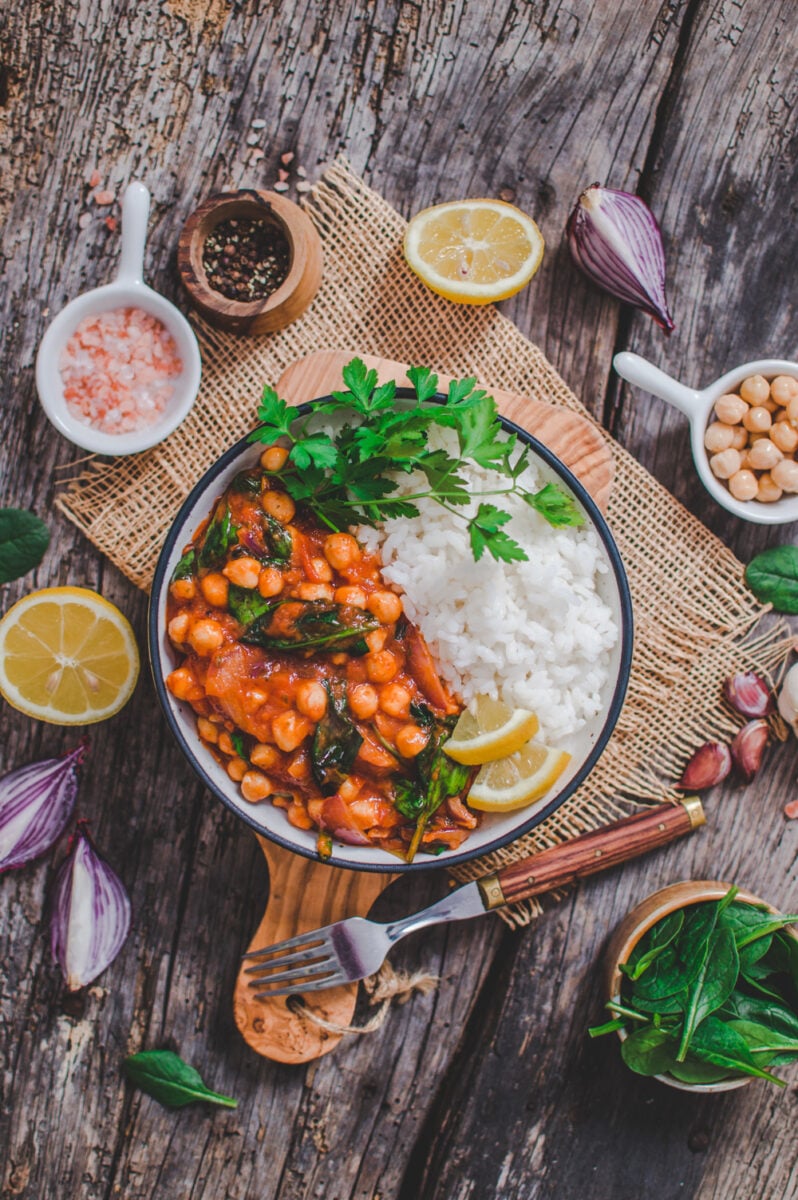 Ingredients
1

tbsp

canola oil

1

large clove of garlic, diced

1

small red onion, diced

1/2

cup

pasta sauce

7

oz

cooked chickpeas, about half a can

1

handful

baby spinach

7

oz

cooked white rice

Fresh parsley leaves, for garnish

Lemon wedges, for garnish
Instructions
Heat your pan on high heat and then add the oil.

When the oil heats up add the onions and garlic and cook them for a minute, stirring constantly.

Add in the pasta sauce and turn the heat down to medium.

When it starts simmering, add in the chickpeas and the baby spinach. Stir that in and cook for another 2 minutes.

Remove from heat, garnish with fresh parsley leaves and a lemon wedge, and serve over rice.
More like this: