This vegan-friendly potato salad is made with nutritious, healthful ingredients and of course, no mayonnaise, eggs, or dairy. Created by food blogger ElaVegan, this recipe makes for a great lunch, side, potluck dish, or addition to a weekend barbecue.
You'll need peppers, onion, pickles, and unsurprisingly, potatoes. The dressing features plant-based milk, garlic, hemp seeds or nut butter, and white beans (e.g. Cannellini beans, Navy beans, or Great Northern beans). White beans are a great source of fiber and protein. You'll notice this recipe is also oil-free!
It takes around 30 minutes all up, but a tasty satisfying dish is worth every second.
What is potato salad?
Potato salad has evolved over time, and the recipe has been passed across the globe. It's thought that potato salad originated in Germany, before spreading throughout Europe, followed by the US and Asia.
There are many varieties of potato salad, but most recipes rely heavily on animal products like boiled eggs and mayonnaise. The now-iconic American-style potato salad is served cold and is usually made with mayonnaise, yogurt, or sour cream. Some recipes also include bacon or ham.
Nowadays, there are an abundance of options for vegans craving potato salad. Like this recipe for example, which ElaVegan says is creamy, comforting, fresh, and delicious.
Tips for a great vegan potato salad
Use your favorite veggies (e.g. celery, tomatoes…).
You can cook the potatoes whole (unpeeled, not chopped) a day in advance.
Double the batch and store leftovers in the fridge for up to five days.
Prepare it a day ahead (it tastes best after 24 hours).
Bring it to a vegan barbecue or surprise your co-workers.
Which potatoes work best?
"All-purpose" potatoes such as Yukon Gold are a great option. Red or white potatoes also work well because they are waxy. If you love a mushy potato salad, go ahead and use starchy potatoes such as Russet. However, potato salad that has some texture and isn't mushy is usually best.
What if you don't have hemp seeds?
If you don't have hemp seeds, you can use either soaked cashews (soak in hot water for about 30 minutes or until soft) OR you could use 2 heaped tbsp of cashew butter or almond butter.
How to store
Eating this potato salad cold is recommended, but you can also eat it right away when the potatoes are still warm! Leftovers can be stored covered in the fridge for up to five days.
—
This recipe is plant-based (dairy-free, egg-free), oil-free (no mayo), healthy, protein-rich, light, and very easy to make!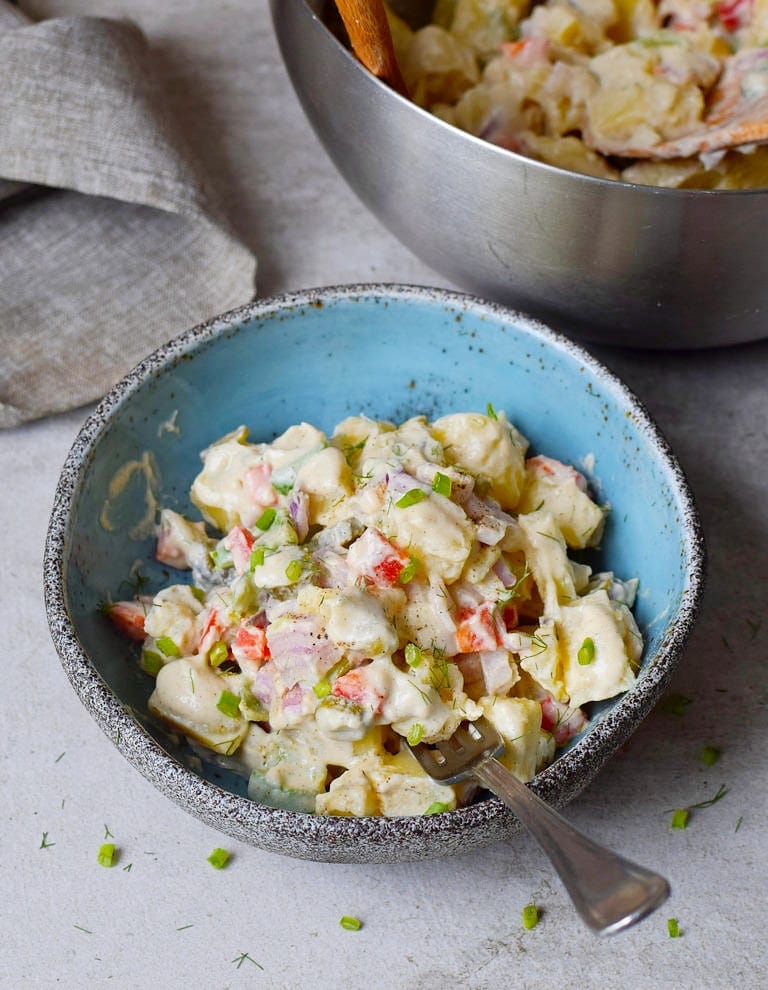 Ingredients
Potato Salad
2

pounds

waxy potatoes cut into 1-inch cubes

(900g)

1

green pepper

chopped

1/2

red bell pepper

chopped

1

medium sized onion

diced

3/4

cup

dill pickles

chopped

Optional: olives, silver-skin onions
Dressing
1

can

white beans * (15oz)

rinsed and drained

2/3

cup

plant-based milk

(160ml)

1/4

cup

hulled hemp seeds

or 1/3 cup of soaked cashews

3

garlic cloves

1/2-1

tbsp

Dijon mustard

1

tbsp

lime juice

or lemon juice

1

tbsp

white vinegar

or apple cider vinegar

1/2

tsp

sea salt

+ more to taste

black pepper to taste

fresh dill to taste
Instructions
Peel and chop potatoes. You can leave the peel on for more texture if you prefer. Add potatoes to a medium/large saucepan and cover with water and some salt. Bring to a boil and then lower the heat to a simmer. Cook for about 10 minutes or until potatoes are fork tender (but not mushy!), then drain and set aside.

Add cannellini beans, plant-based milk, hemp seeds (or soaked cashews), garlic cloves, mustard, lime juice, vinegar, and 1/2 tsp sea salt to a blender. Blend on high speed and scrape down the sides if needed until the dressing is completely smooth and creamy. Set aside.

In a large bowl, combine the cooled potatoes, chopped peppers, onion, and dill pickles. Pour over the dressing and stir to combine.

Taste and add more salt, pepper, or vinegar if needed. I added 1/2 sea salt in addition.

Garnish with fresh herbs of choice and serve at room temperature or cold. Enjoy! It actually tastes best after 24 hours! Store leftovers in the fridge for up to five days.
White beans: You can use any kind of white bean, e.g. Cannellini beans, Navy beans, or Great Northern beans. Use canned beans or cook them from dry.
This recipe was republished with permission from ElaVegan. Find the original recipe here. Check out ElaVegan's website and Instagram too!
More like this: