This nutritious lentil and broccoli vegan salad recipe can help increase your iron intake, so grab a fork and dig in!
Did you know that when you combine lentils with vitamin C, you can increase your iron intake by up to four times? Well, it's true – but this amazing lentil and broccoli salad recipe isn't just iron-rich, it's also packed with flavor.
Lentils are a vegan powerhouse
Before you start thinking that lentils aren't for salads, just hold on a second. These multicolored little legumes are an incredible addition to any vegan meal, salads firmly included. Whether you opt for green, brown, or red lentils, you're adding a protein kick to your meal and getting some enjoyable texture too. And let's not forget how great lentils are for fiber intake!
Per cup of lentils, you'll enjoy around 15 grams of fiber and nine grams of plant protein. When unflavored, they have a neutral taste. But lentils can soak up a terrific amount of seasoning, as you'll discover when you try this delicious salad.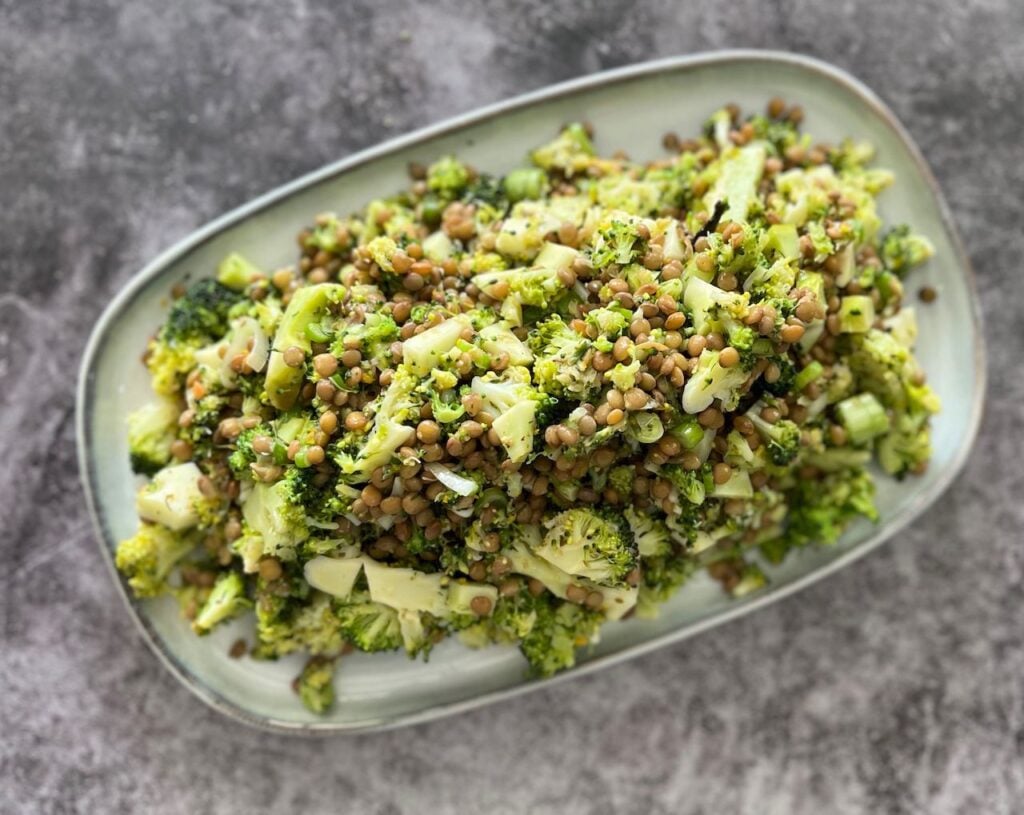 Ingredients
For the salad
160

g

brown lentils

(dry but tinned can work in a pinch)

1

bay leaf

1

vegetable stock cube

1

medium

head of broccoli

salt and pepper

(to taste)

1

tbsp

olive oil

2

spring onions

(chopped)
For the dressing
1

orange

(juice and zest)

1

cloves

garlic

(crushed)

1

tsp

Dijon mustard

60

ml

olive oil

2

tbsp

apple cider vinegar

1

tbsp

maple syrup

1/2

tsp

garlic granules

1/2

tsp

oregano

2

tbsp

dill

(chopped)
Instructions
Soak the lentils overnight ideally or for at least a couple of hours.

Drain and rinse the lentils and add them to a pot. Add plenty of water, the bay leaf and stock cube.

Bring to boil, lower the heat, semi-cover and cook and 30 minutes or until the lentils are cooked.

In a large pot with salted boiling water, boil your broccoli for 3 minutes. Then remove and add it on a baking tray, along with the olive oil and seasoning.

Bake the broccoli for 15 minutes in a preheated oven at 180°C.

Prepare the dressing by combining all the dressing ingredients.

Once the broccoli is baked, remove it from the oven and cut into small pieces.

Once the lentils are cooked, remove the bay leaf and drain. Set aside from few minutes to cool down.

In a large mixing bowl, add the cooked lentils and chopped broccoli, along with the spring onions and dressing. Mix to combine and serve.
Top tips for the best lentil and broccoli vegan salad
Pre-soaking the lentils might add some prep time but it has enormous benefits. Not only will the process help with better iron absorption and improved digestion, but it also reduces cooking time.
If you can't face boiling your own lentils you can speed up the process by using canned instead. Just remember to buy them in water only and drain and rinse well before use.
—
This summer salad recipe was republished with permission from Natlicious Food. Find the original post here.