This roasted pumpkin and kale salad recipe is so delicious. It's warm, incredibly nourishing, and completely vegan. With over 10 unique plants and absolutely packed with fiber, this recipe will make for an absolute feast for your microbiome. It also brings 10mg of iron and close to half the daily requirement of calcium, all in one serving.
But best of all, it tastes incredible. With layers of flavor and texture, this is sure to become one of your new favourite dinner recipes. It might be a salad, but this is anything but a few boring leaves of lettuce and some soggy cucumber.
Get ready to crave salad all year round and don't pass out with shock when the rest of your family does the same. You have been warned!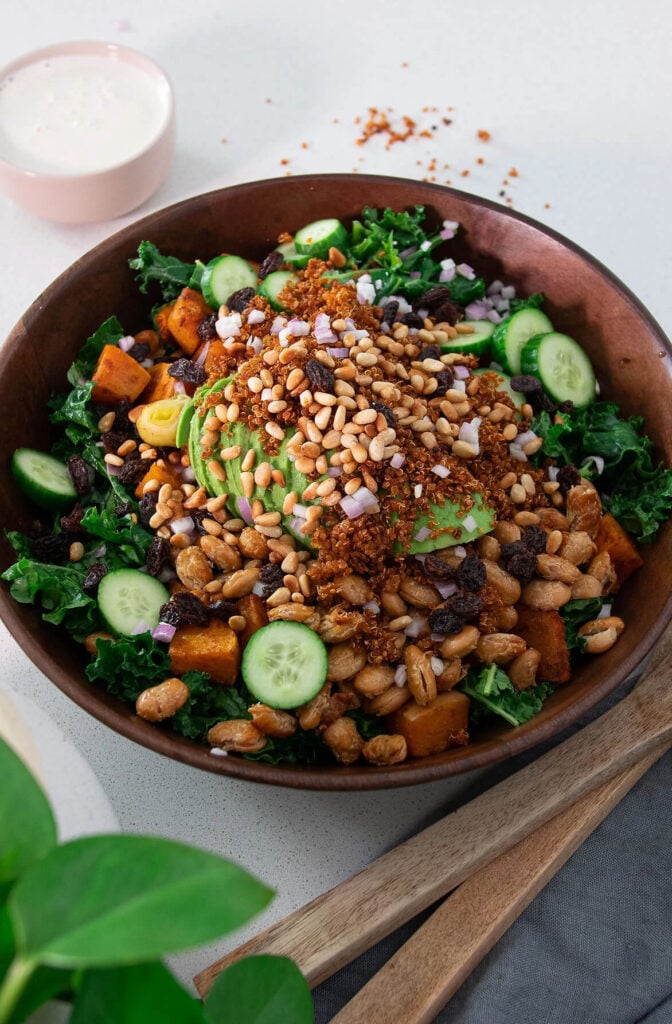 Ingredients
For the salad
1/2

bunch

kale

1

cup

quinoa

(cooked)

2

cups

pumpkin or butternut squash

(diced)

1

leek

(diced into 1cm rounds)

1 1/2

cups

butter beans

1/2

avocado

(diced)

1

cucumber

(diced)

2

tbsp

extra virgin olive oil

1/2

tbsp

paprika

1/2

tbsp

cumin

1/2

tbsp

garlic powder

1

shallot

(diced)

2

tbsp

raisins

2

tbsp

roasted pinenuts

salt

(to taste)
For the dressing
2

tbsp

maple syrup

4

tbsp

lemon juice

2

tbsp

tahini

3

tbsp

water
Instructions
Preheat the oven to 400 degrees F (200 C).

Mix the paprika, cumin, and garlic powder together.

Mix the quinoa with ½ tbsp olive oil and 0.5 tbsp spice mix. Place on a baking sheet. Cook for 25 minutes, stirring halfway through.

Add the butternut squash, leek and butter beans to a baking tray and combine with 1.5 tbsp extra virgin olive oil and 1 tbsp spice mix. Cook in the oven for 20 minutes

Wash and remove the hard stem from the kale. Add to a mixing bowl with a pinch of salt. Massage for a couple of minutes to "break" the kale. You'll notice a change of texture and a darker colour when it's ready.

Combine maple syrup, lemon juice, water and tahini until perfectly smooth (you can use a blender).

In a large bowl, combine the kale, cucumber, parsley, raisin, shallot, pine nuts, roasted veg, beans, avocado and quinoa. Drizzle the dressing. Adjust salt to taste and enjoy!
Top tips for the best pumpkin kale salad
Kale can be off-putting to cook with due to its fibrous stalks but there is a way to get around this. The first thing you must not do is buy a bag of kale "pieces," as these will usually contain a lot of woody stalk pieces and fewer large, usable leaves.
Instead, select large bunches of kale with the leaves and stems still fully connected. This way, you can "break" the steams and slices off lovely long pieces of greenery.
Oh, and don't throw away those stalks! If you have a powerful blender, they can be added to just about any vegan pesto recipe to add extra nutritional oomph.
—
This pumpkin and kale salad recipe was republished with permission from plantbaes. Find the original recipe here.