If you're planning a plant-based dinner party, date night, or just an evening in alone, Italian food is always a good bet. Vegan Italian recipes are easier than ever to come by, due in part to the rising popularity and prevalence of dairy-free cheese. This vegan aubergine parmigiana recipe requires minimal ingredients, and it's easy to make.
Aubergine parmiagiana traditionally refers to a vegetarian bake containing cheese, tomato sauce, and aubergine. This recipe has been veganized, however, and features dairy-free mozzarella. Originating in Italy (though the exact location isn't known), parmiagiana can be found in Italian restaurants throughout the world.
This vegan recipe comes from chef Antonio Alderuccio, the founder and chef-patron of Plant Club in Stoke Newington, London. The eatery has amassed something of a cult following among vegans, known for its high quality gluten-free Italian food and realistic alternatives to dairy-heavy dishes like gnocci cacio e pepe and burrata.
This plant-based aubergine parmigiana recipe requires just a few ingredients, the majority of which you may already have in your cupboard or fridge. Here's everything you need to know about how to make it.
Vegan aubergine parmigiana recipe
This vegan parmigiana recipe uses dairy-free cheese to create a realistic alternative to the traditional vegetarian dish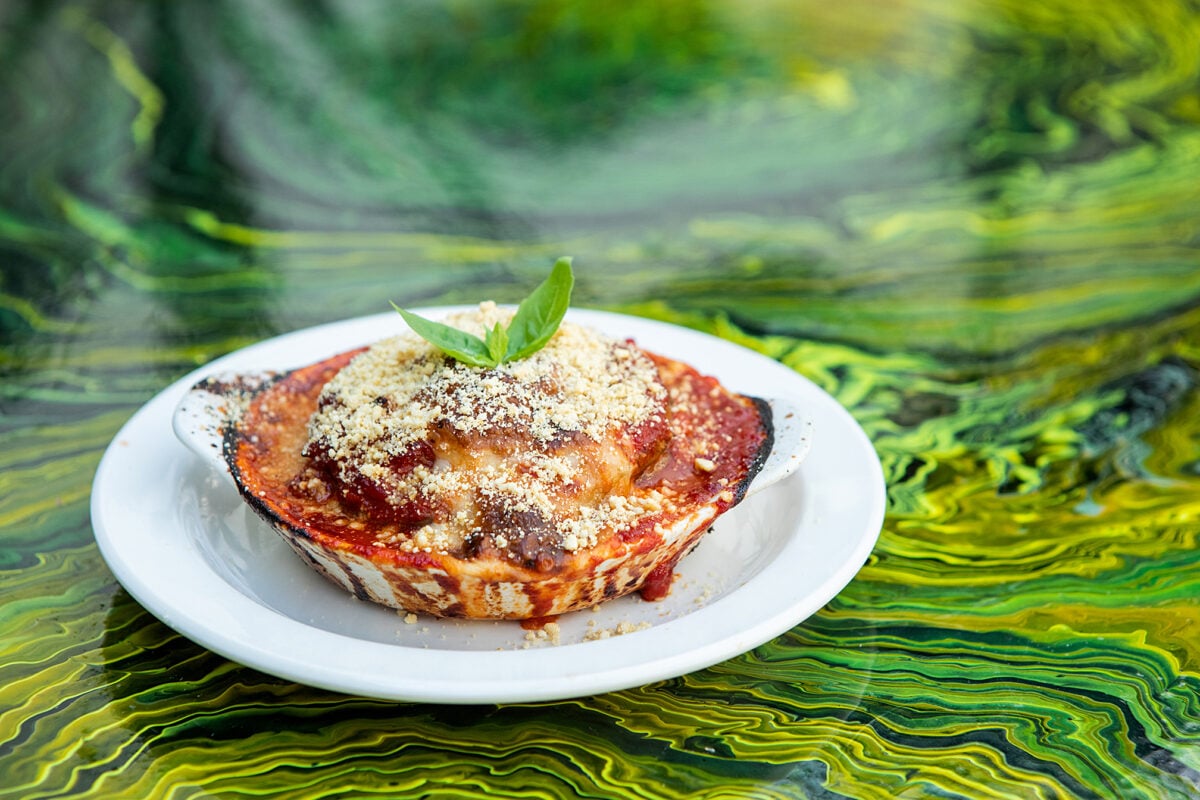 Ingredients
2

medium-sized eggplants

400

g

canned crushed tomatoes

1

onion, chopped

2

cloves

garlic

1

tsp

dried oregano

Olive oil

Salt and pepper, to taste

300

g

vegan mozzarella cheese (or another vegan cheese of your choice)

Fresh basil for garnish
Instructions
Preheat the oven to 180°C (350°F)

Slice the eggplants into thin rounds, sprinkle a little salt on both sides, and let

them sit for about 30 minutes. This helps to remove any bitterness from the

eggplants. After 30 minutes, rinse the eggplant slices and pat them dry with a kitchen

towel

In a pan, heat some olive oil and sauté the chopped onion and minced garlic until

they become golden brown. Add the canned crushed tomatoes and dried oregano,

then simmer the sauce over medium heat for about 15-20 minutes, or until it

thickens. Season with salt and pepper to taste

In a non-stick skillet, cook the eggplant slices on both sides until they are tender

and slightly golden. Add more olive oil if needed

In a baking dish, spread a little tomato sauce on the bottom. Layer with eggplant

slices, followed by a layer of vegan mozzarella cheese. Repeat until you've used all

the ingredients, finishing with a final layer of tomato sauce and vegan mozzarella

cheese

Cover the baking dish with aluminum foil and bake for about 30-40 minutes. Then,

uncover and bake for an additional 10-15 minutes or until the eggplant parmigiana is

golden and bubbling

Let it rest for a few minutes before serving, garnishing with fresh basil
Want more vegan dinner recipes? check out the below: