Butter chicken (murgh makhani) is an iconic meal created in the 1950s in Delhi, India. Of course, it's easy to swap out animal protein for a vegan alternative, but getting the sauce just right remains a challenge. That is, until now!
This vegan butter chicken recipe will have you convinced that you've ordered from an Indian restaurant. And while the taste is spot on, the ingredients are highly nutritious too, making this a treat meal that you can enjoy whenever you feel like it!
What is a 'fakeaway'?
Who doesn't love a cheeky Friday night takeaway? The only problem is that they usually cost a lot and do little to benefit our health. That's why "fakeaway" meals have risen in popularity.
Now, enthusiastic home cooks enjoy replicating (or faking) their favorite take-out dishes, but without the junk, the price tag, and this case, the meat!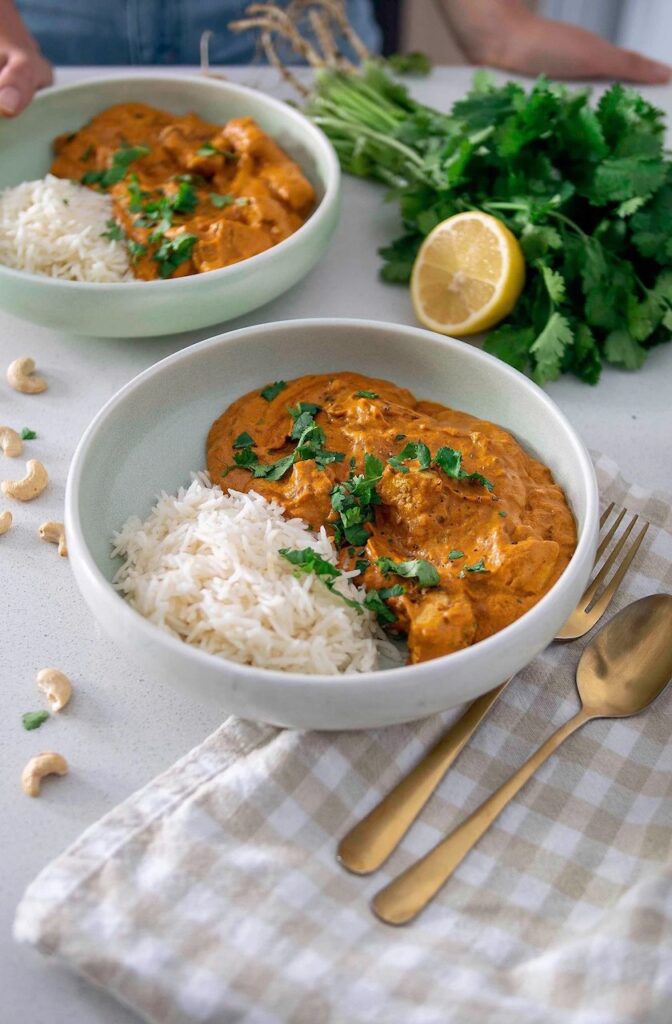 Ingredients
For the tofu marinade
1

cup

soy yogurt

3

cloves

garlic

(minced)

1

tbsp

ginger

(minced)

2

tbsp

garam masala

1

tsp

chilli powder

1

tbsp

cornstarch

pinch

salt

600

g

tofu
For the sauce
2

tbsp

vegan butter

1

yellow onion

3

cloves

garlic

(minced)

1

tbsp

ginger

(minced)

1.5

tsp

garam masala

1

tsp

ground coriander

1/4

tsp

cloves

(ground)

1

tsp

hot chilli powder

1

tsp

ground cardamom

1

tsp

turmeric

2

tbsp

tomato paste

1/2

cup

cashews

(soaked and drained)

1

cup

soy milk

1

can

chopped tomatoes

1/2

tbsp

maple syrup

1

tbsp

lemon juice
Instructions
Break the tofu apart into chunks. For optimal texture, freeze, thaw, and squeeze out the excess water. This step is optional.

Mix the marinade ingredients, add the tofu chunks and stir until thoroughly coated. Allow to marinade in the fridge for at least 2 hours or overnight.

Preheat the oven to 392 degrees F (200 C).

Spread the tofu chunks on a baking tray and cook for 20 minutes.

To a pot on medium heat, add the butter and onions. Cook for 5 minutes.

Add the garlic and ginger and cook for 2 minutes.

Add the spices. Cook for 1 minute, stirring continuously.

Add the tomato paste and cook for 1 minute, until the paste gets a darker colour.

Add diced tomatoes, soy milk, and maple syrup. Cook covered for 5 minutes before adding the sauce to a blender with the cashews. Blend until perfectly smooth.

Transfer the tofu and the sauce to the pot. Cook on low heat for 5 minutes, add the lemon juice and adjust salt and pepper to taste.

Serve with rice and fresh coriander. Enjoy!
Top tips for the best vegan butter chicken
If you're not a tofu fan you can switch this out for your plant-based protein source of choice. However, be sure to marinade it as you would tofu, to develop a deeper flavor.
—
This vegan butter chicken recipe was published with permission from plantbaes. Read the original here.