This vegan khow suey recipe is a fresh take on a popular Burmese noodle dish that centers around an aromatic coconut soup. However, this is not just any noodle soup, with extra flavor and texture coming from various (sometimes surprising) toppings. It's these that take this recipe from tasty to a go-to dish in just a few seconds.
Fun toppings that work perfectly here include crushed roasted peanuts, fresh chilli slices, fried noodles, and even crushed tortilla chips. Yes, really. You have to trust us that the crunch, combined with creamy coconut soup, is exactly what your tastebuds want.
The traditional version of this dish contains egg noodles and meat. Conversely, this vegan khow suey replaces them with vegan noodles and veggies. Mix up your selection by choosing snappy ingredients, like bell peppers, alongside others that will soften and absorb the soup's magical flavor notes. Cauliflower is excellent for this. Also, you can add beans or tofu, which will up the protein in the finished meal.
Comforting, endlessly customizable, and simple to make, vegan khow suey is guaranteed to enter your recipe rotation.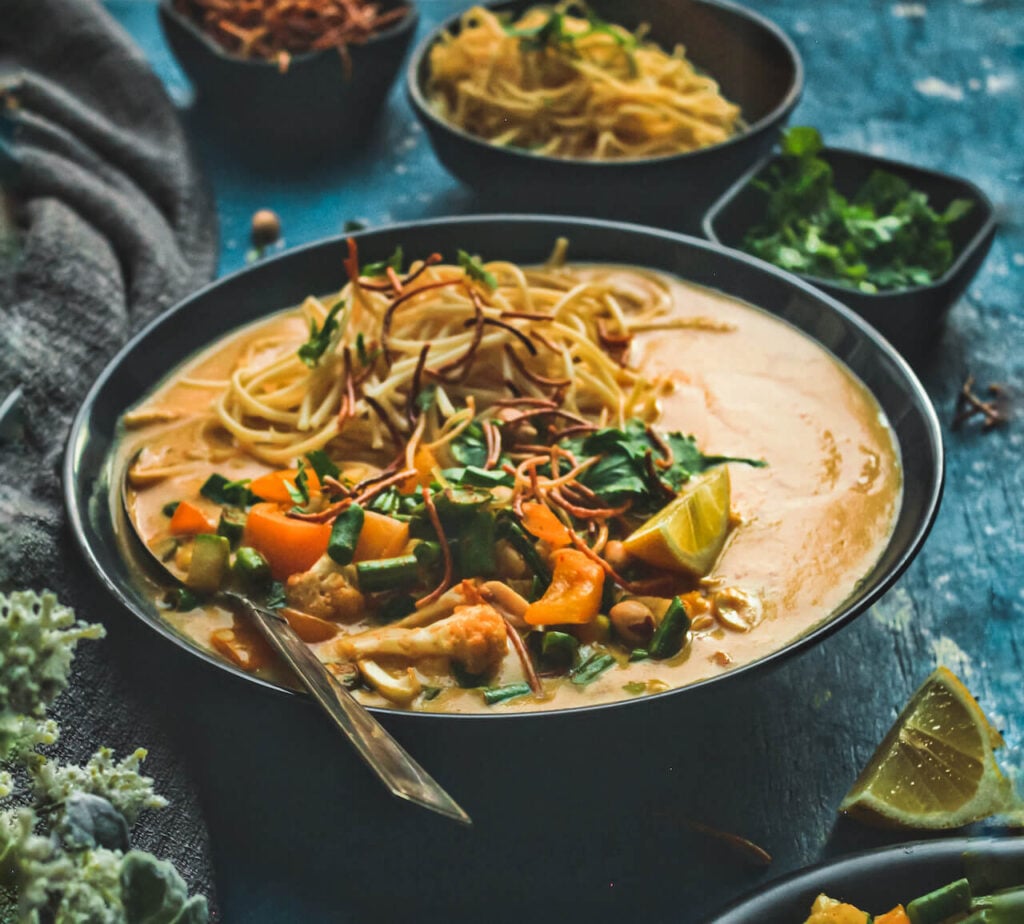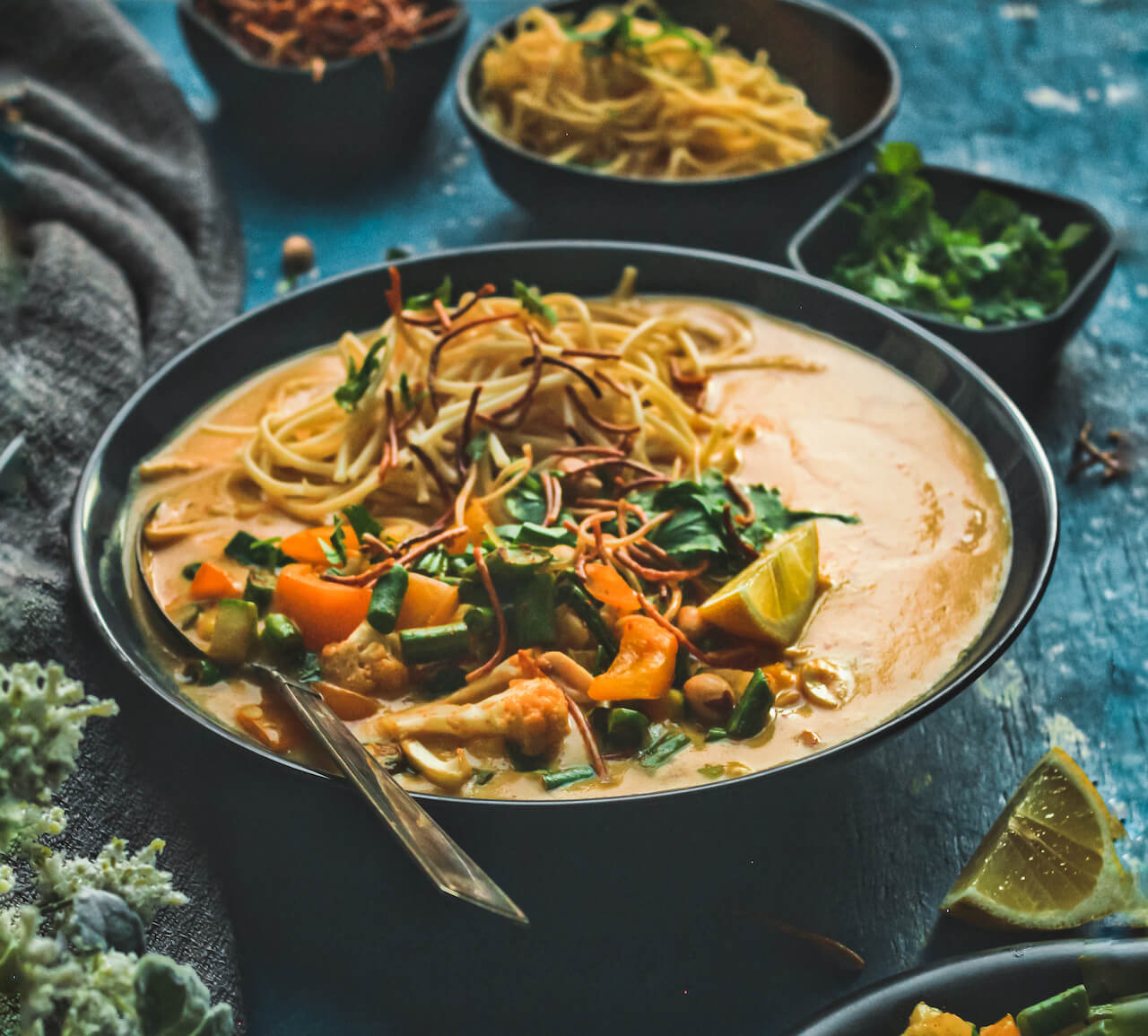 Ingredients
For the coconut curry base
1

can

thick coconut milk

2

tbsp

chickpea flour

1

inch

ginger

(chopped)

1

tsp

turmeric powder

1

tsp

chilli powder

1 1/2

tsp

coriander powder

1

tsp

curry powder

(optional)

1

tsp

soy sauce

1/2

tsp

lemon juice

1 1/2

cups

vegetable broth

1

tbsp

oil

2

stalks

lemongrass

salt

to taste
For the toppings
1/2

cup

sauteed vegetables

(chopped)

Noodles of your choice

(add as many as you want)

Roasted peanuts

(handful)

Fresh cilantro

(chopped)

Green chilli (chopped)

(optional)

Fried or baked noodles

(optional)

Crushed tortilla chips

(optional)

Lemon or lime wedge
Instructions
Heat the oil in a large wok. Add ginger and chickpea flour and stir to combine. Cook for 2 minutes, stirring continuously. Slowly add the vegetable broth and coconut milk and keep stirring to avoid lumps.

Add lemongrass, soy sauce, salt, and spices and simmer for 20 minutes. Finish with lemon juice and cilantro.
To serve
In your serving bowl, arrange your vegetables and cooked noodles. Top with hot coconut broth, then garnish with your chosen toppings.
Top tips for the best vegan khow suey
The toppings suggestions included here are not mandatory and you are free to pick some of your own. However, try to take inspiration from the crunchy elements. Given that the soup body here is creamy and rich, something that contrasts, at least in texture, will improve the overall eating experience.
—
This vegan khow suey soup recipe was republished with permission from Yummee With Amee. Find the original recipe here.