If you're planning a dinner party this weekend and are looking for a flavorful vegan side dish to serve, these Lebanese broad beans could be just what you're after.
Known as Foul Akhdar Bi Zeit, this popular Lebanese dish features fresh green broad beans cooked in a garlic, coriander, and olive oil sauce. While broad beans aren't always the most enticing of foods, they are a versatile ingredient that can be used in many delicious recipes.
Broad beans (also known as fava beans) are regarded as a good vegan source of protein. One cup of the beans contains around 13g. They are generally cheap to buy in supermarkets and grocery stores, and can be bought fresh, frozen, or canned. If you want to cook with broad beans are are after an exciting and delicious broad bean recipe, try this Plant Based Folk recipe.
Foul Akhdar Bi Zeit recipe
Foul Akhdar Bi Zeit is a popular Lebanese recipe of fresh green broad beans in a garlicky coriander and extra virgin olive oil sauce.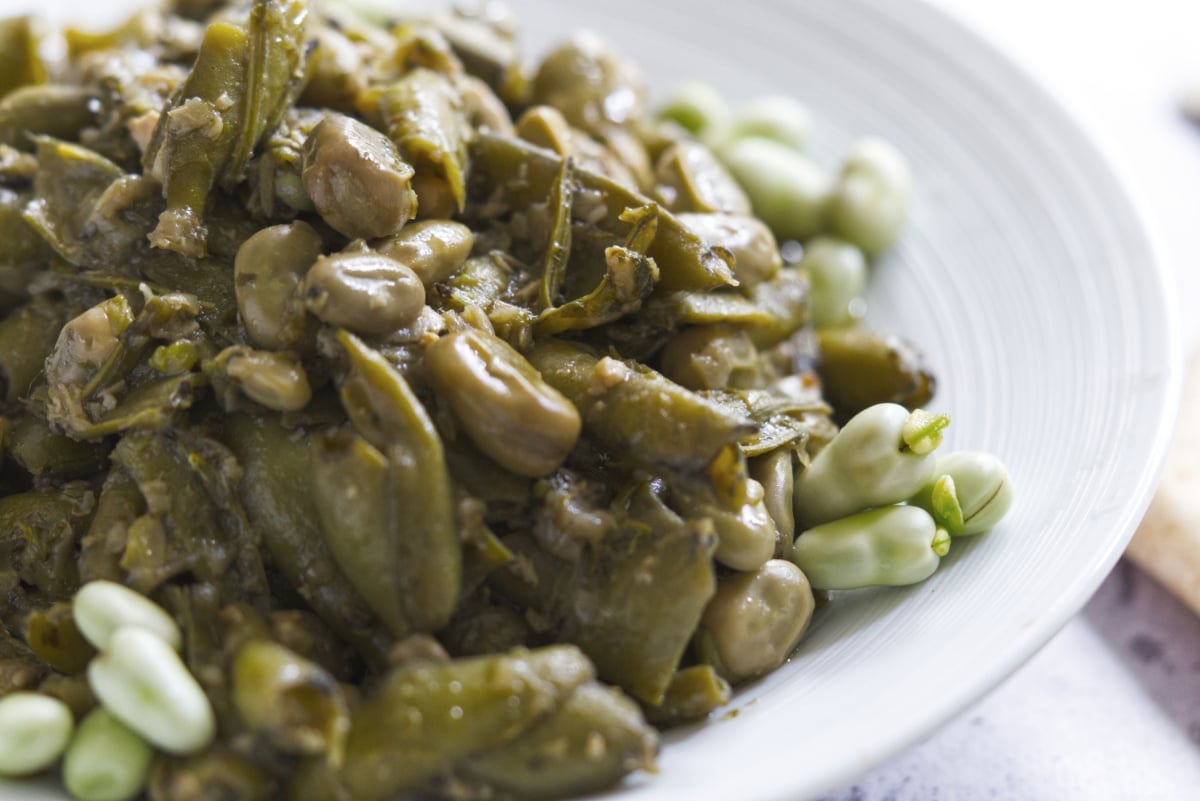 Ingredients
3

kg

fresh green broad beans, de-stringed and chopped

2

large brown onions

1 ½

head of garlic, fresh and minced

2

small red chilis (optional)

1

tbsp

ground coriander

1 ½

cups

fresh coriander, chopped

2

cups

olive oil

extra virgin (EVOO)

1

tbsp

salt & pepper, to taste

2 ½

cups

water
Instructions
Preparing green broad beans
Wash, de-string and cut green broad beans into bite sized pieces
Prepare all veggies
Peel and dice onion into small pieces

Wash and chop fresh coriander. Getting rid of the tougher stem section. Or measure out frozen chopped coriander.

Optional – finely chop red chili
Cooking
In a large pot, heat ½ cup EVOO over high heat and add chilli (optional)

Add onion and garlic. Sweat until translucent

Stir onions and garlic thoroughly for about 10 minutes and then add another ½ cup EVOO. Repeat stirring and add remaining EVOO

Add (fresh or frozen) coriander (cilantro) and fry off about 10 minutes

Add ground coriander and salt & pepper and fry until golden brown

Add fresh green broad bean and water. Stir all contents through

Reduce heat to medium and allow broad bean to cook for about 50 minutes until wilted. Stir every 10-15 minutes

Serve with juice from the bottom of the pot and Lebanese bread
This recipe was reprinted with permission from Plant Based Folk. You can find the original vegan green broad beans recipe here.
More like this: