It's safe to say that, for many plant-based eaters, vegan burgers have become a little bit boring. They're often the only vegan option available at restaurants, and many of us will have endless memories of being served a plain meat-free patty and some limp lettuce in a toasted bun. If you're in the market for a new and exciting vegan burger idea, the below apple coleslaw and jackfruit burger recipe is sure to take your fancy.
Jackfruit is a hugely popular meat alternative that's readily available in many mainstream grocery stores around the world. It's a tropical fruit believed to have originated in the Western Ghats of India. It's now cultivated in various tropical regions around the world. It is one of the largest tree-borne fruits (it can grow up to three feet long) and is considered a nutritious food. Jackfruit contains nutrients such as vitamin C, vitamin A, potassium, fiber, and various antioxidants.
When eaten raw, jackfruit tastes similar to mango and pineapple. When cooked, however, it transforms and develops a shredded meaty texture. For this reason, jackfruit is a popular burger ingredient. The below recipe, which comes from plant-based chef Happy Skin Kitchen, combines it with apple coleslaw to create a sweet and savory meal.
Jackfruit and apple burger recipe
Savoury jackfruit has definitely been one of my latest and favourite food discoveries. Although it might be a bit tricky to find (I bought mine in an organic shop) it's definitely worth going the extra mile for as it works like a dream in any kind of "pulled pork" style recipe. This burger is without shadow of a doubt my favourite veggie burger, the homemade BBQ sauce adds tons of flavour to the jackfruit and the fruity coleslaw is just the perfect accompaniment. If you are feeling a bit lazy or you don't have the time to get all the ingredients for the BBQ sauce then just go ahead and buy a good quality one as it will still be utterly delicious!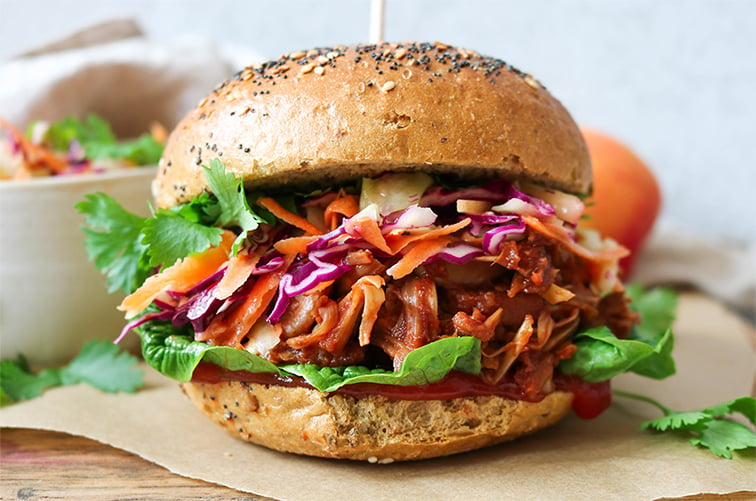 Ingredients
1

can

young jackfruit, drained

2

burger buns of your choice (I have used wholemeal seeded ones)

Few lettuce leaves or rocket

A handful of coriander leaves

Optional: ketchup or mayo to serve
For the BBQ sauce:
1/2

cup

tomato puree

1/2

cup

water

4

tbsp

vegan Worcestershire sauce

2

tbsp

apple cider vinegar

1/2

tsp

garlic powder

1/2

tsp

sea salt

2

tbsp

maple syrup

1

tsp

black pepper
For the Jazz apple coleslaw
1

Jazz apple

1

cup

white cabbage, finely sliced

1

cup

purple cabbage, finely sliced

1

carrot, shredded

2

tbsp

plain and unsweetened coconut yogurt

1

tbsp

apple cider vinegar

1/2

tsp

sea salt

1/2

tsp

black pepper

1

tbsp

lemon juice
Instructions
To make the BBQ sauce, simply mix all the ingredients into a pan. Add the drained jackfruit and mix everything well together. Cook the jackfruit gently on a low-medium heat for about 15-20 minutes. If you have chunkier pieces just pull them apart with a fork.

While the jackfruit is cooking make the coleslaw. In a large mixing bowl add the sliced white and green cabbage, the apple cider vinegar, lemon juice and salt. With your hands massage the cabbage trying to squeeze out any excess water. Let it sit for 5 minutes before draining any water which you might have in the bowl. Slice the apple in very fine strips and add it to a bowl with the shredded carrot, coconut yogurt and pepper and mix everything together.
More like this: