If you're after a tasty vegan dinner that's also healthy, high protein, and easy to make, look no further than this Indian chickpea sweet potato stew.
With the colder months settling in, it's now officially stew season. Making a stew involves cooking solid ingredients in liquid in a pan, resulting in a warm and comforting dinner. While many stews feature meat, there are a whole host of vegan stew recipes featuring a wide variety of vegetables and other plant-based ingredients. The below, which comes from Rainbow Plant Life, uses chickpeas and sweet potatoes as its bases.
Benefits of chickpeas
Chickpeas are a hugely popular plant-based protein source, and they are a common ingredient in a variety of stews, curries, salads, and other vegan dishes.
They are one of the earliest cultivated legumes, and are thought to have originated in the Middle East. They have been around for thousands of years, and are now readily available in supermarkets and grocery stores around the world.
Chickpeas are regarded as a healthy and sustainable source of protein. According to one study, people who eat chickpeas "have higher nutrient intakes of dietary fibre, polyunsaturated fatty acids, vitamin A, vitamin E, vitamin C, folate, magnesium, potassium, and iron." Legumes also carry a far smaller carbon footprint than animal products, and abstaining from meat is regarded as the best thing we can do to lower our impact on the planet.
What about sweet potato?
Another key ingredient in this stew, sweet potato is also a hugely popular vegetable eaten all over the world. The food is in season in the autumn and winter months, meaning now is the perfect time to stock up and experiment with sweet potato recipes. As well as being tasty, they are thought to offer a number of health benefits.
Sweet potato contains a good amount of Vitamin C, Vitamin A, and manganese. They also promote gut health, and studies have shown they may enhance brain function.
If you're after a hearty and delicious recipe made with these ingredients, here's how to cook this sweet potato and chickpea stew.
Sweet potato and chickpea stew recipe
A hearty, filling meal that's 100% wholesome, this Indian Chickpea Sweet Potato Stew is the best of healthy comfort food. It's vegan, gluten-free, and made with whole foods like sweet potatoes, chickpeas, warming Indian spices, and greens, but it feels like a cozy hug in a bowl!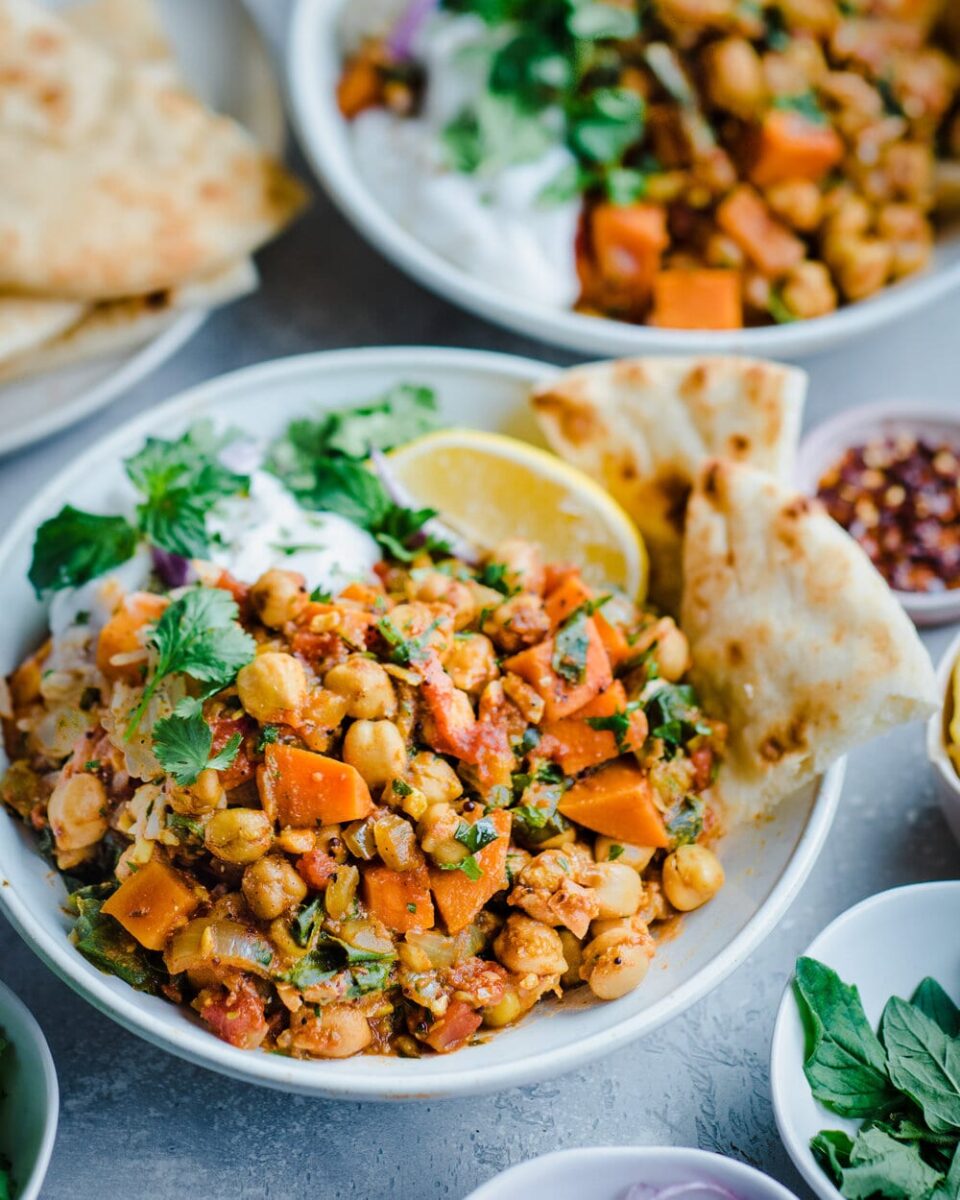 Ingredients
2

teaspoons black mustard seeds

1 ½

tsp

whole cumin seeds

2

tbsp

coconut oil

2

medium yellow onions, finely diced

6

garlic cloves minced

1 ½-inch

piece fresh ginger, grated or minced

3

bay leaves

1

tbsp

garam masala

2

tsp

ground coriander

1

tsp

ground turmeric

½

tsp

Indian red chili powder or 1⁄4 teaspoon cayenne pepper

A generous amount of freshly cracked black pepper

2 (15-oz)

cans of chickpeas, drained and rinsed (equivalent to 3 1/2 cups cooked chickpeas)

2

cups

water or vegetable broth

3

cups

peeled and finely diced sweet potatoes

1 (14.5-oz)

can crushed tomatoes, or half of 1 (28-ounce) can crushed tomatoes

1 ½

tsp

kosher salt

4

oz

Swiss chard (you can use kale or spinach instead, but not that spinach will take less time to cook)

1 ½

tbsp

fresh lemon juice

1

cup

fresh cilantro, roughly chopped

½

cup

fresh mint, finely chopped
Garnishes (optional but recommended)
Thinly sliced red onions

Coconut yogurt
For serving
White rice of brown rice

Indian flatbread or pita bread
Instructions
Heat a large, deep nonstick frying pan or a Dutch oven over medium heat. Once hot, add the black mustard seeds and cumin seeds. Stir occasionally and toss the seeds around for 1-2 minutes, or until they start to jump in the pan and smell very aromatic but not burning.

Add the coconut oil and once it's melted, add the diced onions. Cook, stirring occasionally, until the onions are softened and start to turn golden, 5 to 7 minutes.

Add the garlic and ginger and cook for 1-2 minutes until very aromatic, stirring frequently to prevent burning and sticking.

Add the bay leaves and ground spices, and then add the chickpeas and stir them around to coat around in the spices. Allow them to cook for 5-6 minutes, turning only once after a few minutes, to allow them to get a bit browned and crispy.

Pour in the water, stirring around to scrape up any browned bits on the bottom of the pot. Pour in the crushed tomatoes, diced sweet potatoes, crushed tomatoes, and salt. Stir well and bring to a boil. Reduce the heat to medium-low and simmer, stirring occasionally, for 30 minutes, or until the sweet potatoes are tender and the stew has thickened.

Add the chard (or kale) and cover the pan. Cook for 5 more minutes until wilted. Remove bay leaves.

Stir in cilantro and lemon juice. Serve with fresh mint, sliced red onion, and coconut yogurt.
This recipe was republished with permission from Rainbow Plant Life. You can view the original here.
More like this: